"Gangs" control the joints of Lebanon.. Dollar resources and armies of the unemployed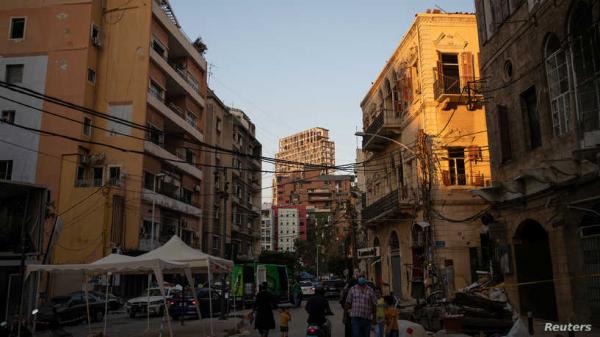 Everything that is happening in Lebanon today can be called "organized crime", starting with the official performance in addressing the largest economic crisis in the country's history, through the banks' seizure of Lebanese depositors' money without a legal right, to the deliberate obstruction of the formation of a reform government about 9 months ago, And there is no end to all the social and economic consequences of this reality that has existed in the country since the end of 2019.
The more the state is absent and its institutions crack under the pressure of the financial collapse, the weaker the rule of law and security institutions over the country. Until today, Lebanon is in a middle position between the state as a comprehensive concept, and its alternatives that appear in multiple forms, sometimes partisan or sectarian at other times, some in the form of regional and others in the form of a mutual interest, but the most dangerous of all, that the countries that follow Sharia law. Organized crime is facing today the dominance of its growing gangs, which control almost all joints of Lebanon.
Smuggling has its gangs, drugs have its gangs too, to steal homes, cars and bikes gangs are different from those that engage in forgery and fraud, banks have gangs and money changers have other gangs, black markets and monopolists, for medicines, foodstuffs, fuel and scrap, even baby milk has its gangs in Lebanon, for every crime committed in Lebanon today gang, so that the individual nature of the crimes that the security institutions announce in their periodic bulletins are almost rare.
It is a natural and expected result of all the chaos that prevails in a society that suffers from one of the most complex, severe and severe financial crises in the history of the global economy, according to the World Bank's description of the Lebanese crisis. Poverty rates exceed 60%, while extreme poverty approaches the 40% threshold, according to what is expected for Lebanon by the end of 2021. Especially with the continued depreciation of the Lebanese pound against the dollar, which crossed the 10-fold drop, from 1500 pounds a year and a half ago to over 15000 pounds today.
This existing reality constitutes the most fertile ground for the emergence and growth of organized crime gangs, which are now declaring their dominance and sovereignty through the numbers and rates of crimes, thefts and violence recorded in Lebanon compared to the same periods of years preceding the crisis.
Security indicators continued to rise during the first 4 months of the year 2021 compared to the same period of 2020, according to what was calculated by the "Information International" through the bulletins of the internal security forces, where car theft crimes increased compared to the months of April 2021 and 2020 by a significant rate of 263% At an average of 4.6 cars per day, car thefts in general increased by 51% over the first months of last year.
Theft crimes in general increased by 268% between April 2020 and 2021, an average of 5.1 theft crimes per day. Compared to the first months of the year, the recorded increase in theft crimes amounted to 185%.
The figures, according to the researcher in the International Information Society, Muhammad Shams Al-Din, show that the largest criminal activity in Lebanon is carried out by organized gangs and is not of an individual nature. "Individuals today cannot carry out this amount of thefts, especially with regard to major thefts and car thefts, especially since they are widespread Almost equal over the various Lebanese lands and regions and is not limited to a specific place.
In his interview with Al-Hurra, Shams El-Din added that all security information indicates that stolen cars are being smuggled across the border abroad, or they are abandoned and sold as spare parts, and this is not an individual act or that individuals can do, but rather organized and armed networks and groups.
Shams El-Din's words are consistent with what security sources confirm to Al-Hurra website, indicating that if these thefts are cars, jewelry, homes, electrical tools, all of them and others need markets to sell and sell them, the thief is not a direct beneficiary of his theft, but rather does it for a financial return. And here, organized gangs appear that work to buy and dispose of stolen goods and distribute their financial proceeds to attract more elements. Hence, the security services work in a reverse way by monitoring the stolen markets in order to gain access to the networks instead of chasing the individuals working for the gangs.
armies of the unemployed
This phenomenon is a natural result of the economic crisis that Lebanon is going through, according to Shams El-Din, which left armies of the unemployed (38% of the Lebanese) who do not delay any action in these circumstances in order to secure funds, and it has become much easier for organized crime gangs To attract the unemployed in large numbers, and turn them into professionals who work for it.
Muhammad tells. How did he find himself a member in an organized network of Captagon trade, told Al-Hurra website, "I ended up addicted to Captagon pills without finally having the price for them. I went to the same merchant from whom I had been buying for pills on credit, so he offered me a job. At first he asked me to transfer small orders between nearby villages and towns in the Bekaa, then, after a few weeks, I became an official member, visiting the manufacturing plant near the Syrian town of Assal al-Ward, making shipments for smuggling, and moving large orders inside Lebanon to the south, Tripoli and Beirut .
Muhammad was arrested while traveling at a Lebanese army checkpoint with a small amount of pills in his pocket. He was imprisoned for 3 weeks before being released with interventions. During that period, I received everything I needed in prison, from smoke, food, drink, clothes and recommendations inside the prison. The gang accompanied me as if I was outside. This gave me some reassurance, but soon the feeling of being dependent on this gang and its cronies frightened me. I got out of prison. and ran away."
Today, Muhammad lives in Beirut, hides from public view and is afraid of being pursued by gang members, because he knows names, locations and information. "All the young men I worked with entered through the same door, addicts who need a resource that secures their drugs, and these gangs are the ones who make what they ask for, so they turn To obedient soldiers willing to do anything for free pills and a little money a month."
According to the security sources, the incomes and resources of these gangs have increased due to the economic crisis. Most of the activities of these gangs are based on resources in dollars, whether in terms of drugs, car theft, smuggling or counterfeiting, and therefore they are able to pay higher salaries and allowances and attract more individuals in addition to an increase in their value. To secure its logistical needs, and all of this has increased the capacity of these gangs, while the state's security capabilities are waning.
Ali. A resident of Beirut, he has been unemployed since the beginning of 2020, in turn, tells Al-Hurra how he was recruited to become a member of a car theft gang. "I was looking for work in various ways and through all my acquaintances, until I received a limited offer in exchange for a material allowance, and it was limited to transporting a rented car from Beirut to the Bekaa, where it would be received by a "customer", according to what they told me, I accepted and did it, and the second and third offer came to me, then I decided to inquire More about the work I do, as I am working in transporting stolen cars from the capital to the Baalbek region without my knowledge."
Despite what Ali knew, he continued to work with the gang, which doubled his share after he knew what he was doing. The material allowance was tempting for him, especially since it was accompanied by reassurances and examples of their care for their gang members even while they were in prison or if they were exposed to an emergency or injury. "They told me that they would take care of my family and my family and would take care of the costs of a lawyer or health costs for any emergency that might happen during my work. They also provided me with protection and favor in the area in which I live, all of that I need today and most importantly, I do not do theft, but just a carrier if I was not me. It will be someone else."
Gangs spanning all sectors
Classic criminal activities are not the only ones that have organized gangs in Lebanon. Forgery, robbery, theft, pickpocketing, killing and smuggling are all expected and known gang activities, but what is unique in Lebanon is the presence of an organized gang to run and protect each sector separately. The banking market has its armed gangs and protections that either secure protection for its interests or carry out fraud and robbery operations by luring citizens into banking operations. The drug monopolists have their warehouses, protections, and gangs that appeared with the security and judicial raids. The money transfer companies also have gangs and gunmen. Baby milk was not spared from the exploitation of gangs that worked to monopolize, smuggle and trade in this commodity, which has become rare. They run stores and carry out damage operations under cover of darkness.
Even the fuel sector has not escaped the activity of gangs, including monopolists, black market dealers and smugglers, as well as petrol stations, which are witnessing overcrowding, queues and problems. In turn, they have also joined the gang system and are now giving financial allocations to local gangs working to protect them from angry citizens as a result of rationing distribution and the lack of gasoline. And there is a form of self-security that is spreading in light of the lack of confidence in the Lebanese state and its security services.
From the same reality, gangs of sisters and individual protections are emerging that work to blackmail people with their security and the security of their interests in exchange for imposed monthly financial allowances. This phenomenon is widely spread in popular neighborhoods outside the authority of the state in cities, especially Beirut and its suburbs, and is particularly concentrated in the southern suburbs of Beirut. These gangs provide protection for institutions and shops from other gangs that seek to obtain the same brotherhood in exchange for protection and security.
As for the strangest gangs, it was the scrap gangs that carried out the strangest types of thefts in Lebanon, from sewage covers, electrical network wires, the gates of homes and institutions, the Corniche iron, traffic lights and their columns, all in pursuit of the dollar that governs this metal trade.
The state is helpless
It is no secret that the Lebanese state is unable to deal effectively with this chaos. Its interior minister confirms, in every media appearance, this material and logistical inability to keep pace with and address the security chaos spread throughout the country. The crisis is greater than the positional solutions taken by the security forces in dealing with security incidents in Mafraq and each incident separately, while the work on the other hand is managed by organized and spread gangs with this. the size.
The security sources confirm that the various reports received raise concern, especially since the political solution that is ultimately responsible for the security stability in the main seems out of reach, which opens the stage for these gangs to be able to occupy the Lebanese land more and achieve more expansion and polarization in light of the economic and social conditions that strongly stimulate the This slip away.
The security sources give, for example, the frightening development of figures related to the rates of crimes and thefts from one month to another. What the figures for the first four months of the year showed, the fifth month (May) showed a greater deterioration in the security situation of the country, where a rise was recorded in all crime rates, with which the rate of arrests increased by about 35 %.
In turn, the Lebanese army recorded, during the fifth month of the year, the arrest of 686 people of different nationalities (and this is a large number in a country of 6 million people), for their involvement in various crimes, including drug trafficking, theft, smuggling, possession of weapons and contraband, and roaming inside Lebanese territory without residence permits. Legality, driving cars and motorcycles without legal papers. The seizures included: 142 military weapons, about 40,000 bullets of various calibers, 157 vehicles, and about 570 kg of hashish, in addition to a number of communication and surveillance devices.
A Lebanese region was not spared from this rise, and each region according to the gangs' goals and ability to move, as Beirut recorded the highest percentages until May, and then the districts of Matn, Jounieh, Baabda, northern Lebanon, then Bekaa and the south. Crimes rose in Mount Lebanon by 115%, in the north it was about 150%, in the south it reached the 160% threshold, while the crime rates in the Bekaa rose by about 80%, but the most frightening numbers were recorded by Beirut First District (Achrafieh and its surroundings), where theft crimes rose to the extent of exceeding The 1000%, with this number representing a terrifying situation for citizens and humiliating more clearly that these crimes are taking place in an organized manner.
The numbers indicate that the next is worse
The security sources conclude, noting that despite the weak capabilities and political and economic obstacles to impose complete security on the country, Lebanon in its security aspect is still classified as steadfast and not prone to near collapse, adding that all security sectors are working at their maximum capacity in cooperation with municipalities, intelligence and special guard systems in order to control operations Theft in particular and crimes in general, but the numbers indicate that the next is worse, so any hope is pinned on a radical solution to the crisis rather than pursuing its repercussions.