Ghazi Madani publishes a new book entitled Media Intelligence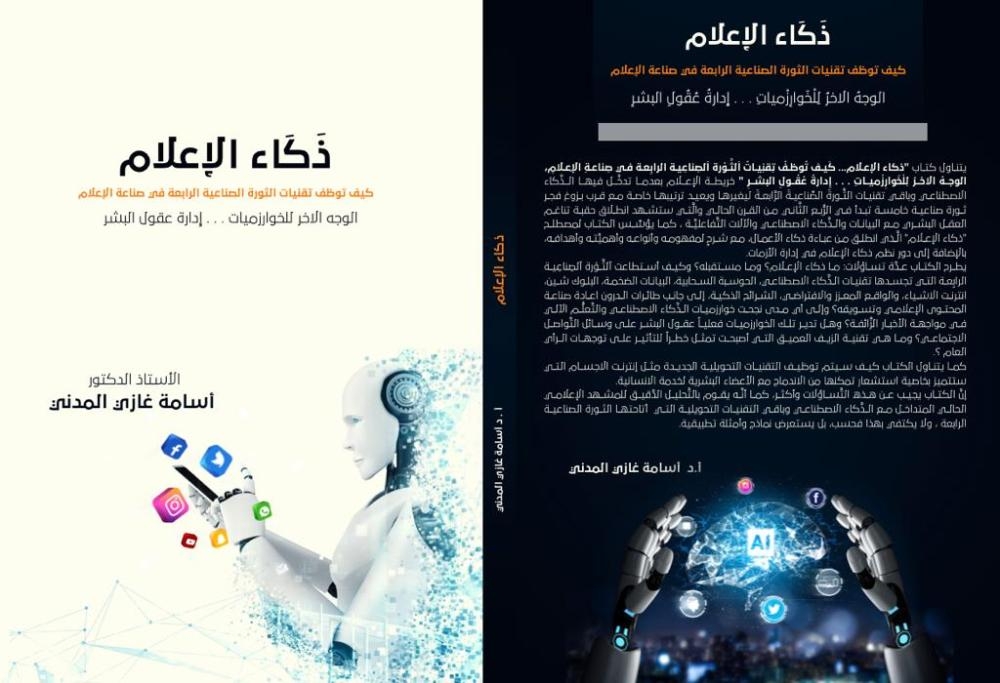 Prof. Dr. Osama Ghazi Al-Madani issued a book entitled "Media Intelligence… How does the Fourth Industrial Revolution reshape the media industry? The other side of algorithms…Managing human minds", which is considered one of the most important books in the fields of media related to the development of modern technology and the era of artificial intelligence in light of the Fourth Industrial Revolution and the technologies it provided.
And Al-Madani indicated that "the book deals with how the techniques of the Fourth Industrial Revolution are employed in the media industry, the media map, after artificial intelligence and the rest of the techniques of the Fourth Industrial Revolution have intervened to change it and witness the nearness of the Fifth Century revolution and the re-arrangement of the current industrial revolution." The human mind with data, artificial intelligence, and interactive machines.
Al-Madani pointed out that the book establishes the term "media intelligence," which stems from the mantle of business intelligence, with an explanation of its concept, types, importance and objectives, in addition to the role of media intelligence systems in crisis management. The world has invested in these modern technologies and added, "The book is therefore a professional and scientific reference for all researchers and specialists in the field of journalism, media and public relations, including practitioners, academics, students and those interested.
Al-Madani said, "The book raises several questions, including: How were artificial intelligence techniques able to re-create and market media content? To what extent have artificial intelligence and machine learning algorithms succeeded in countering fake news? And do those algorithms really run the minds of humans on social media? How are new transformative technologies such as the Internet of things and objects, cloud computing, blockchain, augmented and virtual reality, smart chips, as well as drones used in the media industry? What is the technique of deep falsehood, which has become a danger to influence the trends of public opinion? What are the professional and ethical challenges facing robot journalism?
Al-Madani concluded, "The book answers these questions and more, as it carefully analyzes the current media landscape intertwined with artificial intelligence and the rest of the transformative technologies made possible by the Fourth Industrial Revolution." Al-Madani indicated that the book will be available in the coming weeks in distribution outlets.
The news from the source