Harvey Weinstein pleads not guilty to sexual assault and rape charges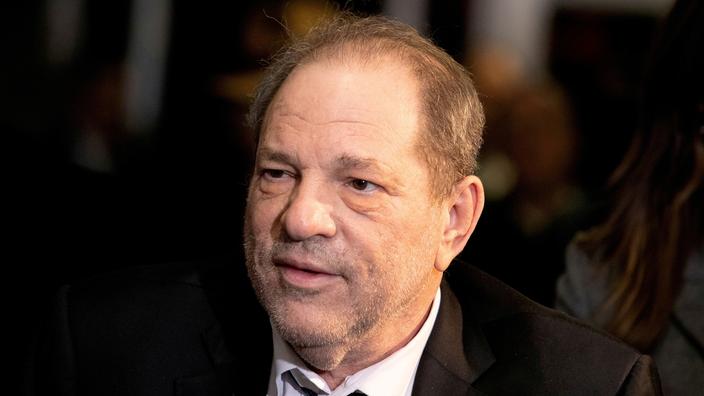 The former film producer, whose fall is seen as a major victory for the #MeToo movement, had been serving a 23-year prison sentence in New York since 2020.
Former film producer Harvey Weinstein pleaded not guilty Wednesday, July 21 in Los Angeles court to 11 charges of sexual assault and rape of five women in California.
Read also :At the Paris Court of Appeal, the consequences of the Weinstein case on trial
«The conviction is registeredJudge Sergio Tapia said after a lawyer spoke on behalf of Harvey Weinstein, who was in the courtroom in a wheelchair and wearing a brown jumpsuit.
Nearly 90 women accused him
Harvey Weinstein – whose fall is seen as a major victory for the #MeToo movement – had been serving a 23-year prison sentence since 2020 for sexual assault and rape in New York. He was transferred Tuesday to Los Angeles, the city where he once had immense influence, to answer these new charges. In total, nearly 90 women including Angelina Jolie, Gwyneth Paltrow and Rosanna Arquette have accused Harvey Weinstein of harassment or sexual assault. But the statute of limitations has been exceeded in many of these cases.
Read also :Harvey Weinstein to pay $ 19 million to some of his victims
In California, Harvey Weinstein is notably accused of having raped an Italian female model in a hotel in Beverly Hills in February 2013, then of having sexually assaulted Lauren Young, an aspiring actress, in the bathroom of another hotel. . "Anyone who abuses their power and influence to attack others will be brought to justice», Promised the Los Angeles district attorney, George Gascon. Wednesday's hearing was mostly held behind closed doors.
He faces up to 140 years in prison
Harvey Weinstein's attorney, Mark Werksman, has notably called for three of the charges dating back to 2004 to be dropped because of the expiration of the statute of limitations. He also demanded that Harvey Weinstein receive a medical evaluation, which Judge Tapia granted. The producer of "Pulp Fiction»Faces up to 140 years in prison, in addition to his New York conviction. He has always denied the facts, in New York and Los Angeles, claiming his accusers consented.
At the end of the hearing, during which a very pale-skinned Harvey Weinstein sat in silence, handcuffed to his chair, the judge wished "good luckTo the former Hollywood titan. The latter seemed to thank the judge, his voice muffled by an ill-fitting blue mask. The next hearing is scheduled for July 29. In early April, he formally appealed his conviction for rape and sexual assault in New York, handed down in March 2020 after a resounding trial.