Helicopter crash leaves two dead in SP – 08/05/2022 – Daily life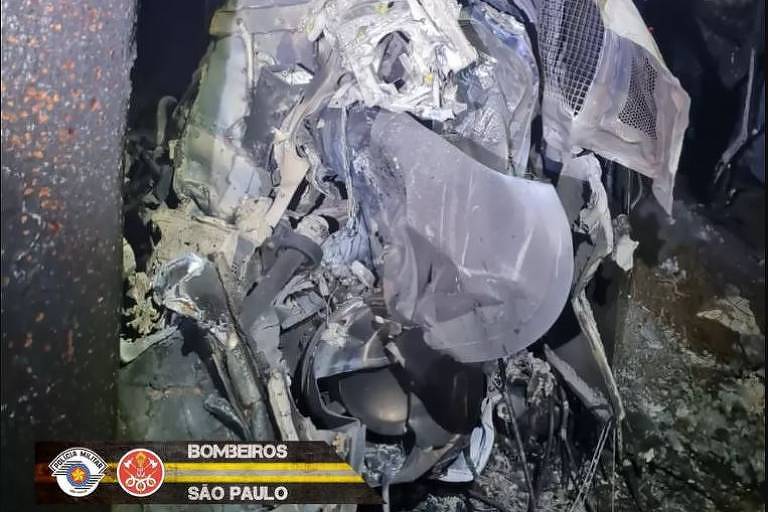 A helicopter crashed in the early evening of this Friday (5) in Jaraguá, in the north of São Paulo.
According to the Military Police and the Fire Department, the aircraft had capacity for eight people (including the pilot), but they did not confirm how many were on board. It is reported that two people died in the accident.
A Sheet found that the helicopter is a twin-engine model Agusta A109-E, prefix PP-JMA, from Majam Participações Ltda. He would have left Congonhas airport, but the destination was not disclosed.
At first, the Fire Department had reported that the aircraft had crashed around 6:10 pm at number 2,000 on Avenida Fernando Mendes de Almeida, in Parque Taipas. However, shortly afterwards the corporation corrected the address to Rua José Lopes, close to a farm and an electrical transmission tower.
The point is on the banks of the Cantareira State Park. To reach the site, the officers had to walk through the woods. In all, six fire engines participated in the service.
According to the PM, a witness heard a noise and saw the helicopter crash.
The Fire Department reported that the service was completed around 21:15. Only one vehicle was left at the scene to clean the area of ​​the fall, in addition to policing.
In a note to the report, the Brazilian Air Force (FAB) reported that investigators from the Fourth Regional Service for Investigation and Prevention of Aeronautical Accidents (Seripa IV), a regional body of the Center for Investigation and Prevention of Aeronautical Accidents (Cenipa), were called to initiate the accident investigation.
"In the initial action, specific techniques are used, conducted by qualified and accredited personnel who carry out the collection and confirmation of data, the preservation of evidence, the initial verification of damage caused to the aircraft, or by the aircraft, and the collection of other information necessary for the investigation process", the FAB said.
The note informed that there is no deadline for the end of the investigation, since it depends on the "complexity of each occurrence and, also, the need to discover the possible contributing factors".