his family files a complaint for "harassment" and "manslaughter"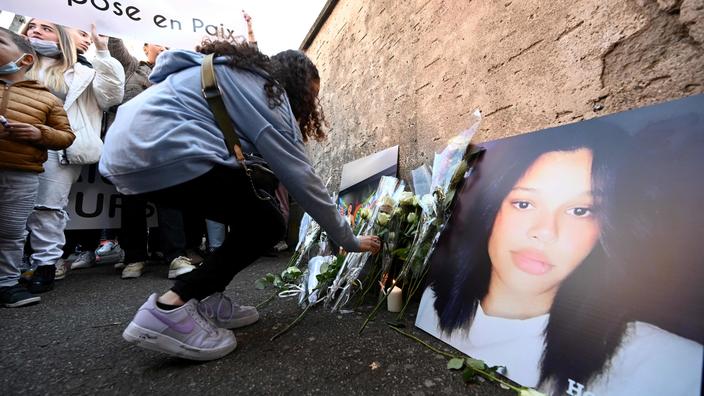 The family of Dinah, a 14-year-old Alsatian high school student who committed suicide after being the victim of school harassment according to his relatives, filed a complaint Thursday, November 25 for "bullying», «manslaughter" or "incitement to suicide"AFP learned from their lawyer.
Read alsoThe unanswered questions after Dinah's suicide
This complaint, signed by the parents and a brother of Dinah, was sent during the day to the Mulhouse prosecutor's office, which has already opened two investigations for harassment and the search for the causes of death. "It is a complaint against X, but in two parts, which denounces both the acts committed by the students, and the acts committed by the management of the college", Told AFP Me Laure Boutron-Marmion, lawyer of the family.
The management of the college attacked
Against students whom she describes as "harceleurs", The family files a complaint for"bullying" and "provocation to suicide», For facts that took place between 2019 and 2021, in 4th and 3rd year classes. The family produces high school conversations from social media and online messaging apps, as well as two sound recordings of Dinah.
These parts "show the disarray in which she was", Said Me Laure Boutron-Marmion, considering that"they allow us to better understand the puzzle of hatred that had taken place around her". The complaint also denounces "the passive attitude of the college management", Under three other heads,"complicity in harassment», «failure to rescue" and "manslaughter», Detailed the lawyer. "The attitude of the college management was so passive that in two years, there was no contact between the college administration and the family, even after Dinah's suicide attempt, in March 2021», Lamented Me Boutron-Marmion. "During this entire period, there was only one appointment, with the principal education advisor, and the nurse.", According to the lawyer.
Read alsoSuicide of Dinah: "How to fight school bullying?"
Dinah, educated in the second class, was found hanged at the family home in Kingersheim, near Mulhouse, on the night of October 4 to 5. The prosecution had entrusted the investigation to the Wittenheim police station. The gendarmerie services fighting against online hatred were also seized.