Home office reduces cars on the streets on Mondays and Fridays in SP – 06/24/2022 – Daily life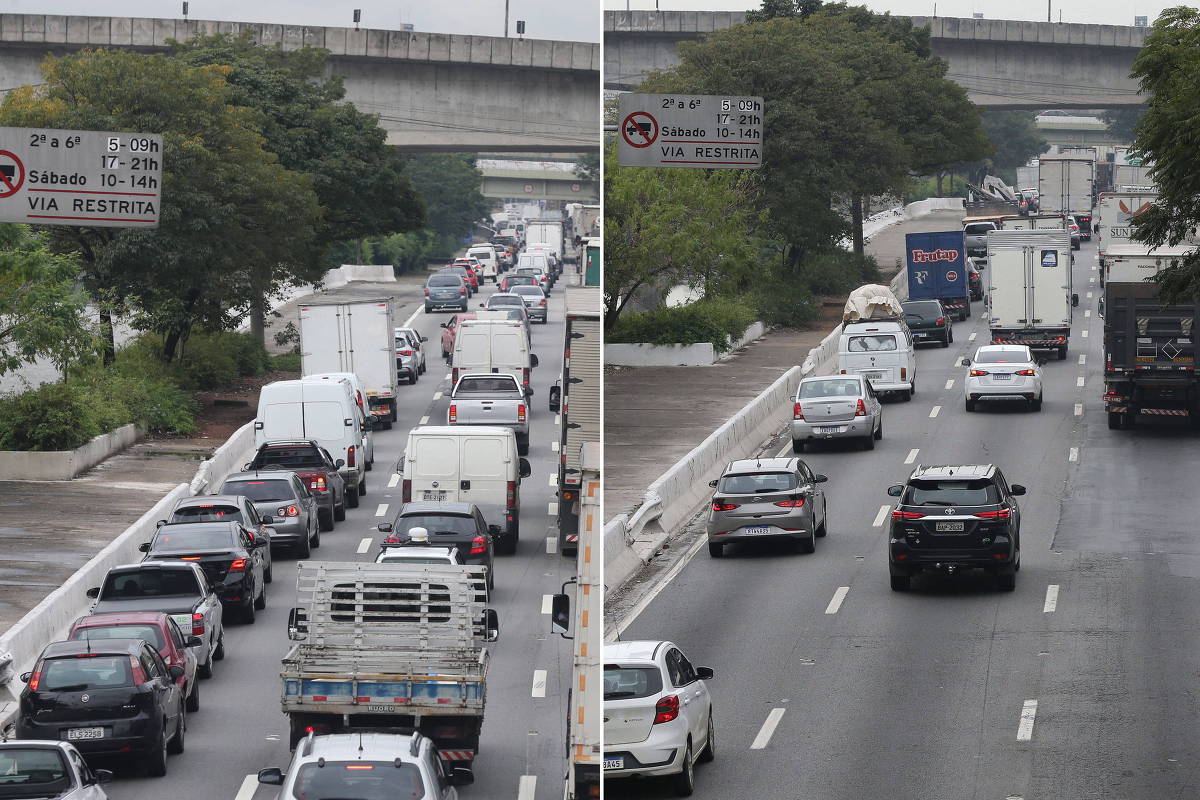 Working in the remote or hybrid system, in which people alternate some days at home and others at the company, may be responsible for a change in behavior in São Paulo's traffic.
Data from CET (Companhia de Engenharia de Tráfego) show that last May the reduction in traffic slowness was greater on Mondays and Fridays, when compared to the same month in 2019, that is, before the Covid-19 pandemic.
During weekdays, the slowness dropped by 32% compared to 2019, according to a report by the company linked to the City of São Paulo, going from 137 km to 93 km in the general average between 6 am and 8 pm.
On Mondays, however, the decrease was 43% — from 114 km to 65 km on average. On Fridays, the drop is 35%—from 160 km to 103 km. On Tuesdays, the average reduction reaches 28% and, on Wednesdays and Thursdays, 27%.
According to Luiz Drouet, president of the Brazilian Association of Human Resources (ABRH) in São Paulo, many companies that have adopted the hybrid model because of the Covid-19 pandemic, allow the employee to choose the days when they will do remote work.
"When we follow this preference, in general it happens so that the work at home is at the extremes of the week, on Mondays and Fridays", he says. "These are days when people prefer to stay with their family and avoid the wear and tear of commuting to work," she says.
Drouet believes that the hybrid model of work is an irreversible trend. According to him, research shows that the possibility of doing remote work is the second criterion when choosing a job, behind only the salary.
According to engineer Sérgio Ejzenberg, who holds a master's degree in transport from the Escola Politécnica da USP (University of São Paulo), the numbers show what was already perceived in the streets of the capital. "For sure, people are choosing not to walk on Mondays and Fridays," he says.
"On those days we always had extra activities that were added to the normal ones of the day, so the slowness was much greater", he says. "It grows a lot with small increases in traffic flow."
Ejzenberg sees the 32% drop in the overall average traffic slowness as significant and says the rate could be even higher, because the calculation considers the main corridors and not drivers' shortcuts to avoid traffic jams.
The decrease in traffic slowdowns at the ends of the week is a trend, believes Ejzenberg, noting that in the United Kingdom there is an experience of working four days a week on full pay. "Thursday is turning into Friday", he jokes.
Digital marketing professional Davi Frate usually goes twice a week to the company's headquarters, in Vila Olímpia, west of São Paulo. And as he has the possibility of choice, he believes that he gained a few minutes of his day last Monday (20), when he decided to adopt the opposite direction of his office colleagues, who prefer to work in person on Tuesdays, Wednesdays or Thursdays.
"I noticed that the streets were emptier on Monday," he says, who says it took him about 30 minutes from where he lives, downtown, to the office — with traffic, the journey could have been done in 50 minutes. "You can see that the bars are busiest on Thursdays for happy hour, when people leave work."
Frate says that he expects to pass the peak hours and always leaves his house after 9 am, as the working hours are flexible. This is another change in behavior noticed by traffic experts.
Like Ejzenberg, Marcus Quintella, director of FGV Transportes, from Fundação Getulio Vargas, point out that drivers are choosing to leave home, and this is also changing traffic behavior.
According to CET data, at 9 am, the main morning peak in the analyzed months of May, the drop was 35% in the comparison between 2019 and 2022, from 171 km to 111 km in the general average between working days for the time.
They cite two other points that may have contributed to the reduction in traffic: remote learning and e-commerce, which manages to accumulate products from several consumers who stayed at home in a single delivery vehicle or on bicycles.
"All of this, associated with the price of fuel and unemployment, makes people travel by car less," says Quintella, from FGV.
Taxi driver João Luiz da Silva Filho sees anxiety among passengers who take rides with him after work on Fridays. "When they can, they leave early to go home soon", he says, who, even with lower official rates, says he suffers from traffic jams every day.
"But the tendency is for traffic not to return to what it was before", says specialist Ejzenberg. "We no longer have the restrictions of the pandemic and the rates are much lower."