Human rights organizations: releasing prisoners does not end the repression of freedoms in Egypt | Politics and Economy | In-depth analysis with a broader perspective from DW | DW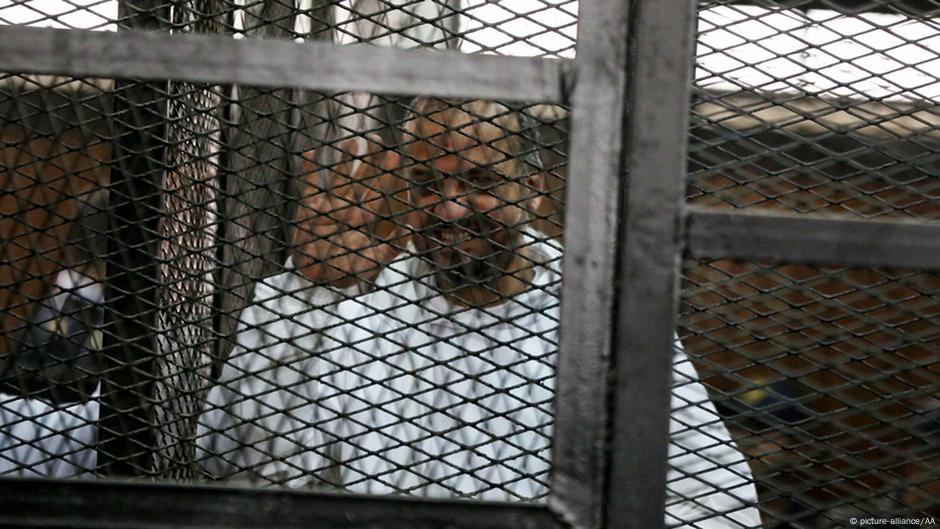 Israa Abdel Fattah was released from prison a few days ago. The 43-year-old activist, one of the central figures in the 2011 revolution in Egypt, spent nearly two years in prison. She was charged with "spreading false information". The indictment also stated that she had worked with a "terrorist group." Esraa Abdel-Fattah was one of the first Egyptian activists to use digital media in the context of the so-called "Arab Spring" in 2011. At that time, when the mood in the country seemed optimistic and the failure of the "Arab Spring" was not yet on the horizon, she earned her clips. Her video was dubbed "Facebook Girl" and she was later nominated for a Nobel Peace Prize.
In total, more than 40 people have been released from prison. These releases came during the Eid al-Adha period. Releases or pardons of prisoners are common ahead of holidays, although they are by no means mandatory.
More prisoners
Rami Yaqoub, director of the Tahrir Institute for Middle East Policy in Washington, DC, commented on the releases, saying, "I am glad that people are out of prison," noting that "there are a lot more prisoners." The exact numbers are unknown, but the international human rights organization Human Rights Watch estimates that about 60,000 people are still in Egyptian prisons for political reasons.
Activist Esraa Abdel Fattah was released after 22 months in pretrial detention without trial دون
Egypt continues to take action against politically undesirable citizens. The trial of six activists and journalists began last week, including Ziad El Alimi, a former Egyptian parliament member and one of the leaders of the country's Social Democratic Party. The activists, who were arrested in 2019, are accused of a number of charges, including "disturbing public peace" and "spreading false news." They are also in the eyes of the state and the judiciary suspected of being terrorists.
Repression of the Muslim Brotherhood
In addition, 12 members of the Muslim Brotherhood were sentenced to death in June. Since the removal of former President Mohamed Morsi, who came from their ranks, in 2013, and his death in prison two years ago, they have been designated a terrorist organization. After the death sentences were passed, only the Egyptian President, Abdel Fattah al-Sisi, could have pardoned the convicts within two weeks. But Sisi let the deadline pass.
Under the hashtag #StopEgyExecutions, family members of prisoners launched a media campaign to protest the sentences and draw international attention to the impending executions of prisoners. In this regard, Sana Abdel-Gawad, wife of Mohamed El-Beltagy, a member of the Muslim Brotherhood in the former Egyptian parliament in 2012, wrote that her husband and the other convicts had become the target of a "bitter revenge campaign" that lacked all moral and human standards, she told DW. Abdel-Gawad also said that "fabricated charges" were brought against her personally, so that she would not be near her husband, who is imprisoned for security reasons. Relatives of other convicts fear the death penalty will be carried out soon. The wife of a prominent Muslim Brotherhood figure complains that no specific date has been set.
More death sentences
According to a report issued by Amnesty International on the death penalty in 2020, Egypt is the third most applied country in the world, after China and Iran. According to Amnesty International, 264 death sentences and 107 death sentences were handed down in Egypt in 2020 – including 23 cases of political violence and "as a result of unfair trials, conducted through forced "confessions" and other grave human rights violations, including That's torture." Overall in 2019, with 32 cases, far fewer executions were carried out, meaning that their number had tripled in the space of one year. Among the Arab countries, Egypt is now a "leader" in issuing and executing death sentences.
No longer a "favorite dictator"
Criticism has not only come constantly from Europe, but has been audible for months as well from Washington, Cairo's most important international partner. Unlike Donald Trump, who has publicly referred to President Sisi as his "favorite dictator," the new US administration under Joe Biden has voiced clear criticism of human rights abuses in Egypt. A few days ago, US State Department spokesman Ned Price criticized the charges against activist Hossam Bahgat, director general of the Egyptian Initiative for Personal Rights. "We believe that everyone should be allowed to freely express their political opinions, peaceful assembly and association," Price said at a news conference. As a strategic partner, we have raised these concerns with the Egyptian government and will continue to do so in the future."
Human rights activist Mahienour El-Masry is also among those released
But does this also mean a change in policy toward Cairo? So far, this is not clearly visible, and President Sisi has not received the same attention under Biden as under Trump. Egypt also does not have many trump cards in the face of political pressure from Washington, which views the country as a reliable partner in the war against terrorism. US warships also enjoy preferential treatment when transiting the Suez Canal, while US military aircraft can pass through Egyptian airspace unimpeded.
In addition, Egypt is an important mediator in the Israeli-Palestinian conflict. "It is certain that international pressure may push President Sisi and the Egyptian government to change their behaviour," says Mohamed Al-Dahshan of the British think-tank Chatham House. But we've never really seen anyone try that seriously." All previous attempts were lukewarm, according to Al-Dahshan.
Worried about changing Cairo's foreign policy!
In addition, Rami Yaqoub of the Tahrir Institute in Washington points out another point, which is that the United States of America and European countries, such as Britain, conclude major arms deals with Egypt, and they are very keen that Egypt does not buy its weapons from elsewhere in the future, whether Russia or China , for example. The concern is that if Egypt faces more criticism of its human rights abuses, it may also loosen its close relations with the West and look for new, less critical partners.
Jennifer Hollis/Kirsten Knepp/EM
document.addEventListener("DOMContentLoaded", function (event)
if (DWDE.dsgvo.isStoringCookiesOkay())
facebookTracking();
);
function facebookTracking()
!function (f, b, e, v, n, t, s)
if (f.fbq) return;
n = f.fbq = function ()
n.callMethod ?
n.callMethod.apply(n, arguments) : n.queue.push(arguments)
;
if (!f._fbq) f._fbq = n;
n.push = n;
n.loaded = !0;
n.version = '2.0';
n.queue = [];
t = b.createElement(e);
t.async = !0;
t.src = v;
s = b.getElementsByTagName(e)[0];
s.parentNode.insertBefore(t, s)
(window, document, 'script',
'https://connect.facebook.net/en_US/fbevents.js');
fbq('init', '157204581336210');
fbq('track', 'ViewContent');
The news from the source