"If Xavier Bertrand and LR do not find an agreement, the debacle on the right is assured"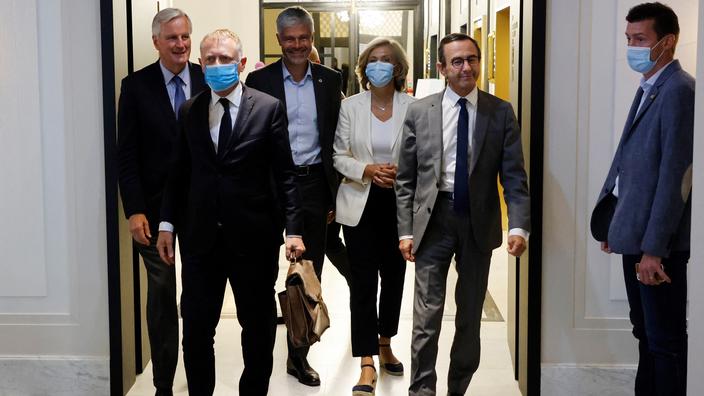 FIGAROVOX / MAINTENANCE – The Republicans organized a meeting on July 20 to decide on the organization of an open primary. Bruno Cautrès analyzes the difficulties of the right to nominate their candidate and determine a political line against Emmanuel Macron.
Bruno Cautrès is a CNRS and CEVIPOF researcher. His research focuses on the analysis of political behavior and attitudes.
---
FIGAROVOX. – Laurent Wauquiez, Valérie Pécresse, Bruno Retailleau, Philippe Juvin, as well as Michel Barnier met on Tuesday, July 20 and managed to agree on the holding of an "open primary" at the latest in November, only if the The Republicans party fails to designate its candidate otherwise. Which strategy do you think is the most desirable?
Bruno CAUTRES. – For the moment, we are in the context of a strategic game; as is often the case in politics, everyone wants "unity" and "coming together" but each plays their own part, hoping to take advantage of an opportunity at some point. The primaries are in absolute terms a good deciding solution, especially if a political formation does not have known or identified candidates, which allows it to play its role of "catapult" for whoever wins the primary. Here we are in a totally opposite scenario: several candidates are already well known and identified by the French and their situation is not the same as in 2016/2017. A lot has happened since …
If the primary is a "necessary evil", as my colleague Rémy Lefebvre recently indicated, it can turn out to have effects that are difficult to control: if the elements that differentiate the candidates are weak, the primary turns into a debate behind closed doors. between members of the same family. If the political differences assert themselves and become stronger during the primary, it leads to a paradox: personalities who claim to be members of the same family disagree on important points and explain that despite this they will then be members of the same team … Some having, moreover, decided to leave this political family several years ago and to create their own political movement. We must be able to do more coherent!
Theoretically the primary is attractive (united in diversity), practically this leaves important traces among the voters. It can also create an illusion: the illusion that right-wing France wants radical change while the primary only allowed the most polarized voters to mobilize.
In addition, there is a real electoral constituency problem that cannot be resolved with the idea of ​​a "right and center" primary: where does the "center" begin and end? Until proof to the contrary, the "centrist" party (Modem) is in power and the Republic in March is partly a center party. Among the other questions posed by the primary, and not the least: what place for activists in the decision to organize or not the primary? Should they not be sovereign on the question of principle? These questions cannot remain unanswered. What seems desirable is therefore above all to clarify these questions, otherwise the primary risks being the starting point of a great misunderstanding. Finally, what is desirable for LR is to find a path of dialogue that does not turn into drama, hiccups, tensions and which already shows an ability to transcend rivalries.
If Xavier Bertrand wants to be elected, he will nevertheless have to know how to stand out and make his personal equation exist.

Bruno Cautres
Xavier Bertrand was not present during this meeting, since he is no longer a member of the Republicans. Could he succeed in establishing himself as the right and center candidate for the presidential election?
Xavier Bertrand presents three strengths compared to his "competitors" on the right. First of all, despite all that can be said about the polls, it has widened a significant gap. One percentage point of voting intentions represents 350 to 400,000 votes cast (the size of a very large metropolis); Xavier Bertrand is regularly three or four points ahead of Valérie Pécresse, or even much more compared to the other candidates. His second strong point is to have announced his candidacy before the regional ones and even to have conditioned his candidacy to the results of the regional ones: one cannot oppose him that he put the voters of Hauts-de-France in an ambiguous situation and it conveys an image of sincerity; finally, he is consistent in his approach to the primaries: he has repeatedly reiterated his refusal to participate, which is moreover consistent with the fact of having left the Republicans.
His best strategy is to keep up the pressure by gradually leading LR to give up a primary that would result in two candidates, which would be a form of collective political suicide. Xavier Bertrand can achieve this on three conditions: first, maintain and increase his lead in voting intentions and appear as the only one who can beat Marine Le Pen and Emmanuel Macron. It is the "and" that is important here. The LRs must understand that the presidential election of 2022 will be anything but an easy game: it is about going to beat two candidates who are formidable "campaigners", sharp and having real political and sociological resources; we can't go and beat Emmanuel Macron or Marine Le Pen just because we say we want to! It is necessary to embody the presidential function, to appear in law as a "leader" and as close to the French. Close means able to understand those who are struggling, those to whom life has hurt. The second condition is to bring on board his campaign personalities from the LR, but by going if possible to seek new faces, new talents and without necessarily bringing on stage those whom the French have seen for so long already, here again, it should not be underestimated that the 2017 election greatly renewed political personnel; finally, third condition, by affirming guidelines compatible with the expectations of LRs on sovereign and economic issues. If he wants to be elected, he will nevertheless have to know how to stand out and make his personal equation exist.
Do not underestimate the extent of the crisis of political confidence in France, almost all indicators are red!

Bruno Cautres
Beyond personalities, what political line must be imposed to allow the right to exist against Emmanuel Macron?
This is the essential problem for LR. If the primary gave the spectacle of personalities already a little old in political life, saying the same things as before, it would be a disastrous spectacle. For LR as for all the other candidates, the fundamental question will be: what do they retain from the multiple crises that the country has gone through?
Expectations in terms of the role and effectiveness of the state are high, the feeling of anxiety is very present. Liberal recipes hard are not really in tune with the times in terms of the structure of public opinion. We are not in a "Fillon 2017" type moment. The country aspires to live in peace, the country is already very tense after all these hardships; there is no desire to go back to trench wars, strikes, tensions, conflicts, injustices, negative feelings. We have had our dose! The "we didn't do anything before me, we didn't understand anything before me, I'm going to change everything from top to bottom" seems to me to have encountered some limits in recent years. It's not about communicating or tweeting slogans that are a little vague, or worse, anxiety-provoking, but to win a very, very, competitive election in a country that is not doing very well, to have things to say a little news and above all not to find it impossible to keep its promises.
Do not underestimate the extent of the crisis of political confidence in France, almost all indicators are red! It is about giving the French back a taste for commitment towards others, giving back civic sense, instilling a new age of local democracy, reducing mistrust and the feeling of social promotion at a standstill. And undoubtedly also to lower political grandiloquence by a few octaves …