In Afghanistan, the Taliban stage their vision of women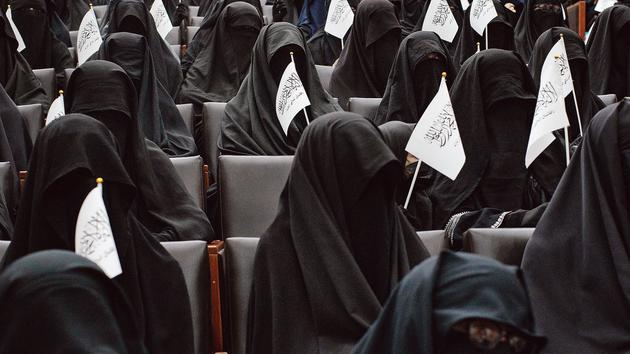 STORY – The masters of Afghanistan organized a meeting of women at a university in Kabul on September 11, supporting their view of religion and gender separation. Our special correspondent tells.
Special envoy to Kabul
Who are these black, faceless shadows that appear in Shahid-Rabbani University in Kabul? Mystery. They do not introduce themselves, do not speak, or else just among themselves, come and go, transported into an auditorium by men in turban. Some stand out, like the one in the third row, who is holding a baby in her arms. A thin golden cane emanating from the sleeve of another suggests that she must be older.
The press has been invited, but it is ignored. Only female journalists have the right to sit on the stands. Their colleagues are kept apart. No Afghan reporter knows how to name this strange dress, rare in Afghanistan, and which surprises them all: it is a niqab with a sitar, that is to say a fabric that covers the eyes, thin enough to let the world shine through. In the absence of a sitar, some niqabs are equipped with large blinders which also camouflage the face.
Read alsoWith the new masters of Kabul, our report at the heart of the Taliban power
As the latecomers take
This article is for subscribers only. You have 87% left to discover.
Freedom has no borders, like your curiosity.
Continue reading your article for € 1 the first month
Already subscribed? Log in