In Conflans, a year after the assassination of Samuel Paty, concern remains keen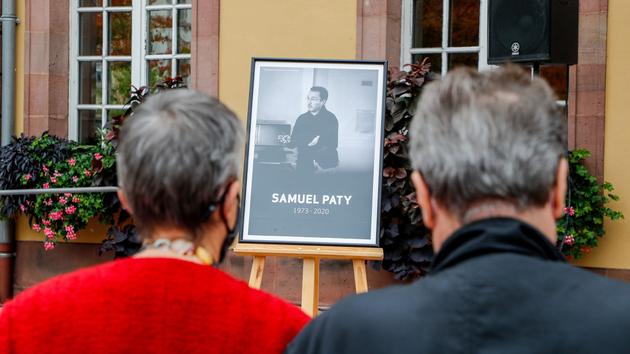 REPORT – As in all of France, the beheading of the professor in the middle of the street by an Islamist terrorist continues to fuel fears. On security, secularism, the freedom to criticize.
Schoolchildren like the others, notebook in hand and mask on their faces, quietly flock to the vicinity of their establishment. The merry hubbub of the playground echoes in the pretty suburban neighborhood. The only anomaly on the board is the presence of a police car parked in front of the establishment only to leave until 8.15 am, once the gates are closed.
Read alsoJean-Michel Blanquer: "There is a before and an after Samuel Paty"
It is near this college in Bois d'Aulne, in Conflans-Sainte-Honorine (Yvelines), in the rue du Buisson-Moineau, in the neighboring town of Éragny, that the decapitated body of Samuel Paty was discovered on October 16, 2020 by municipal police officers, his head resting a few meters away. Today we see a simple small sign "I'm a teacher" and some artificial flowers. A surprisingly empty place of contemplation, a year after the savage assassination of the history and geography professor, which had aroused astonishment and emotion not only in Conflans but also in the
This article is for subscribers only. You have 88% left to discover.
To cultivate your freedom is to cultivate your curiosity.
Subscription without obligation
Already subscribed? Log in