In Tunisia, France's "unprecedented effort" of solidarity against the Covid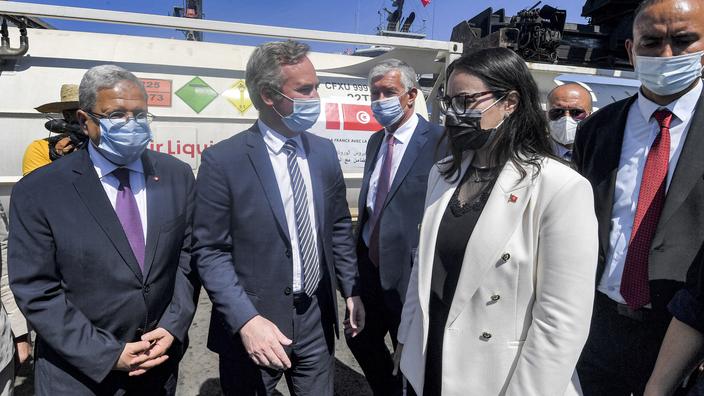 Paris delivered 60,000 liters of medical oxygen to Tunisia on Thursday, a country hard hit by the Delta variant. Nearly 10% of the adult population should be vaccinated thanks to French donations.
Special Envoy in Tunis (Tunisia)
At the end of the imposing port crane, the oxygen container passes over the officials who have come to receive emergency health assistance. After the heartbreaking images of Tunisian hospitals overwhelmed by the Delta variant, it's time for international solidarity. Sent Thursday, July 22 to the port of Radès (Tunisia), the French military ship The seine unloads its 60,000 liters of medical oxygen. "I would like to thank France for this spontaneous outpouring of solidarity. It brings people together and this precious product goes straight to our lungs and to our hearts "exclaims on the quay Othman Jerandi, the Tunisian Minister of Foreign Affairs. The Secretary of State for La Francophonie, Jean-Baptiste Lemoyne, is also on site to see how well the operation is going.
Read also :Covid 19: Tunisia facing an unprecedented wave
"Emmanuel Macron wanted it and you made it possible", he notes, turning to Lieutenant-Commander Anthony Salmon, who sailed from Toulon on Tuesday evening.
This article is for subscribers only. You have 70% left to discover.
Freedom has no borders, like your curiosity.
Continue reading your article for € 1 for 2 months
Already subscribed? Log in