Inside the fairytale wedding of the granddaughter of the late oil billionaire J. Paul Getty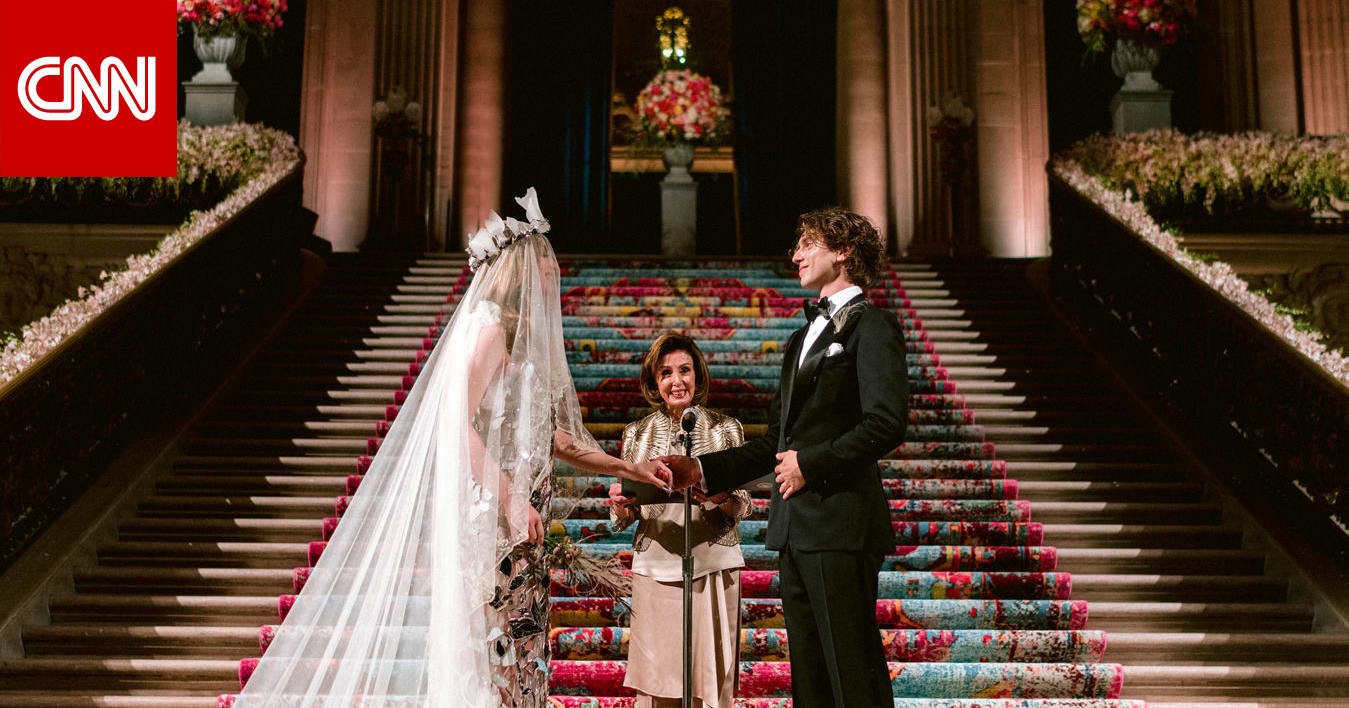 Dubai, USA (CNN) — Actress and model Ivy Love Getty put a modern twist on a city wedding ballroom.
The granddaughter of the late billionaire oil tycoon J. Paul Getty, from photographer Tobias Alexander Engel, Saturday, at the ornate stairs of City Hall in San Francisco, wearing a sparkling wedding gown designed by John Galliano for the fashion house Margiela, and studded with pieces of mirrors, according to Vogue magazine. .
US House of Representatives Speaker Nancy Pelosi presided over the wedding, to which well-known personalities were invited, including actress Anya Taylor-Joy, who was Getty's first maid of honor, singer Olivia Rodrigo, and California Governor Gavin Newsom.
And Getty told "Vogue" that the wedding "is identical to what I dreamed of and more," continuing: "So you are surprised when something you imagined magically came true when you did not imagine how it would be in reality."
Getty's wedding design choices were influenced by the vision of her grandmother who raised her, but she passed away, like her father, in 2020. She covered her face with an embroidered veil that was fixed with a crown, and wore shoes by Christian Louboutin, and the final touch to the bride's look was with her grandmother's jewelry. Even the Persian-made rug in the hall was another hint of what her grandmother liked.
The bridesmaids wore beige satin dresses by fashion house Margiela, even as her dog, Blue, a Chihuahua, was elegantly presented with his wedding rings, at Pelosi's request.
The couple's wedding culminated in a lavish weekend, filled with activities, including a picnic lunch dedicated to Getty in a dress by world-renowned designer Alexander McQueen.
Also on the list of celebrations, a British invasion party was held Thursday night at the Palace of Fine Arts in the American city of San Francisco, where invitees were asked to present certificates of the vaccine against "Covid-19". Party organizer Stanley Gatti turned the venue into a silver-colored nightclub inspired by the 1968 sci-fi movie "Barbarella." Guests dressed up in '60s outfits like boots, sparkly sequins, and bushy hair, and danced the night away to the music. Chosen by Mark Ronson, they also swayed to "Earth, Wind & Fire" songs.
Getty changed her outfit for the party, with GLC Creative's consultant Carrie Goldberg. The oil tycoon heiress wore a classic dress by Emanuel Ungaro, with coral and diamond earrings by Stephen Russell, then another classic dress by Emilio Pucci, and D'Accori shoes. The outfits were inspired by 1960s icons such as Mary Quant, Twiggy and Jean Shrimpton, Goldberg told Vogue.