Interfering in the work of the judiciary and bargaining over the blood of the martyrs is rejected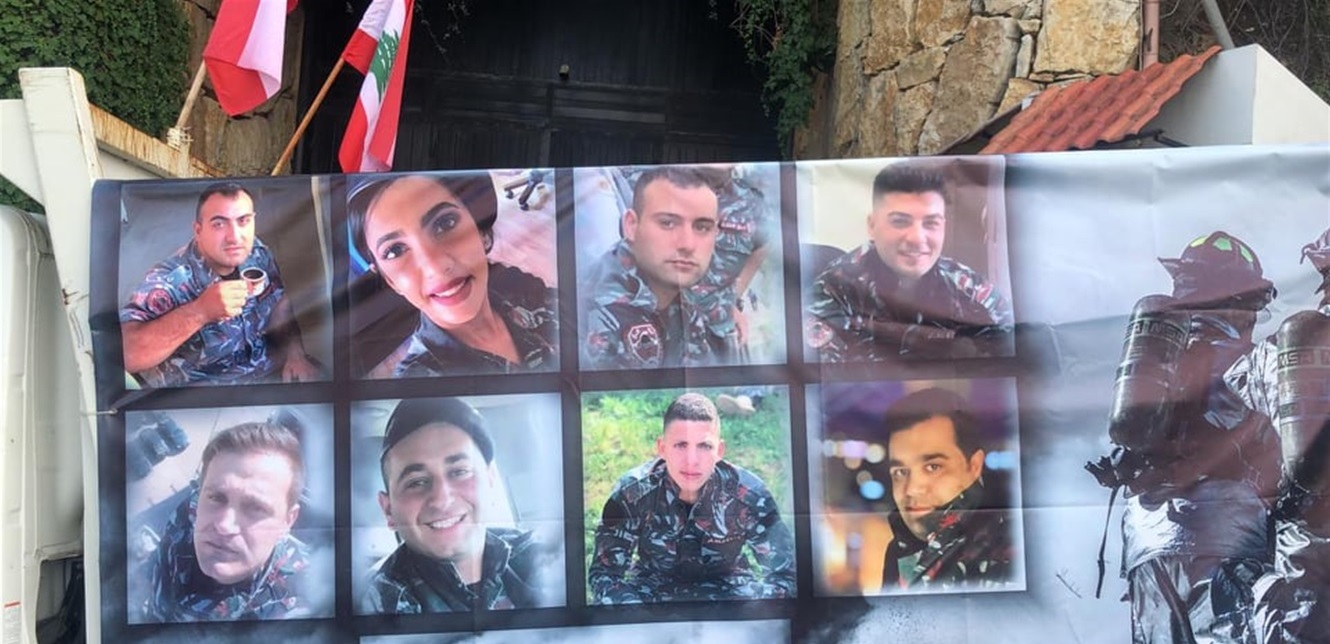 The families of the martyrs of the fire brigade affirmed, in a press conference held at the Chevrolet Press Club, that "interference in the work of the judiciary is unacceptable, and bargaining over the blood of the martyrs is rejected by any party."
The people presented their position on political interference in the work of the judiciary and their next move, after the recent developments in the investigation file into the explosion of the port of Beirut.
Antonella even gave a speech in which she said: "After a year and four months after the bombing of the port of Beirut, the stalling and deception of the judiciary is still going on. politicians to escape justice and truth."
She stressed, "What happens in the face of the judiciary is surprising: appeals after appeals, requests for response after response, veto, suspension … and the souls of the martyrs are waiting and we are waiting for justice." And she said: "We know that there are judges who support our case and stand with Judge Bitar, but we will not remain silent about judges who stand in the face of the truth, such as Judge Habib Mezher, and we will file a lawsuit against anyone who obstructs the course of the investigation, the first of which is Judge Mezher, who requested the entire file from Judge Bitar to expose confidentiality of the investigation.
And she continued: "Some heads of the security services refuse to implement the judge's warrants. Is this behavior legal? Why are the families of the martyrs and victims the only ones who, when they ask for an investigation, attend and are under the roof of the law at a time when anyone who has "immunity" erodes his immunity and a judge and security official are dependent on some political parties? If the judiciary walks on people and people, then we will all be above the law, but this is not our demand. All the Lebanese are under the roof of the law, regardless of their status. Knowing that the notifications of Ali Hassan Khalil and Youssef Fenianos are legal and the Public Prosecutor regarding the notifications to the security authorities and their immunities forfeit.
And she stressed, "Interfering with the work of the judiciary is unacceptable. Every politician or cleric who has a word or point of view regarding the port file communicates it to the media in order to create only an uproar and confusion that is not necessary, so that public opinion is lost."
bread
In turn, William Noun demanded from the Supreme Judicial Council "to do its job." He pointed out that "Judge Habib Mezher crossed the law when he requested the complete file from Judge Bitar, thus exposing the confidentiality of the investigation," and called for it to be referred to the judicial inspection. "If that doesn't happen, we have lawsuits against him," he said.
He believed that the security services should arrest the two former ministers, Fenianos and Khalil, considering that they are "fugitives from justice."
!function (f, b, e, v, n, t, s)
if (f.fbq) return; n = f.fbq = function ()
n.callMethod ?
n.callMethod.apply(n, arguments) : n.queue.push(arguments)
;
if (!f._fbq) f._fbq = n; n.push = n; n.loaded = !0; n.version = '2.0';
n.queue = []; t = b.createElement(e); t.async = !0;
t.src = v; s = b.getElementsByTagName(e)[0];
s.parentNode.insertBefore(t, s)
(window, document, 'script',
'https://connect.facebook.net/en_US/fbevents.js');
fbq('init', '3052490765009915');
fbq('track', 'PageView');
The news from the source
"@context":"http://schema.org","@type":"NewsArticle","dateCreated":"2021-11-08T17:06:56+02:00″,"datePublished":"2021-11-08T17:06:56+02:00″,"dateModified":"2021-11-08T17:06:59+02:00″,"headline":"u0627u0644u062au062fu062eu0644 u0641u064a u0639u0645u0644 u0627u0644u0642u0636u0627u0621 u0648u0627u0644u0645u0633u0627u0648u0645u0629 u0639u0644u0649 u062fu0645 u0627u0644u0634u0647u062fu0627u0621 u0645u0631u0641u0648u0636u0627u0646″,"name":"u0627u0644u062au062fu062eu0644 u0641u064a u0639u0645u0644 u0627u0644u0642u0636u0627u0621 u0648u0627u0644u0645u0633u0627u0648u0645u0629 u0639u0644u0649 u062fu0645 u0627u0644u0634u0647u062fu0627u0621 u0645u0631u0641u0648u0636u0627u0646″,"keywords":"u0623u0647u0627u0644u064a,u0627u0644u0625u0637u0641u0627u0621,u0627u0644u062au062fu062eu0644,u0627u0644u0634u0647u062fu0627u0621,u0627u0644u0642u0636u0627u0621,u062fu0645,u0634u0647u062fu0627u0621,u0639u0644u0649,u0639u0645u0644,u0641u0648u062c,u0641u064a,u0645u0631u0641u0648u0636u0627u0646,u0648u0627u0644u0645u0633u0627u0648u0645u0629″,"url":"https://mnalmsdr.com/%d8%a7%d9%84%d8%aa%d8%af%d8%ae%d9%84-%d9%81%d9%8a-%d8%b9%d9%85%d9%84-%d8%a7%d9%84%d9%82%d8%b6%d8%a7%d8%a1-%d9%88%d8%a7%d9%84%d9%85%d8%b3%d8%a7%d9%88%d9%85%d8%a9-%d8%b9%d9%84%d9%89-%d8%af%d9%85-%d8%a7/","description":"u0623u0643u062f u0623u0647u0627u0644u064a u0634u0647u062fu0627u0621 u0641u0648u062c u0627u0644u0625u0637u0641u0627u0621u060c u0641u064a u0645u0624u062au0645u0631 u0635u062du0627u0641u064a u0623u064fu0642u064au0645 u0641u064a u0646u0627u062fu064a u0627u0644u0635u062du0627u0641u0629 u0641u064a u0627u0644u0634u0641u0631u0648u0644u064au0647 u0627u0646 "u0627u0644u062au062fu062eu0644 u0641u064a u0639u0645u0644 u0627u0644u0642u0636u0627u0621 u0623u0645u0631 u0645u0631u0641u0648u0636u060c u0643u0645u0627 u0627u0646 u0627u0644u0645u0633u0627u0648u0645u0629 u0639u0644u0649 u062fu0645 u0627u0644u0634u0647u062fu0627u0621 u0645u0631u0641u0648u0636u0629 u0645u0646 u0627u064au0629 u062cu0647u0629 u0643u0627u0646u062a". u00a0 u0648u0639u0631u0636 u0627u0644u0627u0647u0627u0644u064a u0644u0645u0648u0642u0641u0647u0645 u0645u0646 u0627u0644u062a","copyrightYear":"2021″,"articleSection":"u062du0648u0644 u0627u0644u0639u0627u0644u0645″,"articleBody":"u0623u0643u062f u0623u0647u0627u0644u064a u0634u0647u062fu0627u0621 u0641u0648u062c u0627u0644u0625u0637u0641u0627u0621u060c u0641u064a u0645u0624u062au0645u0631 u0635u062du0627u0641u064a u0623u064fu0642u064au0645 u0641u064a u0646u0627u062fu064a u0627u0644u0635u062du0627u0641u0629 u0641u064a u0627u0644u0634u0641u0631u0648u0644u064au0647 u0627u0646 "u0627u0644u062au062fu062eu0644 u0641u064a u0639u0645u0644 u0627u0644u0642u0636u0627u0621 u0623u0645u0631 u0645u0631u0641u0648u0636u060c u0643u0645u0627 u0627u0646 u0627u0644u0645u0633u0627u0648u0645u0629 u0639u0644u0649 u062fu0645 u0627u0644u0634u0647u062fu0627u0621 u0645u0631u0641u0648u0636u0629 u0645u0646 u0627u064au0629 u062cu0647u0629 u0643u0627u0646u062a".nu00a0nu0648u0639u0631u0636 u0627u0644u0627u0647u0627u0644u064a u0644u0645u0648u0642u0641u0647u0645 u0645u0646 u0627u0644u062au062fu062eu0644u0627u062a u0627u0644u0633u064au0627u0633u064au0629 u0641u064a u0639u0645u0644 u0627u0644u0642u0636u0627u0621 u0648u062au062du0631u0643u0647u0645 u0627u0644u0645u0642u0628u0644u060c u0628u0639u062f u0627u0644u062au0637u0648u0631u0627u062a u0627u0644u0627u062eu064au0631u0629 u0641u064a u0645u0644u0641 u0627u0644u062au062du0642u064au0642 u0641u064a u0627u0646u0641u062cu0627u0631 u0645u0631u0641u0623 u0628u064au0631u0648u062a.nnnnnu0648u0627u0644u0642u062a u0627u0646u0637u0648u0646u064au0644u0627 u062du062au064a u0643u0644u0645u0629 u0642u0627u0644u062a u0641u064au0647u0627: "u0645u0646 u0628u0639u062f u0645u0631u0648u0631 u0633u0646u0629 u0648u0623u0631u0628u0639u0629 u0623u0634u0647u0631 u0639u0644u0649 u062au0641u062cu064au0631 u0645u0631u0641u0623 u0628u064au0631u0648u062a u0648u0627u0644u0645u0645u0627u0637u0644u0629 u0648u0627u0644u062au062du0627u064au0644 u0639u0644u0649 u0627u0644u0642u0636u0627u0621 u0645u0627 u0632u0627u0644 u0645u0633u062au0645u0631u0627 .u0647u0646u0627u0643 u0639u062fu062f u0645u0646 u0627u0644u0642u0636u0627u0629 u064au0639u0632u0632u0648u0646 u0627u0644u062au0634u0643u064au0643 u0628u0627u0644u0642u0636u0627u0621u060c u0648u0627u0644u062cu0631u064au0645u0629 u0627u0644u0623u0643u0628u0631u00a0 u0647u064a u062au062du0648u064au0644 u0628u0639u0636 u0627u0644u0642u0636u0627u0629 u0639u0644u0649 u0645u0631u0628u0639u0627u062a u0637u0627u0626u0641u064au0629 u0648u0645u0630u0647u0628u064au0629 u0648u0633u064au0627u0633u064au0629 u0648u0627u0635u0628u062d u0627u0644u0642u0636u0627u0621 u063au0628 u0627u0644u0637u0644u0628 u0644u0628u0639u0636 u0627u0644u0633u064au0627u0633u064au064au0646 u0644u0644u0647u0631u0648u0628 u0645u0646 u0627u0644u0639u062fu0627u0644u0629 u0648u0627u0644u062du0642u064au0642u0629".nu00a0nu0648u0634u062fu062fu062a u0639u0644u0649 "u0627u0646 u0627u0644u0630u064a u064au062du062fu062b u0628u0648u062cu0647 u0627u0644u0642u0636u0627u0621 u0645u0633u062au063au0631u0628: u0637u0639u0646 u0648u0631u0627 u0637u0639u0646u060c u0637u0644u0628u0627u062a u0631u062f u0648u0631u0627 u0631u062fu060c u0646u0642u0636u060c u062au0639u0644u064au0642… u0648u0623u0631u0648u0627u062d u0627u0644u0634u0647u062fu0627u0621 u062au0646u062au0638u0631 u0648u0646u062du0646 u0641u064a u0627u0646u062au0638u0627u0631 u0627u0644u0639u062fu0627u0644u0629″. u0648u0642u0627u0644u062a:""u0646u062du0646 u0646u0639u0644u0645 u0623u0646u0647 u064au0648u062cu062fu00a0 u0642u0636u0627u0629 u064au062fu0639u0645u0648u0646 u0642u0636u064au062au0646u0627 u0648u064au0642u0641u0648u0646 u0645u0639 u0627u0644u0642u0627u0636u064a u0628u064au0637u0627u0631u060c u0644u0643u0646 u0644u0646 u0646u0633u0643u062a u0639u0646u00a0 u0627u0644u0642u0636u0627u0629u00a0 u0627u0644u0630u064au0646 u064au0642u0641u0648u0646 u0641u064a u0648u062cu0647 u0627u0644u062du0642u064au0642u0629 u0645u062au0644 u0627u0644u0642u0627u0636u064a u062du0628u064au0628 u0645u0632u0647u0631u00a0 u0648u0633u0646u0631u0641u0639 u062fu0639u0648u0649 u0641u064a u062du0642 u0623u064a u0634u062eu0635 u064au0639u0631u0642u0644 u0645u0633u0627u0631 u0627u0644u062au062du0642u064au0642 u0648u0623u0648u0644u0647u0645 u0627u0644u0642u0627u0636u064a u0645u0632u0647u0631 u0627u0644u0630u064au00a0 u0637u0644u0628 u0627u0644u0645u0644u0641 u0643u0627u0645u0644u0627 u0645u0646 u0627u0644u0642u0627u0636u064a u0628u064au0637u0627u0631 u0644u0641u0636u062d u0633u0631u064au0629 u0627u0644u062au062du0642u064au0642". nu00a0nu0648u062au0627u0628u0639u062a: "u0628u0639u0636 u0631u0624u0633u0627u0621 u0627u0644u0623u062cu0647u0632u0629 u0627u0644u0623u0645u0646u064au0629 u064au0631u0641u0636u0648u0646 u062au0646u0641u064au0630 u0645u0630u0643u0631u0627u062a u0627u0644u0642u0627u0636u064au060c u0647u0644 u0647u0630u0627 u0627u0644u062au0635u0631u0641 u0642u0627u0646u0648u0646u064au061f u0644u0645u0627u0630u0627 u0623u0647u0627u0644u064a u0627u0644u0634u0647u062fu0627u0621 u0648u0627u0644u0636u062du0627u064au0627 u0647u0645 u0627u0644u0648u062du064au062fu0648u0646 u0627u0644u0630u064au0646 u0639u0646u062fu0645u0627 u064au0637u0644u0628u0648u0646 u0627u0644u0649 u0627u0644u062au062du0642u064au0642 u064au062du0636u0631u0648u0646 u0648u064au0643u0648u0646u0648u0646 u062au062du062a u0633u0642u0641 u0627u0644u0642u0627u0646u0648u0646 u0641u064a u0627u0644u0648u0642u062a u0627u0644u0630u064a u0641u064au0647 u0627u064a u0634u062eu0635 u0644u062fu064au0647 "u062du0635u0627u0646u0629″u00a0 u064au062au0644u0637u0649 u0628u062du0635u0627u0646u062au0647 u0648u064au062du062au0645u064a u0628u0643u0645 u0642u0627u0636u064a u0648u0645u0633u0624u0648u0644 u0623u0645u0646u064a u0645u0631u062au0647u0646u064au0646 u0644u0628u0639u0636 u0627u0644u062cu0647u0627u062a u0627u0644u0633u064au0627u0633u064au0629u061f u0625u0630u0627 u0627u0644u0642u0636u0627u0621 u064au0645u0634u064a u0639u0644u0649 u0646u0627u0633 u0648u0646u0627u0633 u0639u0646u062fu0647u0627 u0633u0646u0643u0648u0646 u062cu0645u064au0639u0646u0627 u0645u0646 u0641u0648u0642 u0627u0644u0642u0627u0646u0648u0646 u0644u0643u0646 u0647u0630u0627 u0644u064au0633 u0645u0637u0644u0628u0646u0627. u0643u0644 u0627u0644u0644u0628u0646u0627u0646u064au064au0646 u062au062du062a u0633u0642u0641 u0627u0644u0642u0627u0646u0648u0646 u0645u0647u0645u0627 u0639u0644u0627 u0634u0623u0646u0647u0645. u0645u0639 u0627u0644u0639u0644u0645 u0625u0646 u062au0628u0644u064au063au0627u062a u0639u0644u064a u062du0633u0646 u062eu0644u064au0644 u0648u064au0648u0633u0641 u0641u0646u064au0627u0646u0648u0633 u0642u0627u0646u0648u0646u064au0629 u0648u0627u0644u0645u062fu0639u064a u0627u0644u0639u0627u0645 u062du0648u0644 u0627u0644u062au0628u0644u064au063au0627u062a u0627u0644u0649 u0627u0644u062cu0647u0627u062a u0627u0644u0623u0645u0646u064au0629 u0648u062du0635u0627u0646u0627u062au0647u0645u0627 u0633u0627u0642u0637u0629".nu00a0nu0648u0634u062fu062fu062a u0639u0644u0649 "u0627u0646 u0627u0644u062au062fu062eu0644 u0628u0639u0645u0644 u0627u0644u0642u0636u0627u0621 u0623u0645u0631 u0645u0631u0641u0648u0636u060c u0643u0644 u0633u064au0627u0633u064a u0623u0648 u0631u062cu0644 u062fu064au0646 u0644u062fu064au0647 u0643u0644u0645u0629 u0623u0648 u0648u062cu0647u0629 u0646u0638u0631 u0628u062eu0635u0648u0635 u0645u0644u0641 u0627u0644u0645u0631u0641u0623 u064au062au0641u0627u0635u062d u0641u064au0647u0627 u0628u0627u0644u0625u0639u0644u0627u0645 u0644u064au0639u0645u0644 u0641u0642u0637 u0636u062cu0629 u0648u0628u0644u0628u0644u0629 u0644u064au0633 u0644u0647u0627 u0627u064au00a0 u0644u0632u0648u0645u060c u0643u064a u064au0636u064au0639 u0627u0644u0631u0623u064a u0627u0644u0639u0627u0645. nu00a0nu0646u0648u0646nu0628u062fu0648u0631u0647 u0637u0627u0644u0628 u0648u0644u064au0645 u0646u0648u0646 u0645u0646 u0645u062cu0644u0633 u0627u0644u0642u0636u0627u0621 u0627u0644u0627u0639u0644u0649 "u0627u0646 u064au0642u0648u0645 u0628u0639u0645u0644u0647". u0648u0623u0634u0627u0631 u0627u0644u0649 "u0627u0646 u0627u0644u0642u0627u0636u064a u062du0628u064au0628 u0645u0632u0647u0631 u062au062eu0637u0649 u0627u0644u0642u0627u0646u0648u0646 u062du064au0646 u0637u0644u0628 u0627u0644u0645u0644u0641 u0627u0644u0643u0627u0645u0644 u0645u0646 u0627u0644u0642u0627u0636u064a u0628u064au0637u0627u0631 u0648u0647u0648 u0628u0630u0644u0643 u064au0641u0636u062d u0633u0631u064au0629 u0627u0644u062au062du0642u064au0642″u060c u0648u062fu0639u0627 u0627u0644u0649 u062au062du0648u064au0644u0647 u0627u0644u0649 u0627u0644u062au0641u062au064au0634 u0627u0644u0642u0636u0627u0626u064a. u0648u0642u0627u0644:" u0627u0630u0627 u0644u0645 u064au062du062fu062b u0630u0644u0643 u0641u0644u062fu064au0646u0627 u062fu0639u0627u0648u0649 u0636u062fu0647″.u00a0nu00a0nu0648u0631u0623u0649 u0627u0646 u0639u0644u0649 u0627u0644u0627u062cu0647u0632u0629 u0627u0644u0627u0645u0646u064au0629 u062au0648u0642u064au0641 u0627u0644u0648u0632u064au0631u064au0646 u0627u0644u0633u0627u0628u0642u064au0646u00a0 u0641u0646u064au0627u0646u0648u0633 u0648u062eu0644u064au0644u060c u0645u0639u062au0628u0631u0627 u0627u0646u0647u0645u0627 "u0641u0627u0631u0627u0646 u0645u0646 u0648u062cu0647 u0627u0644u0639u062fu0627u0644u0629".rn !function (f, b, e, v, n, t, s) rn if (f.fbq) return; n = f.fbq = function () rn n.callMethod ?rn n.callMethod.apply(n, arguments) : n.queue.push(arguments)rn ;rn if (!f._fbq) f._fbq = n; n.push = n; n.loaded = !0; n.version = '2.0';rn n.queue = []; t = b.createElement(e); t.async = !0;rn t.src = v; s = b.getElementsByTagName(e)[0];rn s.parentNode.insertBefore(t, s)rn (window, document, 'script',rn 'https://connect.facebook.net/en_US/fbevents.js');rn fbq('init', '3052490765009915');rn fbq('track', 'PageView');rnrnrnu0627u0644u062eu0628u0631 u0645u0646 u0627u0644u0645u0635u062fu0631 ","publisher":"@id":"#Publisher","@type":"Organization","name":"u0645u0646 u0627u0644u0645u0635u062fu0631″,"logo":"@type":"ImageObject","url":"https://i.ibb.co/0hQpsqv/101870202-2829551550505619-6093922229194588160-n.jpg","sameAs":["https://mnalmsdr.com/rss-feed/","https://www.facebook.com/mnalmsdr.page","https://twitter.com/mnalmsdr","https://youtube.com/channel/UCWTCHmnm40rrIbMp3RyvvRA"],"sourceOrganization":"@id":"#Publisher","copyrightHolder":"@id":"#Publisher","mainEntityOfPage":"@type":"WebPage","@id":"https://mnalmsdr.com/%d8%a7%d9%84%d8%aa%d8%af%d8%ae%d9%84-%d9%81%d9%8a-%d8%b9%d9%85%d9%84-%d8%a7%d9%84%d9%82%d8%b6%d8%a7%d8%a1-%d9%88%d8%a7%d9%84%d9%85%d8%b3%d8%a7%d9%88%d9%85%d8%a9-%d8%b9%d9%84%d9%89-%d8%af%d9%85-%d8%a7/","author":"@type":"Person","name":"u0623u0644u064au0646 u0639u0628u062f u0627u0644u0631u062du0645u0646″,"url":"https://mnalmsdr.com/author/alin-abdo/","image":"@type":"ImageObject","url":"https://www.lebanon24.com/uploadImages/DocumentImages/Doc-P-884057-637719876540516506.jpg","width":1920,"height":0



The article from the source