Islamabad begins talks with Pakistani Taliban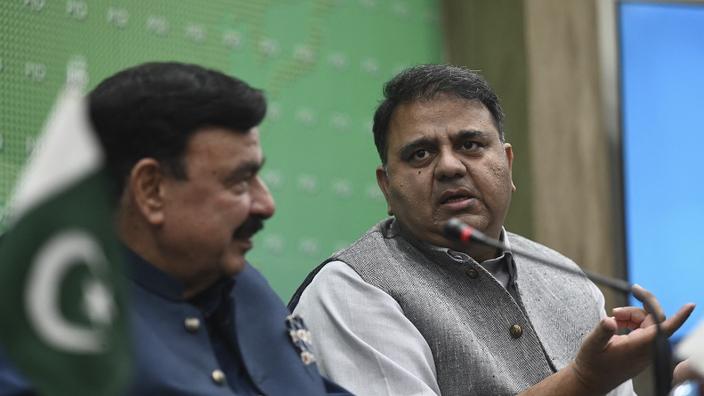 The Pakistani government has started talks with the local Taliban movement, the Information Minister announced on Monday (November 8), potentially paving the way for the surrender of members of an organization long considered to be terrorist, and for amnesty. During a televised address, Fawad Chaudhry said that the TTP (Tehreek-e-Taliban Pakistan, Pakistani Taliban), a local and distinct Islamist insurgency, although close to the movement that took over power in Afghanistan in August, had promised a "complete ceasefireAs long as the discussions progressed.
Read also"Vu d'Ailleurs" N ° 63 – Recognizing the Taliban regime?
Thousands of TTP fighters are believed to be in Afghanistan, mostly in the neighboring highlands of Pakistan to the east, where they sought refuge after a military crackdown nearly a decade ago.
The TTP plunged the country into one of its most violent periods after its formation in 2007, against Islamabad's support for the United States and its war on terrorism. Composed mostly of Pashtuns, like the Afghan Taliban, the TTP carried out hundreds of suicide bombings, bomb attacks and kidnappings across the country for years before being crushed by a massive military operation.
TTP remains banned in Pakistan
Thousands of civilians and members of the Pakistani security forces have died in attacks and bombings claimed by the anti-government Islamist movement. The attempted assassination of young Nobel Peace Prize laureate Malala Yousafzai in 2012 when she was a student in a border region under military control shocked the world. But it wasn't until two years later, when the movement massacred nearly 150 children at a school in Peshawar, that the authorities resorted to force.
Fawad Chaudhry specified that negotiations with the TTP – which remains banned in Pakistan – would be held "under the Constitution and the law of Pakistan». «State sovereignty, national integrity, peace, economic and social stability will be a priority of these discussions.», He continued.
Pakistan over the weekend lifted the ban on another radical group, Tehreek-e-Labbaik Pakistan (TLP), an Islamist political party hostile to France since the Muhammad cartoons affair, which organized during years a series of stormy protests. Officials estimated Sunday evening that this decision had been taken in "national interestAfter 7 police officers were killed in clashes at a rally that began last month. Fawad Chaudry said on Monday that Afghanistan's new Taliban leadership had played a "facilitator roleBy encouraging discussions with the Pakistani movement.