Israel seeks to calm tensions with America and backs away from building a settlement neighborhood in East Jerusalem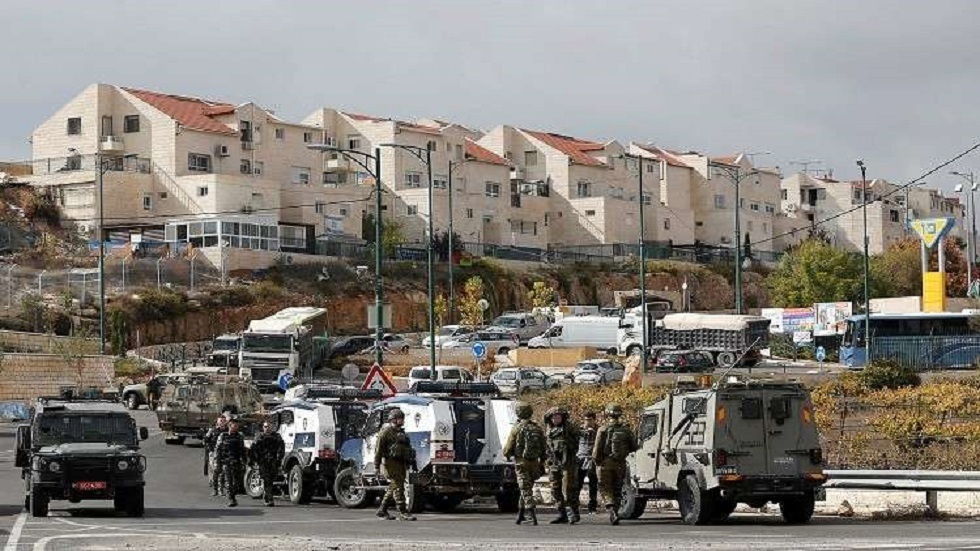 Israeli media reported that Israeli officials informed the White House that a plan to build a new settlement neighborhood in the abandoned Atarot Airport at Qalandia checkpoint, east of occupied Jerusalem, was postponed, in an attempt to calm tensions with the United States.
And the Hebrew-language Walla news website said, in breaking news tonight, that Israel has removed a controversial plan to build some 9,000 settlement units for ultra-Orthodox Jews from the agenda of an upcoming meeting of a local planning committee, where it was expected to be presented.
The site quoted Israeli officials as saying that Washington was told that the initial support the building plan received earlier this week came from a local planning committee in Jerusalem, but that the plan would not be submitted to the higher-level planning committee.
However, a separate report by Yedioth Ahronoth newspaper said that Israeli officials have told their American counterparts that it will take a year before the plan reaches the highest level committee.
According to the report, Yedioth Ahronoth newspaper reported, US officials sought clarification from Israel about why it was moving ahead with the plan to build the settlement neighborhood in the land of Qalandia after former Prime Minister Benjamin Netanyahu delayed it for nearly 10 years.
!function(f,b,e,v,n,t,s)
if(f.fbq)return;n=f.fbq=function()n.callMethod?
n.callMethod.apply(n,arguments):n.queue.push(arguments);
if(!f._fbq)f._fbq=n;n.push=n;n.loaded=!0;n.version='2.0′;
n.queue=[];t=b.createElement(e);t.async=!0;
t.src=v;s=b.getElementsByTagName(e)[0];
s.parentNode.insertBefore(t,s)(window,document,'script',
'https://connect.facebook.net/en_US/fbevents.js');
fbq('init', '2392364917476331');
fbq('track', 'PageView');
(function(d, s, id)
var js, fjs = d.getElementsByTagName(s)[0];
if (d.getElementById(id)) return;
js = d.createElement(s); js.id = id;
js.src = "//connect.facebook.net/ar_AR/sdk.js#xfbml=1&version=v2.6&appId=300970513306659";
fjs.parentNode.insertBefore(js, fjs);
(document, 'script', 'facebook-jssdk'));
The news from the source
"@context":"http://schema.org","@type":"NewsArticle","dateCreated":"2021-11-26T00:21:29+02:00″,"datePublished":"2021-11-26T00:21:29+02:00″,"dateModified":"2021-11-26T00:21:32+02:00″,"headline":"u0625u0633u0631u0627u0626u064au0644 u062au0633u0639u0649 u0644u062au0647u062fu0626u0629 u0627u0644u062au0648u062au0631u0627u062a u0645u0639 u0623u0645u0631u064au0643u0627 u0648u062au062au0631u0627u062cu0639 u0639u0646 u0628u0646u0627u0621 u062du064a u0627u0633u062au064au0637u0627u0646u064a u0628u0627u0644u0642u062fu0633 u0627u0644u0634u0631u0642u064au0629″,"name":"u0625u0633u0631u0627u0626u064au0644 u062au0633u0639u0649 u0644u062au0647u062fu0626u0629 u0627u0644u062au0648u062au0631u0627u062a u0645u0639 u0623u0645u0631u064au0643u0627 u0648u062au062au0631u0627u062cu0639 u0639u0646 u0628u0646u0627u0621 u062du064a u0627u0633u062au064au0637u0627u0646u064a u0628u0627u0644u0642u062fu0633 u0627u0644u0634u0631u0642u064au0629″,"keywords":"u0623u0645u0631u064au0643u0627,u0625u0633u0631u0627u0626u064au0644,u0627u0633u062au064au0637u0627u0646u064a,u0627u0644u062au0648u062au0631u0627u062a,u0627u0644u0634u0631u0642u064au0629,u0628u0627u0644u0642u062fu0633,u0628u0646u0627u0621,u062au0633u0639u0649,u062du064a,u0639u0646,u0644u062au0647u062fu0626u0629,u0645u0639,u0648u062au062au0631u0627u062cu0639″,"url":"https://mnalmsdr.com/%d8%a5%d8%b3%d8%b1%d8%a7%d8%a6%d9%8a%d9%84-%d8%aa%d8%b3%d8%b9%d9%89-%d9%84%d8%aa%d9%87%d8%af%d8%a6%d8%a9-%d8%a7%d9%84%d8%aa%d9%88%d8%aa%d8%b1%d8%a7%d8%aa-%d9%85%d8%b9-%d8%a3%d9%85%d8%b1%d9%8a%d9%83/","description":"u0630u0643u0631u062a u0648u0633u0627u0626u0644 u0625u0639u0644u0627u0645 u0625u0633u0631u0627u0626u064au0644u064au0629 u0623u0646 u0645u0633u0624u0648u0644u064au0646 u0625u0633u0631u0627u0626u064au0644u064au064au0646 u0623u0628u0644u063au0648u0627 u0627u0644u0628u064au062a u0627u0644u0623u0628u064au0636 u0623u0646u0647 u062au0645 u062au0623u062cu064au0644 u062eu0637u0629 u0644u0628u0646u0627u0621 u062du064a u0627u0633u062au064au0637u0627u0646u064a u062cu062fu064au062f u0641u064a u0623u0631u0636 u0645u0637u0627u0631 u0639u0637u0631u0648u062a u0627u0644u0645u0647u062cu0648u0631 u0639u0646u062f u062du0627u062cu0632 u0642u0644u0646u062fu064au0627 u060c u0634u0631u0642 u0645u062fu064au0646u0629 u0627u0644u0642u062fu0633 u0627u0644u0645u062du062au0644u0629u060c u0648u0630u0644u0643 u0641u064a u0645u062du0627u0648u0644u0629 u0644u062au0647u062fu0626u0629″,"copyrightYear":"2021″,"articleSection":"u062du0648u0644 u0627u0644u0639u0627u0644u0645″,"articleBody":"nu0630u0643u0631u062a u0648u0633u0627u0626u0644 u0625u0639u0644u0627u0645 u0625u0633u0631u0627u0626u064au0644u064au0629 u0623u0646 u0645u0633u0624u0648u0644u064au0646 u0625u0633u0631u0627u0626u064au0644u064au064au0646 u0623u0628u0644u063au0648u0627 u0627u0644u0628u064au062a u0627u0644u0623u0628u064au0636 u0623u0646u0647 u062au0645 u062au0623u062cu064au0644 u062eu0637u0629 u0644u0628u0646u0627u0621 u062du064a u0627u0633u062au064au0637u0627u0646u064a u062cu062fu064au062f u0641u064a u0623u0631u0636 u0645u0637u0627u0631 u0639u0637u0631u0648u062a u0627u0644u0645u0647u062cu0648u0631 u0639u0646u062f u062du0627u062cu0632 u0642u0644u0646u062fu064au0627 u060c u0634u0631u0642 u0645u062fu064au0646u0629 u0627u0644u0642u062fu0633 u0627u0644u0645u062du062au0644u0629u060c u0648u0630u0644u0643 u0641u064a u0645u062du0627u0648u0644u0629 u0644u062au0647u062fu0626u0629 u0627u0644u062au0648u062au0631u0627u062a u0645u0639 u0627u0644u0648u0644u0627u064au0627u062a u0627u0644u0645u062au062du062fu0629.nu0648u0642u0627u0644 u0645u0648u0642u0639 "u0648u0627u0644u0627" u0627u0644u0625u062eu0628u0627u0631u064a u0627u0644u0639u0628u0631u064au060c u0641u064a u0646u0628u0623 u0639u0627u062cu0644 u0627u0644u0644u064au0644u0629 u0625u0646 u0625u0633u0631u0627u0626u064au0644 u0623u0632u0627u0644u062a u062eu0637u0629 u0645u062bu064au0631u0629 u0644u0644u062cu062fu0644 u0644u0628u0646u0627u0621 u062du0648u0627u0644u064a 9000 u0648u062du062fu0629 u0627u0633u062au064au0637u0627u0646u064au0629 u0644u0644u064au0647u0648u062f u0627u0644u0645u062au0637u0631u0641u064au0646 u0645u0646 u062cu062fu0648u0644 u0623u0639u0645u0627u0644 u0627u062cu062au0645u0627u0639 u0642u0627u062fu0645 u0644u0644u062cu0646u0629 u062au062eu0637u064au0637 u0645u062du0644u064au0629u060c u062du064au062b u0643u0627u0646 u0645u0646 u0627u0644u0645u062au0648u0642u0639 u0623u0646 u064au062au0645 u062au0642u062fu064au0645u0647u0627.nu0648u0646u0633u0628 u0627u0644u0645u0648u0642u0639 u0625u0644u0649 u0645u0633u0624u0648u0644u064au0646 u0625u0633u0631u0627u0626u064au0644u064au064au0646 u0642u0648u0644u0647u0645 u0625u0646u0647 u062au0645 u0625u0628u0644u0627u063a u0648u0627u0634u0646u0637u0646 u0623u0646 u0627u0644u062fu0639u0645 u0627u0644u0645u0628u062fu0626u064a u0627u0644u0630u064a u062au0644u0642u062au0647 u062eu0637u0629 u0627u0644u0628u0646u0627u0621 u0641u064a u0648u0642u062a u0633u0627u0628u0642 u0647u0630u0627 u0627u0644u0623u0633u0628u0648u0639 u062cu0627u0621 u0645u0646 u0644u062cu0646u0629 u062au062eu0637u064au0637 u0645u062du0644u064au0629 u0641u064a u0627u0644u0642u062fu0633u060c u0644u0643u0646u0647 u0644u0646 u064au062au0645 u062au0642u062fu064au0645 u0627u0644u062eu0637u0629 u0625u0644u0649 u0644u062cu0646u0629 u0627u0644u062au062eu0637u064au0637 u0627u0644u0623u0639u0644u0649 u062fu0631u062cu0629.nu0648u0645u0639 u0630u0644u0643u060c u0642u0627u0644 u062au0642u0631u064au0631 u0645u0646u0641u0635u0644 u0644u0635u062du064au0641u0629 u064au062fu064au0639u0648u062a u0622u062du0631u0648u0646u0648u062a u0625u0646 u0627u0644u0645u0633u0624u0648u0644u064au0646 u0627u0644u0625u0633u0631u0627u0626u064au0644u064au064au0646 u0623u0628u0644u063au0648u0627 u0646u0638u0631u0627u0621u0647u0645 u0627u0644u0623u0645u0631u064au0643u064au064au0646 u0623u0646 u0627u0644u0623u0645u0631 u0633u064au0633u062au063au0631u0642 u0639u0627u0645u064bu0627 u0642u0628u0644 u0623u0646 u062au0635u0644 u0627u0644u062eu0637u0629 u0625u0644u0649 u0627u0644u0644u062cu0646u0629 u0627u0644u0623u0639u0644u0649 u062fu0631u062cu0629.nu0648u0641u0642u064bu0627 u0644u0644u062au0642u0631u064au0631 u0635u062du064au0641u0629 u064au062fu064au0639u0648u062a u0622u062du0631u0648u0646u0648u062a u0633u0639u0649 u0627u0644u0645u0633u0624u0648u0644u0648u0646 u0627u0644u0623u0645u0631u064au0643u064au0648u0646 u0644u0644u062du0635u0648u0644 u0639u0644u0649 u062au0648u0636u064au062du0627u062a u0645u0646 u0625u0633u0631u0627u0626u064au0644 u062du0648u0644 u0633u0628u0628 u0645u0636u064au0647u0627 u0642u062fu0645u0627 u0641u064a u062eu0637u0629 u0628u0646u0627u0621 u0627u0644u062du064a u0627u0644u0627u0633u062au064au0637u0627u0646u064a u0641u064a u0623u0631u0636 u0642u0644u0646u062fu064au0627 u0628u0639u062f u0623u0646 u0642u0627u0645 u0631u0626u064au0633 u0627u0644u0648u0632u0631u0627u0621 u0627u0644u0633u0627u0628u0642 u0628u0646u064au0627u0645u064au0646 u0646u062au0646u064au0627u0647u0648 u0628u062au0623u062cu064au0644u0647u0627 u0646u062du0648 10 u0633u0646u0648u0627u062a.nrn!function(f,b,e,v,n,t,s)rnif(f.fbq)return;n=f.fbq=function()n.callMethod?rnn.callMethod.apply(n,arguments):n.queue.push(arguments);rnif(!f._fbq)f._fbq=n;n.push=n;n.loaded=!0;n.version='2.0′;rnn.queue=[];t=b.createElement(e);t.async=!0;rnt.src=v;s=b.getElementsByTagName(e)[0];rns.parentNode.insertBefore(t,s)(window,document,'script',rn'https://connect.facebook.net/en_US/fbevents.js');rn fbq('init', '2392364917476331'); rnfbq('track', 'PageView');rn(function(d, s, id) rn var js, fjs = d.getElementsByTagName(s)[0];rn if (d.getElementById(id)) return;rn js = d.createElement(s); js.id = id;rn js.src = "//connect.facebook.net/ar_AR/sdk.js#xfbml=1&version=v2.6&appId=300970513306659";rn fjs.parentNode.insertBefore(js, fjs);rn (document, 'script', 'facebook-jssdk'));rn rnrnu0627u0644u062eu0628u0631 u0645u0646 u0627u0644u0645u0635u062fu0631 ","publisher":"@id":"#Publisher","@type":"Organization","name":"u0645u0646 u0627u0644u0645u0635u062fu0631″,"logo":"@type":"ImageObject","url":"https://i.ibb.co/0hQpsqv/101870202-2829551550505619-6093922229194588160-n.jpg","sameAs":["https://mnalmsdr.com/rss-feed/","https://www.facebook.com/mnalmsdr.page","https://twitter.com/mnalmsdr","https://youtube.com/channel/UCWTCHmnm40rrIbMp3RyvvRA"],"sourceOrganization":"@id":"#Publisher","copyrightHolder":"@id":"#Publisher","mainEntityOfPage":"@type":"WebPage","@id":"https://mnalmsdr.com/%d8%a5%d8%b3%d8%b1%d8%a7%d8%a6%d9%8a%d9%84-%d8%aa%d8%b3%d8%b9%d9%89-%d9%84%d8%aa%d9%87%d8%af%d8%a6%d8%a9-%d8%a7%d9%84%d8%aa%d9%88%d8%aa%d8%b1%d8%a7%d8%aa-%d9%85%d8%b9-%d8%a3%d9%85%d8%b1%d9%8a%d9%83/","author":"@type":"Person","name":"u0623u0644u064au0646 u0639u0628u062f u0627u0644u0631u062du0645u0646″,"url":"https://mnalmsdr.com/author/alin-abdo/","image":"@type":"ImageObject","url":"https://www.shorouknews.com/uploadedimages/Sections/Politics/original/6025be664c59b729e46054b7.jpg","width":1920,"height":0



The article from the source