Kathy Hochul: COVID-19 vaccines are 'from God to us'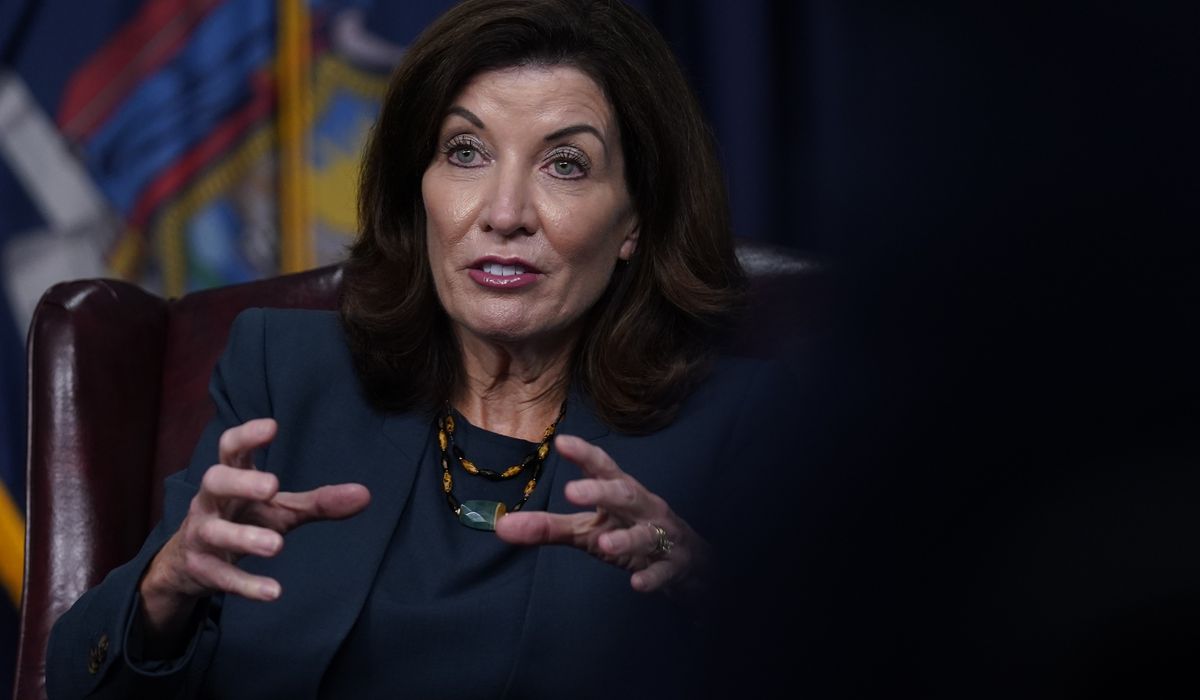 New York Gov. Kathy Hochul told a Brooklyn megachurch that vaccines against the COVID-19 virus come "from God to us," and appealed for "apostles" to spread the word among less-smart vaccine skeptics who she said are ignoring God.
Speaking at the Christian Cultural Center, Ms. Hochul declared, "I prayed a lot to God during this time. God did answer our prayers. He made the smartest men and women, the scientists, the doctors, the researchers, he made them come up with a vaccine that is from God to us."
The Democratic lawmaker added, "And we must say, 'Thank you, God. Thank you.'"
The church's pastor, the Rev. A.R. Bernard, survived a bout of COVID-19.
Ms. Hochul is a Roman Catholic who reportedly came to know Mr. Bernard during her 2018 campaign for the state's lieutenant governorship. She ascended to the current office following the resignation of Gov. Andrew Cuomo over sex-harassment charges.
The two reconnected when Mr. Cuomo, also besieged by scandals involving COVID-19 deaths in the state's nursing homes, resigned last month.
"I know you're vaccinated, you're the smart ones," Ms. Hochul told the megachurch congregation.
"But you know there are people out there who aren't listening to God, [to] what God wants. You know this," she said.
"You know who they are," Ms. Hochul continued. "I need you to be my apostles, I need you to go out and talk about it, and say, 'We owe this to each other,'" she added, referring to people getting vaccinated.
The governor then invoked a key Christian tenet to buttress her pro-vaccine argument.
"Jesus taught us to love one another. And how do you show that love, but to care about each other enough to say, 'Please give vaccine because I love you, I want you to live. I want our kids to be safe when they're in schools, I want you to be safe,'" she declared.
Ms. Hochul added, "We have to solve this, my friends. I need every one of you. I need you to let them know that this is how we can fight this pandemic. Come back to normal and then start talking about the real issues that we have to fighting systemic racial injustice, which exists today."
The video of Ms. Hochul's remarks does not appear on the Christian Cultural Center's website but was posted to Twitter by Disclose.tv, a company registered in Passau, Germany.
Ms. Hochul's remarks came one day before New York's hospitals began suspending or firing health-care workers for defying state orders to get vaccinated. Reuters news agency reported Monday that "resulting staff shortages prompted some hospitals to postpone elective surgeries or curtail services."
Earlier, Ms. Hochul had said she was considering calling up the National Guard to take over for dismissed staffers. Reuters noted that 16% of the state's 450,000 hospital workers were not fully vaccinated.