Kirill Krok: "When we are envied or jealous, this attitude turns me on"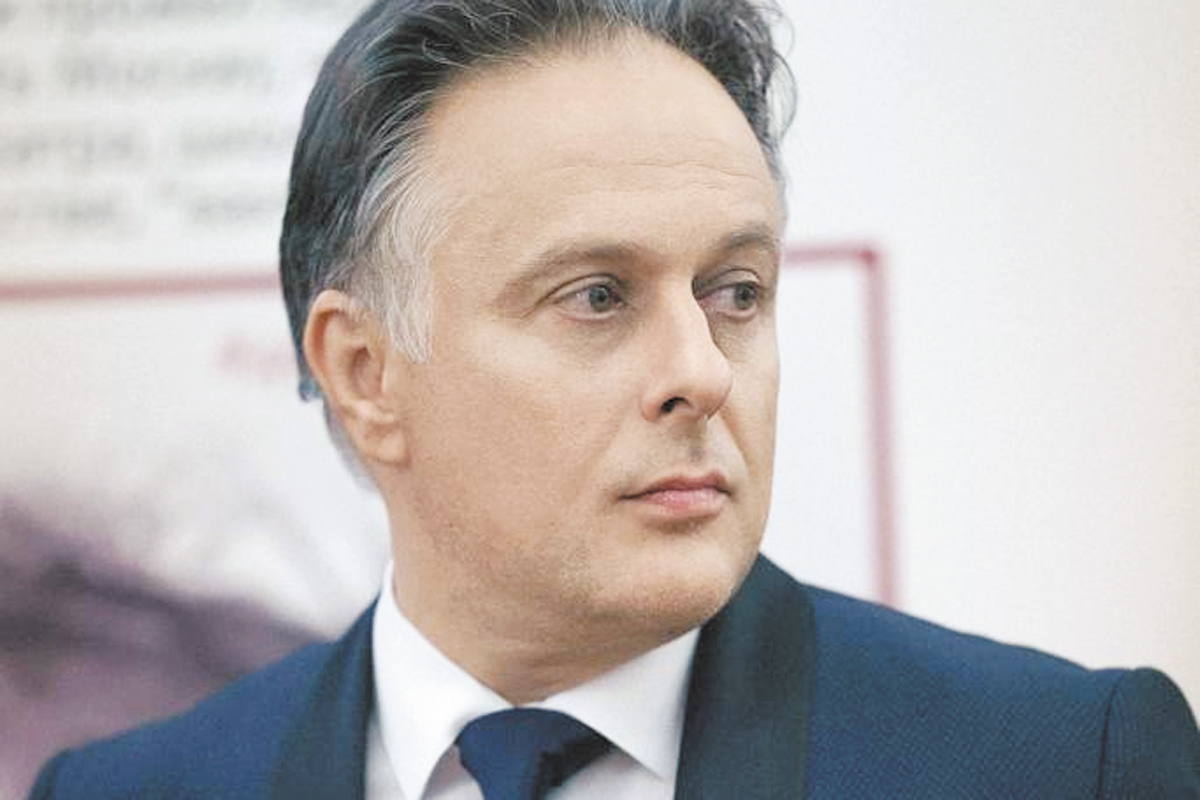 – Today the property complex of the Vakhtangov Theater is somewhere around 33 thousand square meters. m, and if we take the 90th anniversary of the theater as a starting point, then in 10 years we have doubled the area, opening the New and Simonovskaya stages, Vakhtangov's apartment in Denezhny lane, returned to the ownership of Vakhtangov's studio and house in Vladikavkaz.
– How difficult is it to manage such an empire?
– At first, you think with horror: "I can't do it." When we opened the New Stage, Rimas Vladimirovich and I (Rimas Tuminas – artistic director of the theater. – M.R.) were very afraid: a separate manager would probably be needed. But when the Art Café appeared, and then other sites, they realized that we were perfectly coping with this logistics of managing the same forces. In fact, we are probably the only theater where the director has the least number of deputies: for 430 people in the state – there are five of them in different areas of activity. My principle is that the fewer people in management, the better everything is managed. But in order to manage such an economy as ours, from the point of view of production and production processes, our head post, Vladimir Dovgan, has six stages, where there are 52 titles, three deputies. And these six stages are completely autonomous existing, with a full set of equipment, stage platforms with their own architectural space.
Vakhtangov once dreamed that the Arbat would turn into a street of artists in the broadest sense of the word – a kind of art quarter. We seem to have fulfilled his will – we created the Vakhtangov Triangle on the Arbat. From the theater building on Arbat, 26, and the monument to Vakhtangov at its main entrance, we will walk along Nikolo-Peskovsky lane to the theater institute named after V.I. Shchukin with its educational theater and a new building, then we turn to Arbat and reach Denezhny lane, where the museum-apartment of Evgeny Bagrationovich is located, and from there we return to Kaloshin lane, to the Simonovskaya stage, where again the Shchukin Institute has two floors. And we follow all the buildings and premises very much: there is no day when something is not repaired, not tinted, not improved.
– What should the director know and understand in order to manage such a colossus, to keep it in perfect condition?
– This should be treated better than your home. Do you know why? If a tap is leaking in your house, you alone see it, but in the theater 1000 people see it every day, and you should be ashamed.
– Theater economics: how much does the Vakhtangov empire earn today?
– We are one of the few theaters who openly publishes all their economic data on the website, and we do not hide how much subsidies we receive, how much money comes from a presidential grant or other types of state support. We also publish and how much we earn. So, before the pandemic, in 2019, the theater's funding for the fulfillment of the state assignment was 294 million rubles, plus a presidential grant of 45 million 600 rubles. And we earned from our statutory activities (ticket sales, tours, rentals, etc.) 626 million. That is, for each budget ruble – two rubles of income. Hence our prosperity, the number of premieres and high salaries – an average of 116 thousand. Moreover, if you look at the volume of funding for other federal theaters, Vakhtangovsky is not included in the top five or even in the top three in terms of funding. I want to say that by the 100th anniversary of the theater, all employees who have worked for 10 or more years will receive a 100 thousand rubles prize. All the rest – according to the experience, but no one will be left without an award.
– How did the pandemic affect the income of the theater and its artists?
– Our revenues fell by exactly 40%, and in 2020, with all covid restrictions, the theater earned 372 million. So, if in 2019 we played 957 performances on six stages, then in 2020 – 638. And naturally, the expected the sold-out room occupancy rate dropped from 93% to 52%. But people did not lose, and for some, oddly enough, the salary even increased slightly. But here it is very important to understand that the state – the Ministry of Culture and the Ministry of Finance – has not abandoned a single federal theater, not a single museum. And not only did it not quit, but supported all our falling incomes so that no one lost in salary.
– But the state does not have a dimensionless pocket, and it is not known how the pandemic story will develop further. Will Vakhtangovsky be able to support himself in this case?
– If we lose budgetary support, we will have to cut our expenses by 43%: cut staff, not release so many premieres and keep the theater in perfect condition. And in other theaters it will be 80–90%. They will die right away, and we will shrink, shrink, but we will continue to work.
– As a director, do you have a plan "B" in case of war?
– Yes, because we have such a concept as a foreign currency account, which we have replenished over the past eight years, and all our money that we brought on tour from Europe, the USA, Canada, China, together with Rimas Vladimirovich, was put in a jar. This is our NZ, a reserve fund from which not a cent has been spent. Today there are 100 million rubles. But if suddenly something happens, this NZ Vakhtangovsky, with his staff of more than four hundred people, will be enough for 3 and a half months. But thanks to government support, we did not get into this airbag.
– After reading these numbers, will your colleagues not stop loving the Vakhtangov Theater? Does someone else's envy hurt you?
– This is normal, and especially in the theater community. When we are envied or jealous, this attitude even turns me on. "What happiness," I say.
– Still, what is the main secret of Vakhtangovsky's success? Why is its economy so effective? A management miracle?
– There is only one secret – there are brilliant performances staged here by Tuminas, Butusov, Ivanov. There is certainly a management policy here: we play 120 performances in parallel at all venues every month, we go on tour without stopping our work in Moscow. But these managerial achievements would never have happened if there had not been a theatrical product that the audience is in love with. If there were no "Eugene Onegin", "Uncle Vanya", "Smile at us, Lord", there would be no "Mademoiselle Nitush", "Dead Souls", "King Lear" or "Run", then no management will help here. Not all performances in our repertoire are equal, and I can count on my fingers which of them are locomotives. But that's why they are locomotives, to pull the entire train of 52 names. And, importantly, Vakhtangovsky's repertoire policy has different genre proposals – comedy, tragedy, vaudeville, a singing evening in the Art Cafe, fairy tales for children performed by Sasha Oleshko, we play Puss in Boots and Peter Pan for children … Only a wide repertoire offer allows us to have such a success.
Anyone who says that he will never have a comedy in the theater, because it is not the time to laugh, but the time to fight, then they are fighting with themselves and with the windmills. Nothing good will ever be in such theaters, because we have to give people both hope and joy, and make them think and cry. My formula is simple: a person cannot laugh or cry 24 hours a day, he must have everything, a full range of emotions – just like in life. And this is the criterion for Vakhtangovsky's success.
– In the 21st century, whose role is more important in promoting – new social networks or word of mouth?
– We are actively working with modern social media tools, and if you look at the Facebook statistics, we are the second after the Bolshoi Theater in terms of audience coverage and the number of subscribers. I can see this on my Facebook page: as soon as I post some news, when I come on tour to the regions, they tell me about it: "We read you." I can say one thing – if there is no product, no promotion, no stars will help.
Today, oddly enough, people do not trust the opinion of newspapers, television or Instagram more, but word of mouth, that is, word of mouth: they watched the play – told at work or wrote on their page in social networks, but on condition that people with a wide audience reach and a lot of subscribers. It's another matter in the USA: when we were on tour in New York, and after the first screening there was an article in The New York Times about the Russian "Onegin", then all tickets for the next 4 shows were canceled in a day. But it doesn't work for us.
– Of course, you can envy the life of the Vakhtangov Theater, which has a solid airbag, decent salaries. But what about the viewers who need to buy tickets? And they are not cheap in Moscow, including in the Vakhtangov Theater.
– With the exception of premieres, we have such a pricing policy – from 200 to 7500 rubles, and this is the most expensive ticket. And the premiere screening of, say, "War and Peace" – from 3 to 20 thousand. At the highest prices – only 50 tickets. We try not to raise prices, moreover, I will say: as the pandemic began, we reduced prices for many of our performances – it's hard for everyone.
VAKHTANGOVSKY IN FIGURES AND FACTS
After the death of Evgeny Vakhtangov, the theater lived for 17 years without a creative leader. It was led by the Collective Council. And it was he who preserved the theater.
Aram Khachaturian wrote the famous waltz to Lermontov's drama "Masquerade" for the Vakhtangov Theater production, and it is dedicated to the actress Alla Kazanskaya. The premiere was played the day before the start of the war, on June 21, 1941.
The Vakhtangov Theater is the only one in Moscow to be hit by a bomb in 1941 during an air raid. The artist Vasily Kuza, who was on duty on the roof, was killed. The hall was completely destroyed, decorations and costumes were scattered on the Arbat.
During the Great Patriotic War, the theater was evacuated to Omsk, where it continued to work on the stage of the local drama theater – to release premieres and play performances of its repertoire four times a week.
On the occasion of the 90th anniversary of the theater, Rimas Tuminas staged a performance, unique in design and implementation, "The Pier", which brought together on the stage a galaxy of old masters – Galina Konovalova, Yulia Borisova, Vladimir Etush, Vasily Lanovoy, Yuri Yakovlev, Vyacheslav Shalevich, Lyudmila Maksakova, Evgeny K Irina Kupchenko. And although the legendary performance is no longer included in the repertoire, a separate museum exhibition is dedicated to it in the space above the audience foyer.
The lucky number of the theater is 13.
Evgeny Vakhtangov was born on February 13, 1883.
The theater opened on November 13, 1921.
13 performances were staged by Rimas Tuminas.
There were 13 directors in 100 years.
For 13 years – about 200 tours.
Today:
100 years – two centuries – XX and XXI.
Six artistic directors, art leaders.
361 titles of released performances.
Well, Vakhtangovsky himself will celebrate the anniversary in a special way – as no one has ever celebrated. Rimas Tuminas announced the Day of Silence on the 100th anniversary of the theater. On November 13, at noon, the theater will open its doors to everyone, welcome it with champagne, and everyone will be able to look into the director's office, artistic director's office, and the most closed corners. And to hear the voices of the great, whose light shines on us to this day. And in the literal sense of the word.