Lava flows again from La Palma volcano in Spain after stopping for a short time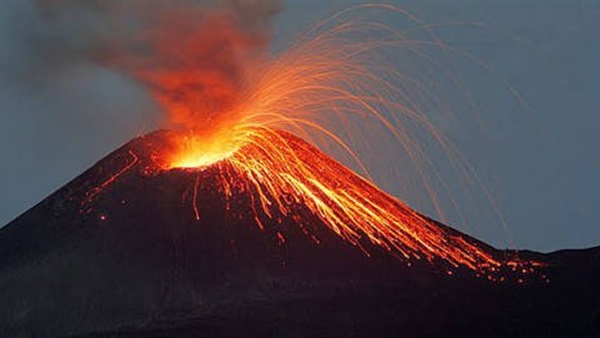 (dpa)

Published in:
Monday 27 September 2021 – 11:46 PM
| Last updated:
Monday 27 September 2021 – 11:46 PM

Lava flowed again from a volcano on La Palma, one of Spain's Canary Islands, on Monday after stopping for two hours earlier on Monday.
The state-run RTVE television network reported that lava flowed again and a huge black cloud was seen again on top of the volcano in the Cumbre Vieja region.
The volcano had abruptly subsided earlier today after an eight-day eruption, causing widespread destruction, evacuations and a curfew.
Since the eruption of the volcano more than a week ago, it was not clear when this eruption would end. A volcano expert said today, Monday, in statements to the Spanish Radio and Television Corporation, that such cases of stopping a volcanic eruption are not usual, and that it is too early to say whether the eruption of the volcano has finally ended.
The radio and television said that the lava flow was approaching the sea today, Monday, and was only 800 meters from the western coast of the island, prompting the authorities to impose a curfew in several nearby towns.
Toxic fumes can form when lava, which has a temperature of 1,000 degrees Celsius, mixes with salt water.
Curfews were imposed in the towns of San Borodone, Marina Alta, Marina Baja and La Condesa, with authorities telling residents not to leave their homes and closing doors and windows.
However, no further evictions were required, as homes considered at risk had already been vacated.
!function(f,b,e,v,n,t,s)
if(f.fbq)return;n=f.fbq=function()n.callMethod?
n.callMethod.apply(n,arguments):n.queue.push(arguments);
if(!f._fbq)f._fbq=n;n.push=n;n.loaded=!0;n.version='2.0′;
n.queue=[];t=b.createElement(e);t.async=!0;
t.src=v;s=b.getElementsByTagName(e)[0];
s.parentNode.insertBefore(t,s)(window,document,'script',
'https://connect.facebook.net/en_US/fbevents.js');
fbq('init', '2392364917476331');
fbq('track', 'PageView');
(function(d, s, id)
var js, fjs = d.getElementsByTagName(s)[0];
if (d.getElementById(id)) return;
js = d.createElement(s); js.id = id;
js.src = "//connect.facebook.net/ar_AR/sdk.js#xfbml=1&version=v2.6&appId=300970513306659";
fjs.parentNode.insertBefore(js, fjs);
(document, 'script', 'facebook-jssdk'));
The news from the source