Lebanon .. "fraud" sweeps the meat market after the two-thousand-ton deal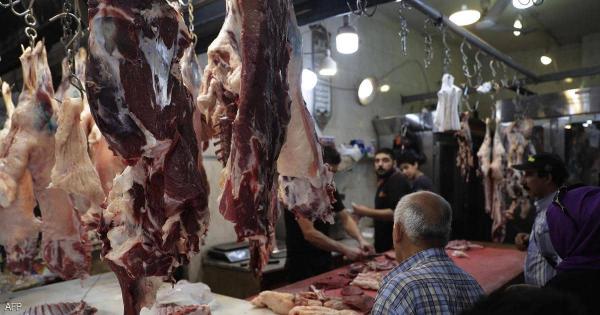 On Thursday morning, the Lebanese woke up to a news that was buzzing on social media platforms, that meat from India is invading the markets and being offered or minced with local beef, which the consumer is accustomed to buying.
Hossam Ezz El-Din, general manager of Spinneys Trading Corporation in Lebanon, warned that there are large quantities of Indian meat entering the markets, and consumers buy them without their knowledge, at high prices, similar to local meat.
The news caused widespread confusion on the communication sites, amid suspicious and concerned comments about the value of this dietary meat and its true price, especially since the price of a kilo of beef in Lebanon exceeded the threshold of 200 thousand pounds, after it was before the crisis no more than 20 thousand, until the consumer buys it in small quantities. Very and on occasions only.
Cheating is the master of the situation
Ezz El-Din told Sky News Arabia that his establishment, which mainly sells meat, does not offer such meat, while some stores in Lebanon have resorted for nearly two months to offer Indian meat with other meat, and sell it at normal prices.
He considered that "the citizen is clearly being cheated. The consumer must be informed of this. Indian buffalo meat is known for its low quality compared to regular beef, but it is absolutely harmless and is very much cheaper."
Ezz El-Din added that "the Lebanese citizen has the right to know that two thousand tons of Indian meat entered Lebanon two months ago, and he also has the right to know that some types of meat he consumes are adulterated, and minced with tough Indian meat and with fat as well."
He explained that "butchers who buy this type of meat know this and get it at cheap prices, as the price of a kilo of it does not exceed 50 thousand pounds only, while the consumer currently buys 220 thousand pounds."
Ezz El-Din held the Consumer Protection Association and the Lebanese Ministry of Economy responsible, and said, "It has to play its role mainly so that the citizen does not fall victim to a real fraud process. As the poverty rate increases in Lebanon, we will be exposed to similar fraud attempts by some merchants. We must be aware of what revolves around us."
The Ministry of Economy commented
An official source in the Ministry of Economy told "Sky News Arabia" that, "Based on what was mentioned, the ministry will start quickly inspecting meat in the markets to verify its source."
According to nutrition experts who spoke to "Sky News Arabia", the Indian buffalo is a heavy animal, sometimes reaching more than a ton, but its meat differs from beef in many characteristics, as it is dark in color and may be harsher if the animal is large Age and heavy weight.
Young buffaloes are of better quality than large ones, as well as from regular cows, as they contain a higher percentage of muscle and less fat than the meat of other livestock, and buffalo meat is known in India as "Padwa", which is for buffaloes younger than two years old.