Macron visits a farm, failing the agricultural fair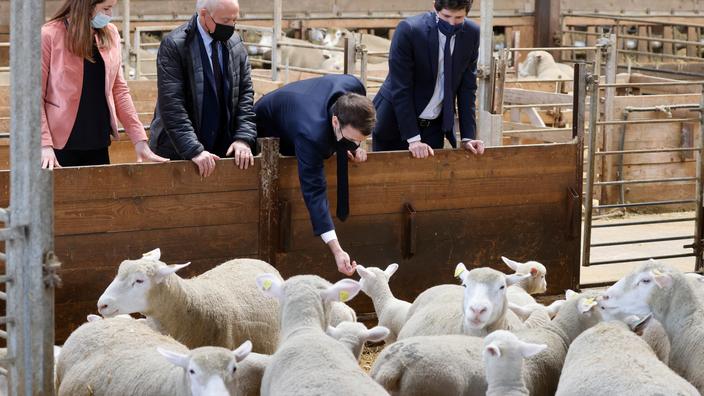 After visiting a family farm that works on short circuits, the President of the Republic will meet with a dozen farmers.
Emmanuel Macron arrived this Tuesday morning at a farm in Côte d'Or to discuss the problems of the agricultural world, in the absence of the agricultural show canceled this year by the Covid-19 crisis. The Head of State used to spend an entire day – 12 hours last year – at the largest exhibition in France to meet players from the different sectors of agriculture and food.
Read also :Has the use of pesticides in French agriculture really jumped 25% in 10 years?
«This year, the show is home», Smiled Alexandre Estivalet, one of the four managers of the Etaules farm, a village about fifteen km north of Dijon, welcoming the president, accompanied by the Minister of Agriculture Julien Denormandie.
60 hours per week
After a visit to this family farm in mixed farming (oilseeds, vegetables, pigs, sheep, horses …), which works in particular in short circuits, Emmanuel Macron was to meet with a dozen farmers, processors and distributors "committed to a better distribution of value between the different links of the agro-food chain», According to the presidency. This debate is moderated by Serge Papin, the former boss of Système U commissioned by the Ministry of Agriculture to work on "the distribution of value" in this sector.
This discussion is being held a few days before the end, on March 1, of the annual trade negotiations which determine the prices of products sold in supermarkets (excluding private labels) and the remuneration of all links in the food chain. "The situation for farmers is difficult. It's very complicated to make ends meet", Testified Alexandre Estivalet, 33 years old,"even if (our) farm is doing well, having diversified». «We work more than 60 hours a week, with little family life, but if, in the end, we have no salary, it is not possible».
Read also :The wood pigeon, a new plague in Ile-de-France for agriculture
He explained that he would tell Emmanuel Macron that the farmers were "ready to make a lot of efforts for the ecological transition"If the State"supported them and did not add even more restrictive rules". This visit takes place against a background of controversy surrounding the decision of the ecologist town hall of Lyon to provide unique menus without meat in the canteens, described as "shame»By Julien Denormandie Tuesday on RTL.