Man who kissed ESPN reporter live is charged with sexual harassment – 09/23/2022 – Television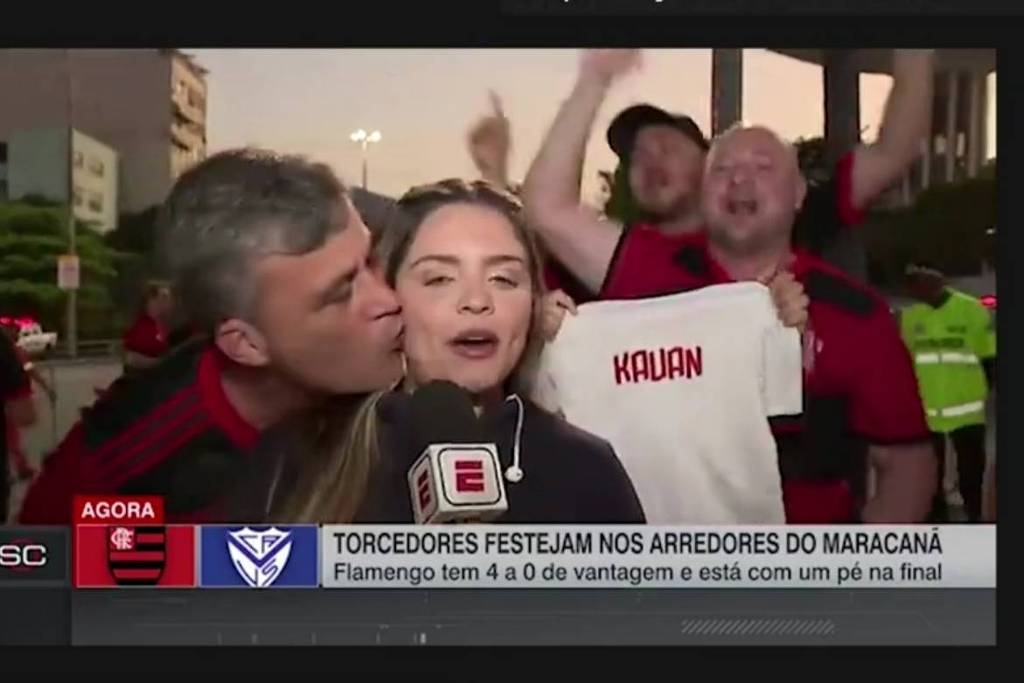 Sao Paulo
Marcelo Benevides Silva, the Flamengo fan who harassed journalist Jéssica Dias during a live broadcast on ESPN, will be investigated by the Public Ministry of the State of Rio de Janeiro (MPRJ) on Thursday (22). Prosecutor Glícia Pessanha Carvalho Viana denounced him for sexual harassment.
In the document presented, she says that Benevides caressed and kissed the reporter's face without consent. The case took place in the surroundings of Maracanã, in Rio, on the 7th, while she was covering the semifinals of the Copa Libertadores.
The complaint reports that the journalist was getting ready to go live on TV, when the man started screaming and cursing. After asking him to calm down, Benevides would have apologized, but soon after he put his hand on the victim's shoulder, sliding it up to the arm and, in the sequence, he gave a kiss on the victim's shoulder, who dodged.
When the reporter started the broadcast, the accused kissed her again, this time on the face, again against her will. The text also says that Benevides tried to flee, but was caught by the cameraman and ESPN staff assistant. The two detained him until the police arrived.
Arrested in the act, he was taken to the 18th Police Station (Praça da Bandeira), after being heard at the Maracanã stadium. After being in preventive detention, he had a release permit issued the following day (8) allowing him to respond in freedom.
However, the Justice determined the "prohibition of leaving the state without judicial authorization, prohibition of contact with victims and witnesses, saving relatives" and "prohibition of presence in sports shows with the participation of Clube de Regatas do Flamengo while the process lasts".
On social media, Jessica Dias reported what happened on the day. "It was just a kiss on the cheek. No. It wasn't. Before, there was a lot of cursing and harassment because the live took a long time", she said. "I asked for calm and for him not to be cursing, he didn't have to. The 'apologies' came with smoothing on the shoulders and a kiss on the spot."
"I was about to be called to the link and I held the position, there is a logistics that requires concentration. Another attempt at a kiss on the shoulder. I dodged and my camera caught his attention. The last act was the kiss on the cheek. have been in the mouth and it wouldn't change a thing. I suffered sexual harassment while working and that's a crime."
"I didn't want a kiss, I didn't want affection, I didn't want to spend 3 hours in a police station. I just wanted to work. The human being who did this was with an underage son who apologized for his father. The boy is not to blame, no punish his family," she said.