Mbappé back to training a little earlier than expected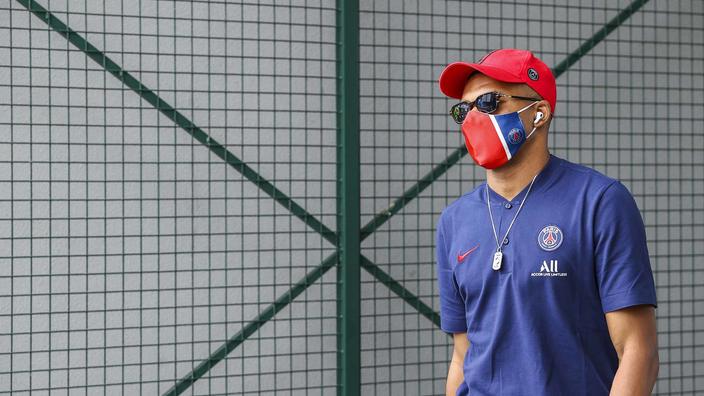 The Parisian striker, whose future remains very uncertain, came to Camp-des-Loges on Thursday when he still had a few days off.
Should this be seen as a sign of a desire to continue the adventure with Paris SG while its future still seems to be dotted in Ligue 1? Difficult to say but Kylian Mbappé did not want to drag his leg to find the training center of his club. It was a few days in advance, this Thursday, as Mauricio Pochettino had unveiled the day before, that the player made his reappearance at Camp-des-Loges when he could have a few additional days off after having blown a little in the wake of the Euro.
The star striker of the Parisian club found the premises of Saint-Germain-en-Laye under the sun and with a smile by posing with the new training jersey of his team and by posting via Instagram. A little over two weeks before the resumption of the French championship scheduled for the weekend of August 7 and 8, the Parisian workforce is growing a little more every day with the arrival of recruits and the gradual returns of the international mobilized. for the Euro.
Kylian Mbappé's 99th and 100th goals in Ligue 1
Mbappé has been undergoing thalassotherapy in recent days
Since the elimination of the France team by Switzerland in the round of 16 of the European Nations Championship, Kylian Mbappé has rested in order to recover from a tiring season (61 matches). He left for Greece before doing a thalassotherapy course in recent days.
His return to the lawns of training will be highly commented on in the coming days given his contractual situation. His commitment to Paris SG will end in June 2022 and the Mbappé clan does not yet seem ready to sign a contract extension that Nasser Al-Khelaïfi, the club president, is impatiently awaiting. If this does not come, Mbappé will be able to sign for another team next summer without any transfer fee to pay.