Murder of Kenyan champion Agnes Tirop: her husband actively wanted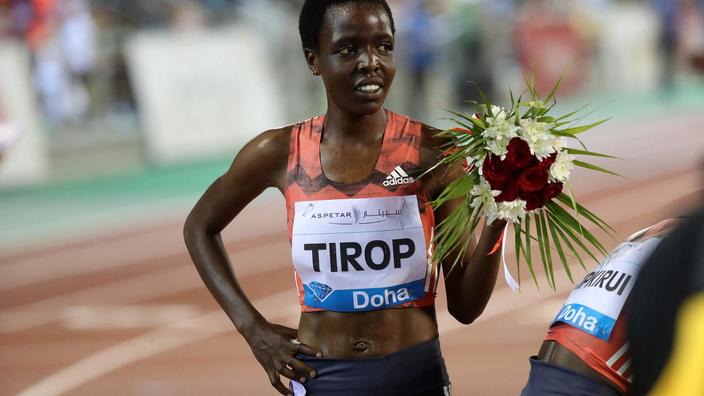 Agnes Tirop, two-time world 10,000m medalist, was found stabbed in her home.
The Kenyan police were on Thursday looking for the husband of Agnes Tirop, a promising 25-year-old athlete whose murder revealed the day before has stirred up emotion in the country and in the athletics world.
The double 10,000m world medalist (in 2017 and 2019) and 4th in the last 5,000m Tokyo Olympics was found dead, stabbed, at her home in Iten, a high-altitude town in western Kenya where many long-distance and middle-distance runners.
«We advance in the search for the killerTom Makori, police commander of the Keiyo North district, where Iten is located, told AFP on Thursday. The day before, Mr. Makori had said that Emmanuel Rotich, the husband of Agnes Tirop, was the main suspect. "He made a call to Tirop's parents to tell them that he had done something wrong. So we think he knows what happenedHe had explained.
Agnes Tirop had her life ahead of her and a thriving career ahead.

The Daily Nation
«The sooner we get him to reveal the circumstances that led to the girl's murder, the better for all of us.", Said the police officer on Thursday. Tirop's brutal death made the headlines of many media on Friday in Kenya, struck by emotion and amazement.
«The murder of a champion"Headlined the daily The Daily Nation,"the life of a sorely shattered athleteSaid The Star. "Agnes Tirop, had her life ahead of her and a thriving career ahead", Also writes The Daily Nation.
A rising star in Kenyan athletics, Tirop broke the world record for the 10 km road a month ago in an all-female race in 30:01 in Herzogenaurach (Germany). She was revealed in 2015 when she won the title of world champion in cross country at just 19, becoming the youngest athlete to sign such a performance since South African Zola Budd in 1985.
The Athletics Federation lamented in a statement on Wednesday the loss of "a diamond who was one of the fastest growing athletes on the international stage". Kenyan President Uhuru Kenyatta also paid tribute to him. "It is heartbreaking, extremely unhappy and sad to lose such a promising and young athlete who, at 25, had already brought glory to our country through her exploits on the track.», Declared the head of state in a press release.
«Her death is all the more difficult to take since Agnes, heroine of Kenya, was the victim of a cowardly and selfish criminal act», He lamented. Tirop's death comes days after another long-distance runner, Hosea Mwok Macharinyang, died in what Kenyan athletics officials have called suicide. Macharinyang, 35, had won three consecutive team world titles between 2006 and 2008.
SEE ALSO – What are the real figures of violence against women?