Nearly a quarter of the French adult population consumes too much alcohol, judge Public Health France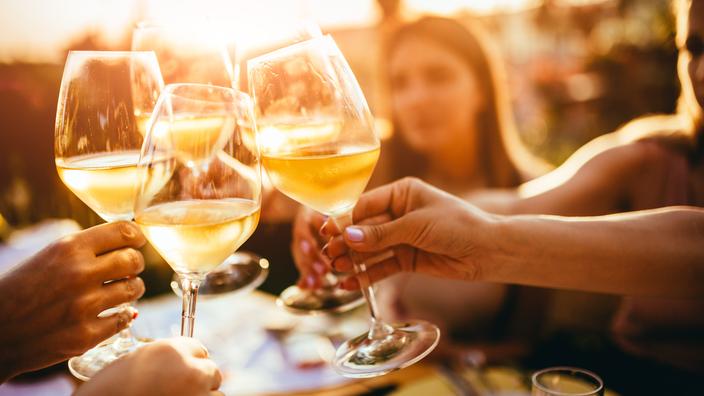 In 2017, the organization had set a threshold that it was recommended not to exceed regarding alcohol consumption: no more than 10 standard drinks per week, no more than two per day, with days without consumption.
Do the French drink too much? This Tuesday, November 9, Public Health France publishes the results of a study on alcohol consumption conducted between June and July 2020 with 14,873 individuals. And according to the organization, 23.7% of the population aged 18 to 75 last year exceeded the benchmarks for alcohol consumption that it set with the help of the National Cancer Institute. (INCa). In 2017, the two structures had indeed determined a threshold that it was recommended not to exceed: "If you drink alcohol, it is recommended to limit the risks to your health during your lifetime that you do not consume more than 10 standard drinks per week and no more than two standard drinks per day: to have days in the week without consumption».
Read alsoAlcohol, cannabis, cocaine … How intensive teleworking has fostered employee addictions
If the proportion of adults who drink too much has increased only slightly compared to 2017 (23.6% exceeded these criteria that year), Public Health France recalls at the opening of its study that excessive alcohol consumption is responsible each year for more than 40,000 deaths and would cost a whopping 118 billion euros per year. And hope with this document "improve the targeting of preventive actions, taking into account social inequalities in health».
A phenomenon that affects men more
In detail, the study tells us that men are more likely to abuse drink (33.2%) than women (14.7%), the same ratio as in 2017. In total, among with people aged 18-75 exceeding consumption benchmarks, 68.1% were men. Among them, 47.7% had no diploma or a diploma less than or equal to the baccalaureate (33.4% for women), 25.6% had a low monthly income (26.2% for women), 57 , 6% were employed (59.2% for women) and 9.4% unemployed (7.2% for women). Public Health France also notes that people with the highest incomes are more frequent consumers beyond the benchmarks and that the youngest consume less frequently, but in greater quantities.
Read alsoWhat good to drink in a bar when you don't want alcohol?
Another indication of the study: a not insignificant proportion of French people seem not to have a good perception of the risks associated with excessive alcohol consumption. 8% of people not exceeding the benchmarks and 17% of people exceeding them thus considered that there was no risk to their own health to consume on a daily basis. On the other hand, 84% of those who do not exceed the consumption benchmarks and 80% of those exceeding them recognize without difficulty that "drinking alcoholic beverages can increase the risk of cancer". But only 17% of those not exceeding the benchmarks and 23% of those exceeding it are ready to reduce their consumption.
NB: Public Health emphasizes that the study carried out for the year 2020 was interrupted during the first confinement in March, "thus modifying the usual period of data collection, while the latter usually takes place throughout the first semester" . Alcohol consumption habits are likely to fluctuate depending on the time of year, especially if we compare January-March to June-July, summer being a good time to drink. The indicators used are therefore potentially subject to a summer peak.