Olivier Véran announces the reopening of 300 vaccination centers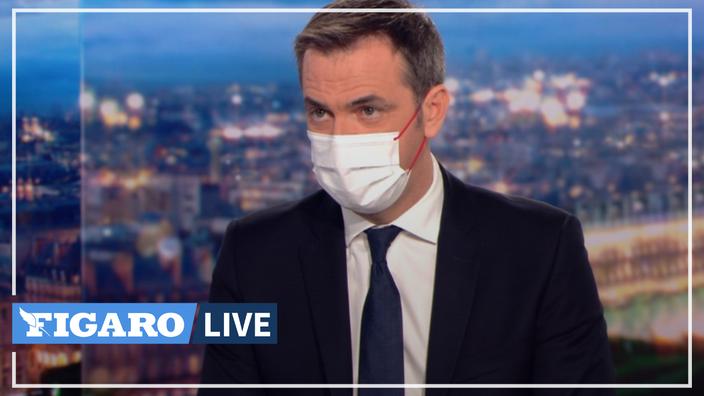 The Minister of Health, guest of the 8 pm newscast on TF1, also announced reinforced control measures for people returning from countries classified as orange or red.
"Since noon, more than half a million French people have made an appointment to be vaccinated , just on the Doctolib site ", Olivier Véran said this Thursday. Guest of the 20 hours television news of TF1, the Minister of Health has also announced the reopening of 300 vaccination centers to meet the demand.
Read alsoCovid-19: vaccine booster for all, reduced test validity period … What Olivier Véran announced
"We currently have over 25 million vaccines in stock, he added. More than 1000 centers are open, we are going to reopen 300. Every day, hundreds of slots will be reopened. In the next two months, all French people who want to be vaccinated will be able to do so ". Regarding the vaccination of children aged 5 to 11, approved by the European regulator, Olivier Véran was cautious. "If the high authority decides in favor of their vaccination, we will probably open the vaccination to children, on an optional basis", he continued, specifying that if there was to be a vaccination campaign, it would start "At the beginning of the year 2022".
While Morocco made the decision on Thursday to suspend flights to and from France, the minister reassured: "We will do the maximum for our French nationals in Morocco". Border control measures will also be stepped up. "Details will be given within 24 to 48 hours. A decree will define things precisely ".
Read alsoCovid-19: Morocco suspends all flights to and from France
To see also – "We are going to change the rules to go to overseas territories", declares Olivier Véran
Olivier Véran, however, mentioned a few avenues: "Controls will be reinforced for people who are not vaccinated and who come to France and for people from countries classified as red or orange." The rules for going to overseas territories will also be changed, since "We are restoring a test obligation". It will now be necessary "Show a negative test for less than 24 hours" for the unvaccinated and "Present either an antigen test of less than 48 hours, or a PCR test of less than 72 hours" for vaccinated people.