Omicron began to confuse people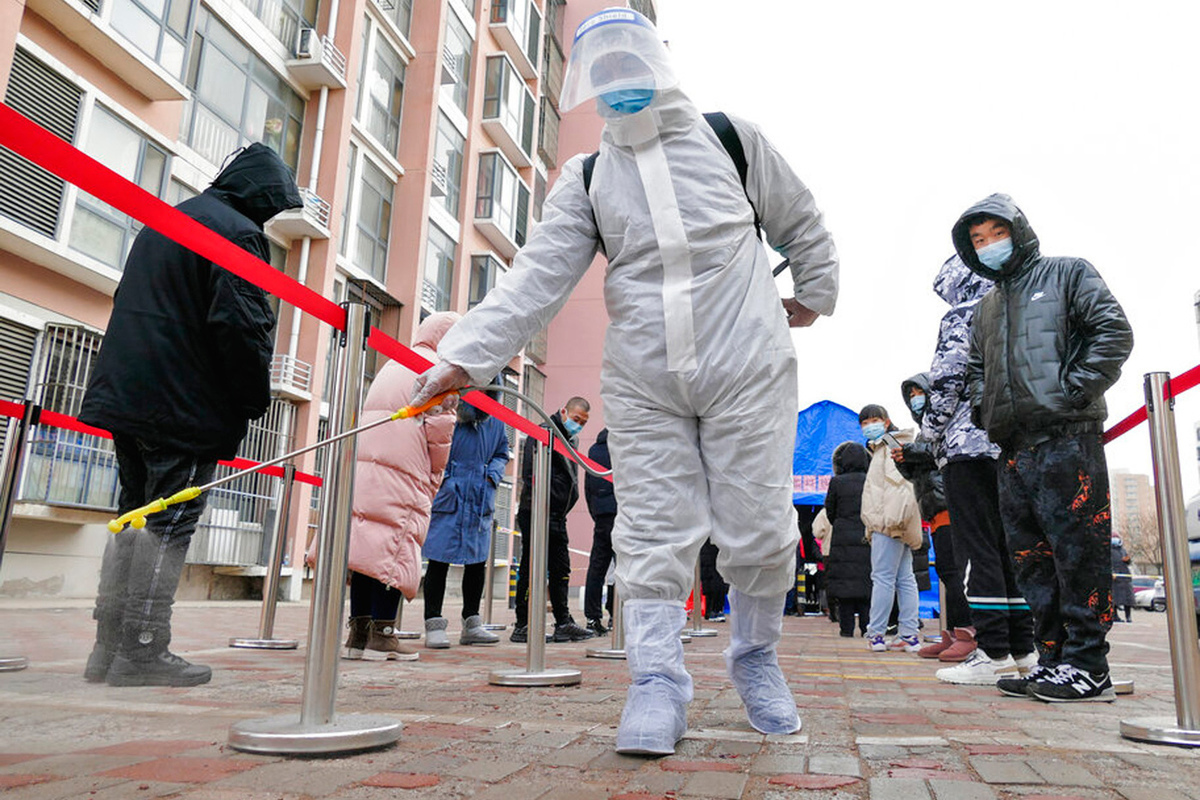 However, there is nothing supernatural in the possible recombination of different lines of SARS-CoV-2. With the rate of mutations that the coronavirus has acquired today, hybrids are inevitable, although the experienced Rospotrebnadzor, just in case, warned that this crossing could also be a "laboratory mistake."
Meanwhile, Professor Leontios Kostrikis, head of the laboratory of biotechnology and molecular virology at the University of Cyprus, said that eleven patients who were admitted with coronavirus and fourteen outpatients showed COVID-19 with mutations of both Delta and Omicron. -strain. Deltacron retained the Delta genome and found about ten additional changes, like Omicron.
In general, such a quick switch of attention to "Deltacron" from "Omicron" is somewhat offensive for the latter, since "Omicron" for two months of mass distribution did not have time to fully show its essence.
As in November, when Omicron first appeared in the public world space, so now, little is known about him. Except that it is wildly infectious. And that the classic symptoms of COVID-19 most often pass it by. The new mutation is much less likely to cause SARS, and one of its main symptoms is extreme fatigue. The thing is unpleasant, but not fatal.
Alas, the frenzied contagiousness of "Omicron" overrides all its potential "useful" qualities. So, in early January, the incidence rates per day in the United States exceeded a million people – an absolute record for a pandemic – and even if we take into account that statistics were not issued immediately due to holidays and weekends, but were saved for several days, the number of confirmed tests is still staggering. The number of deaths in the same United States ranges from 2,615 people (January 7) to 330 (January 9), but anxiety and panic are already playing a detrimental role here.
Incidentally, another new symptom of Omicron, as recently discovered by specialists from the American Center for Disease Control and Prevention (CDC), is feelings of confusion and confusion. "People experiencing them should immediately seek medical attention," the experts summed up.
It turns out that anxiety and panic as symptoms of the coronavirus give rise to even greater anxiety and panic, which logically turns into a medical collapse.
And the more patients test positive even in the absence of severe symptoms, the greater the pressure on healthcare. And, getting to the hospital, many infected people receive an additional viral load there, become heavier and … People are mortal, and health care in any country, alas, is not rubber. Therefore, in each state, depending on its financial capabilities, Omicron is fought in different ways.
In a number of US states, deaths from coronavirus began to rise around the end of December, albeit on a slightly smaller scale compared to previous peaks.
Now hospitals are approaching their peak occupancy rates, comparable to last winter's figures, although doctors reassure that current patients are doing better than in previous waves. However, the number of people in need of intensive care or ventilation is growing in the West.
While the countries of the first order are falling into "confusion and confusion", offering their citizens another dose of vaccine as a salvation, a small polyclinic in the Montenegrin town of Bar posted a modest notice on its doors:
"We ask citizens with mild respiratory or gastrointestinal symptoms (runny nose, sore throat, slight fever, nausea, weakness) not to rush to get tested and see a doctor, do not stand in line at our clinic.
Better to isolate yourself at home and rest, take vitamins and warm drinks, as in the old days when we were sick with respiratory infections.
If the symptoms worsen, and it lasts for several days, then you need to do a rapid test and make an appointment. We remind you that the new strain of coronavirus most often passes easily and without complications. "
Probably, this is also a way out. If you see no other way out, try to relax and do nothing. In addition, some world-famous scientists are also inclined to believe that, due to its properties, it is the highly infectious Omicron that sooner or later can become the liberator of mankind from the shackles of a pandemic. After that, the coronavirus, in theory, should become an endemic disease, like any ARVI. The main thing is to calm down and rethink what we have.
So, Dr. Clive Dix, ex-chairman of the UK vaccine task force, recently called for a major change in the strategy of combating COVID-19 in the kingdom, actually changing the approach of the past two years and returning to normal life, albeit in a new environment. "We need to analyze whether we are using the current vaccination campaign to protect the most vulnerable," he said. Dix believes that research on immunity to COVID-19 should be supported, and not only antibodies should be studied, but also B cells and T cells (leukocytes), and only chronic patients and the elderly should be vaccinated. "This could help create vaccines for vulnerable populations, specific for new variants, and stop the progression of severe forms of the disease."
And in Israel, for example, they propose to stop testing everyone they meet and cross, especially when a person has no symptoms of the disease. Moreover, many Israelis themselves have already stopped reporting to the Ministry of Health about the positive results of their tests for coronavirus. This was reported by local television. As you know, until recently, most of the citizens of this country were extremely law-abiding, believed the authorities and did what they were told. In particular, they independently carried out home testing, reporting a positive result, where they should, after which they sat down voluntarily for self-isolation.
However, now asymptomatic patients prefer to hide the diagnosis so as not to make life difficult for themselves. Thus, a session began for Israeli students, and they were not allowed to take it remotely. Didn't come to the lecture room for any reason – get ready for retaking at the end of the next semester.
It is clear that very few people want this, it is easier not to admit that they are infected at all. Yes, there is a big risk of infecting others, those same dorm neighbors (if you sit in quarantine in your room, leaving it just for exams, your comrades will pass), but this is better than having problems with "tails".
Another Israeli working for a large company told reporters that those with a home test showing a "plus" just buy a couple of more kits, one of them usually shows a negative result, which is presented to employers. "Nobody goes for additional PCR, because then they bring you into the system. I know people in my office who do this. They just take one set after another until they get a negative result, and they cheat everyone, "the anonymous author honestly admitted. The authorities emphasize that Omicron in Israel (and not only in it) mows both the vaccinated and the unvaccinated, while it should be noted that the unvaccinated here include the same vaccinated, but did not have time to make the next booster.
However, there is nothing surprising in the fact that citizens who have received all the necessary doses of vaccinations on time get sick. As you know, the coronavirus mutates in its most unstable part: the spike protein, the spike through which the virus enters the cell. In "Omicron" in comparison with "Delta" there are as many as 32 mutations in the spike protein.
And if the spike protein itself is "outdated", then there will be no sense in these antibodies when meeting with a modified coronavirus that has a spike protein of a completely different configuration. It's just science – and nothing personal. Prevention of coronavirus makes people more susceptible to infection by accelerating the emergence of new mutations.
Alas, politicians think differently. And it is believed that only an even greater number of even obsolete antibodies will help cope with the "Omicron". Therefore, the European Commission has already agreed on the supply of 4.6 billion doses of mRNA vaccines to the EU. The EU has a population of 450 million. Should be enough for more than one booster.
Well, in the meantime, with the beginning of the new year, a number of European countries have once again introduced new restrictions: France has obliged to transfer employees to telecommuting at least three days a week. At the same time, President Macron, who is preparing for the re-election, said that he "wants to cover the unvaccinated with excrement," which caused a storm of indignation among future voters.
In Britain, schoolchildren will be required to wear masks in class. In Italy, for residents over 50 years old, a fine of 100 euros has been introduced for refusing to vaccinate, and also suspension from work.
In America, they called to send vaccines and expensive monoclonal antibodies to prevent a cytokine storm in states with a predominance of color populations …
In general, everything is as usual and in the spirit of political correctness and "new normalcy". Against this background, in Russia, where Omicron began to emerge only at the end of December, things are not so bad. The number of seriously ill people after a violent autumn outbreak in our country is steadily falling and now slightly exceeds 15 thousand people. The number of deaths is also much less – on January 10, 741 people died, while in December more than a thousand Russians died every day.
All this was also predicted by experts. Regardless of what strain is in the yard, the coronavirus pandemic has its own cycle, after an inevitable rise, a gradual decline follows, which in about 3-5 months will be replaced by another surge in incidence. To which you need to prepare in advance, and not when it is attached.
It is quite possible that Omicron has been here for a long time, and it was with his arrival that the situation improved. The main thing is not to catch his main symptom, which seems to have taken over the rest of the world. "Confusion and confusion" that lead to unexplained panic where you just need to calm down and turn on the brain.