Orange falls without wings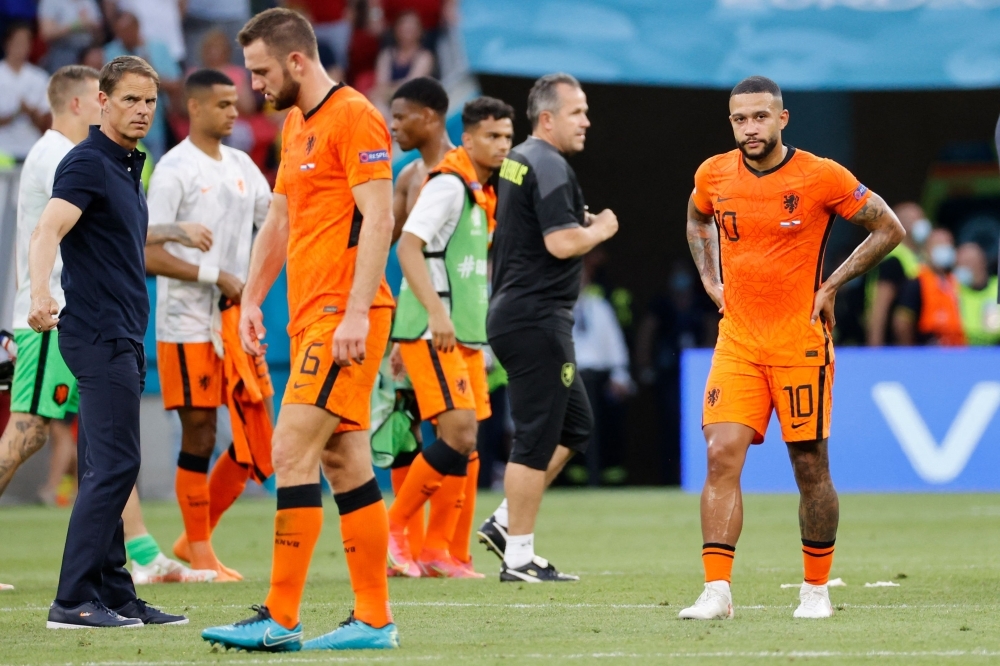 The Dutch national team paid the price of coach Frank de Boer's choice to enter the 16th edition of the European Cup without wings, and the "orange" fell to the ground at the hands of his Czech counterpart, who eliminated him from the final price by winning 2-0.
In a country famous for its attacking style of play and historically relying on a 3-3-4 formation, de Boer decided to deviate from tradition in the task of restoring the national team to its place after missing the last two major tournaments by failing to qualify for Euro 2016 and the 2018 World Cup
De Boer sparked a great controversy in the country as a result of his abandonment of the traditional style of play that contributed to leading the "mills" to the 1974 and 1977 World Cup final and his only title in the 1988 European Cup.
The future of the former coach of Ajax, Inter, Crystal Palace and Atlanta United of America is in jeopardy, after the disappointment of the fall, Sunday, at the Puskas Arena in the Hungarian capital Budapest.
Even after achieving success in the group stage, where the Netherlands won all three matches, de Boer was not spared the criticism after preferring to play with a 2-3-5 plan instead of 3-3-4.
The blood link with his twin brother, Ronald de Boer, did not spare him in order to avoid the latter's criticism, who said that the late legend "Johan Cruyff spins in his grave" for watching the national team play in this way.
Some went as far as to say that the tactic adopted by De Boer constituted a "rape of Dutch football".
(function (d, s, id)
var js, fjs = d.getElementsByTagName(s)[0];
if (d.getElementById(id)) return;
js = d.createElement(s);
js.id = id;
js.src = "//connect.facebook.net/en_US/sdk.js#xfbml=1&version=v2.4&appId=1557584214546916";
fjs.parentNode.insertBefore(js, fjs);
(document, 'script', 'facebook-jssdk'));
The news from the source