Overseas coverage questions general at Petrobras – 02/23/2021 – Nelson de Sá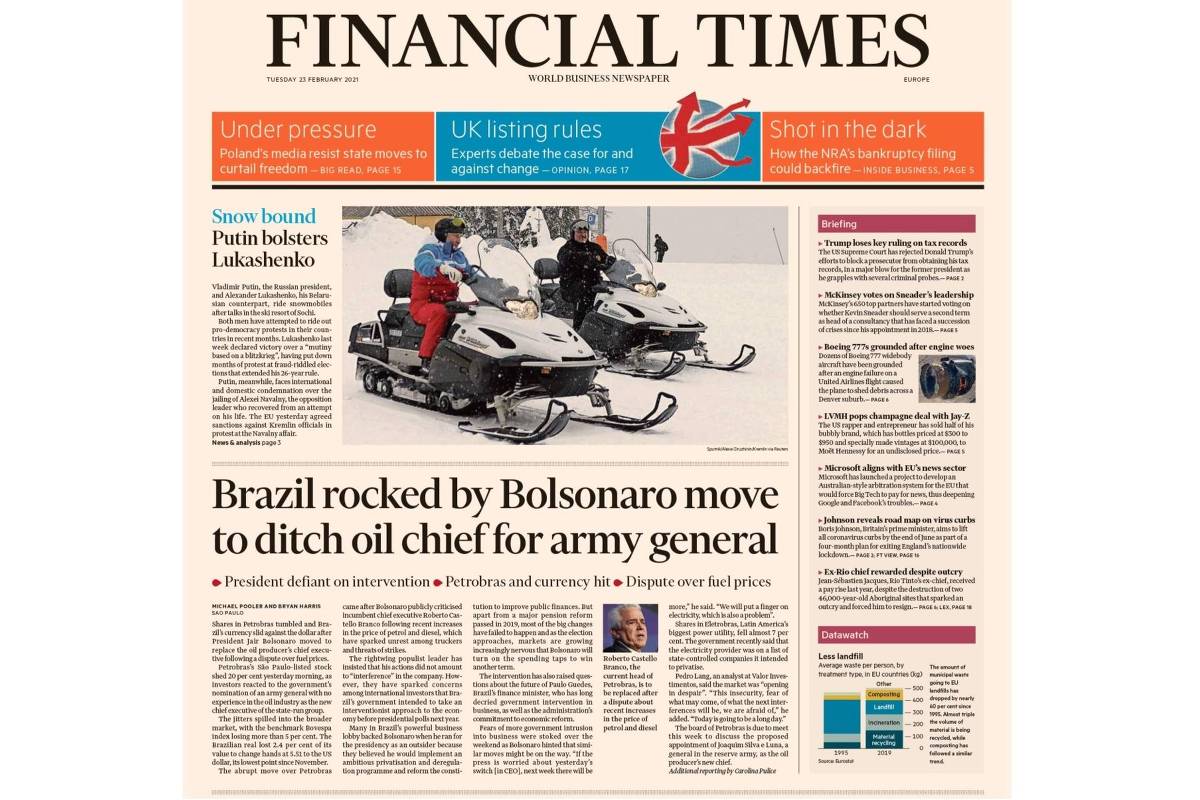 Western financial news reacted in chorus to the announcement by General Joaquim Silva e Luna to chair Petrobras, in place of Roberto Castello Branco, "economist trained at the University of Chicago", an expression used by Bloomberg to the Wall Street Journal and the Financial Times.
It was the most widely read of Bloomberg reports in the world, throughout Monday, "Markets in Brazil fall with Bolsonaro's turn towards interventionism". The Brazilian representative "stated that he can make more changes, including in energy".
The financial agency stresses that "Jair Bolsonaro's popularity is dropping near record lows after a cash distribution program expired in December." And that Minister Paulo Guedes remains "silent". In a later analysis, he pointed out that he "fades" before Bolsonaro.
The WSJ took home the drop in Petrobras' shares, Monday and Tuesday, noting that "the Brazilian president's decision generated a crisis of confidence in his government's commitment to free market policies".
Informs that Silva e Luna "served alongside the president decades ago, under the military dictatorship of Brazil", and that Bolsonaro's appeal to generals, in several ministries, has been expanding.
Briton FT took Petrobras to the headline in its American edition and others – although not in the United Kingdom, dealing with the local collapse. In the statement (above), "Brazil is shaken by Bolsonaro's action to change the oil chief for an army general". In the text:
"Many in Brazil's powerful business lobby supported Bolsonaro when he ran, because they believed he would implement an ambitious privatization and deregulation program. But in addition to a pension reform approved in 2019, most of the major changes did not happen."
German financeman Handelsblatt published that "The dismissal of the head of Petrobras sinks the Brazilian stock market in turbulence", emphasizing, below, that, "After the appointment of a former general, the share price fell by double digits".
In the French finance company Les Échos, along the same lines, "Petrobras: Bolsonaro sinks the Brazilian stock market". Opening the text, "Turbulence was expected. It was a carnage."
LINK PRESENT: Did you like this column? Subscriber can release five free accesses from any link per day. Just click on the blue F below.