Pakistan calls for a thaw of Afghan assets, before discussions at the UN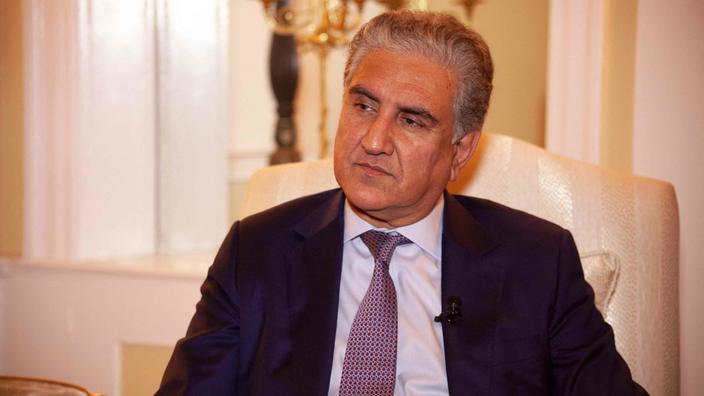 Pakistan on Monday (September 20) called on the great powers to release the billions of dollars in Afghan assets frozen after the Taliban took power, but Islamabad does not expect any recognition of the new government soon. The greatest urgency is to avoid an even greater collapse of the Afghan economy, warned Pakistani Foreign Minister Shah Mahmood Qureshi ahead of talks on Afghanistan at the United Nations general assembly.
Read alsoAfghanistan: middle and high schools reopen for boys only
"On the one hand, we raise new funds to avoid a crisis and, on the other hand, the money which is theirs, which belongs to them, they cannot use"Shah Mahmood Qureshi told reporters. "I think the asset freeze is not helping the situation. I urge the powers in place to review this policy and to think about a thaw ", did he declare. The United States has frozen $ 9.5 billion (8 billion euros) from the Afghan Central Bank and international lenders are avoiding Afghanistan, worried about providing liquidity that the Taliban can use.
Pakistan was the main supporter of the Taliban regime between 1996 and 2000 and has long been accused by the United States of fueling, through its intelligence services, Islamist rebels during the 20-year war against NATO forces. and government backed by Westerners. While calling for dialogue with the Taliban, Shah Mahmood Qureshi seems to share with American diplomacy the idea that it is premature to establish official relations with the new regime. "I think no one is in a rush to recognize (the government) at this point and the Taliban should keep an eye on it," said Shah Mahmood Qureshi.
Read alsoAfghanistan: Taliban replace Women's Ministry with Vice Prevention
If the new masters of Kabul want recognition, "They must be more sensitive and more receptive to international opinion", he added. Shah Mahmood Qureshi hopes that the Taliban will be more open after forming an interim government including figures placed on the United Nations blacklist for terrorism. Pakistani foreign minister sees "positive" among the Taliban, such as the declaration of amnesty and the desire to include ethnic groups other than the dominant Pashtuns. "There are trends to be encouraged", he emphasizes.
Activists and witnesses assure that the reality on the ground is different from the promises of the Taliban, women and girls being deprived of jobs and education despite the official announcements of the new regime.