Pfizer Sends Vaccine Data for Kids Ages 5-11 to FDA, Now 'Days' Away from Formal Authorization Request, CEO Says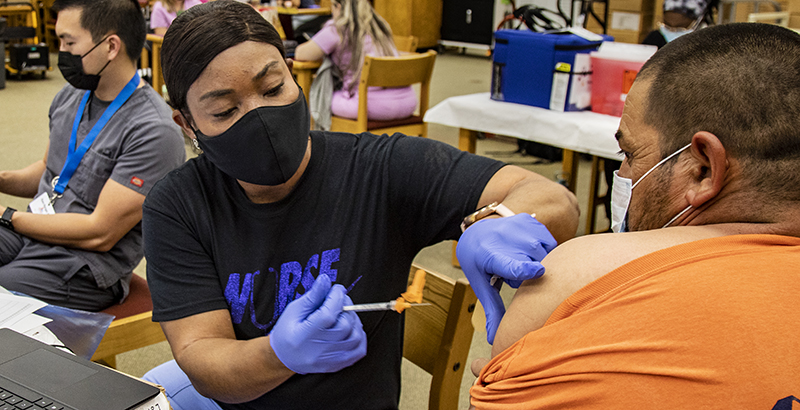 Get essential education news and commentary delivered straight to your inbox. Sign up here for The 74's daily newsletter.
Pfizer-BioNTech has submitted initial data to the Food and Drug Administration that its COVID-19 vaccine is safe and effective for 5- to 11-year olds, the pharmaceutical company announced Tuesday.
The development represents another key step toward shots for young children, but Pfizer has yet to formally submit a request to the FDA for authorization to inoculate the roughly 28 million Americans under 12 years old, which it must do before the federal agency can fully begin the weeks-long review process.
Pfizer's submission for emergency use authorization will come in a matter of days, CEO Albert Bourla told ABC News on Sunday.
If Bourla's company sticks to that timeline, young kids should have access to COVID shots before the end of next month, said Dr. Anthony Fauci.
Children deserve a first-rate education; and the public deserves first-rate reporting on it.
Please support our journalism.
"I would imagine in the next few weeks [the FDA] will examine that data and hopefully give the OK so we can start vaccinating children hopefully by the end of October," the nation's top infectious disease expert told MSNBC's Morning Joe.
That's big news for schools, says Atlanta-based pediatrician Jennifer Shu. Though classrooms have not proven to be the locus of viral spread through the pandemic, circulation of the highly contagious Delta variant this fall has spurred outbreaks forcing some 2,200 school closures already since buildings opened. In late September, minors made up more than a quarter of all new COVID cases, the American Academy of Pediatrics reports, though the risk of severe outcomes remains small, doctors say.
"Once kids ages 5 to 11 are eligible for [the] vaccine, attending school during the pandemic will be safer," Shu wrote in a message to The 74.
The Pfizer data included 2,268 participants ages 5 to 11 who were each given a two-dose regimen of the vaccine 21 days apart. Children were given a 10 microgram dose, smaller than the 30 micrograms administered to older children and adults, which the drug company said was a carefully selected dosage for safety, tolerability and effectiveness.
In an internal review of the results last week, Pfizer reported that one month after the second dose, the shots produced a "robust" antibody response, including immunity and side effects comparable to that delivered by the larger dose in 16- to 25-year-old patients.
The FDA said that it will analyze those data as soon as possible, the New York Times reports.
In the Atlanta pediatrician's practice, patients are eager to have youngsters inoculated — though Shu's clientele may be the exception, from a nationwide perspective.
"I'm mostly seeing families that are all in," she said. "​​Children are telling me they can't wait until they can get the vaccine, since they are often the only ones in their family who haven't even gotten one dose yet."
Youth ages 12 and up have been eligible for doses since May, but only 45 percent of 12- to 17-year-olds are fully vaccinated, according to the AAP. By that measure, inoculating those under 12 years old may prove a challenge.
A Kaiser Family Foundation national poll from mid-August found that only 26 percent of parents of 5- to 11-year olds would want their child to receive the COVID-19 shot right away after it's cleared, while another 40 percent said they would "wait and see."
Getting children under 12 vaccinated "will be an uphill battle," Rebecca Wurtz, professor of health policy at the University of Minnesota, told The 74. "I think parents are even more protective of their younger kids (than their older children)."
In the Kaiser survey, an additional 9 percent of parents said they would get their youngsters vaccinated only if the shots were required. Meanwhile, momentum is building for schools to do just that.
Last week, Oakland Unified School District in California joined Golden State counterparts Los Angeles and Culver City, as well as Hoboken, New Jersey, in requiring that all eligible students receive the COVID-19 vaccine in order to attend in-person school.
Los Angeles Unified School District officials chose not to comment when asked by The 74 last week whether they would extend their student vaccine requirement to learners ages 5 to 11, should shots be approved for that age group.
Whether or not student vaccination mandates continue to expand, Shu believes the real-world outcomes from COVID shots should encourage parents who may be on the fence.
"More than 5.5 billion doses of COVID vaccine have been given worldwide," she points out. "I hope that builds confidence for parents to give it to their children."
Related
Sign up for The 74's newsletter
Submit a Letter to the Editor