Phones, headphones … a third of pedestrians behave at risk on the road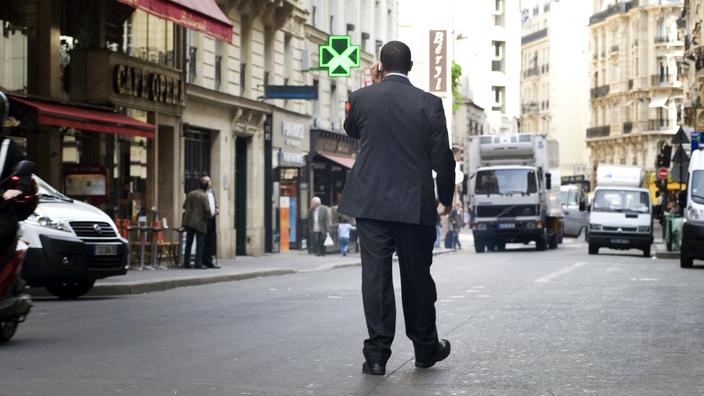 According to a study carried out by OpinionWay, 35% of pedestrians adopt dangerous reflexes on the roadway.
Phones in hand, headphones on, or even the crossing out of the nails … Many French people often put themselves in danger crossing the streets of urban areas. Indeed, according to an OpinionWay survey, for MMA insurance published by The Parisian this Monday, November 8 morning, 35% of pedestrians adopt dangerous behavior on the roadway. In 2020, 391 pedestrians died, or 15% of road fatalities in France.
Read alsoScooters: an association mobilized against these incivilities that can kill
To arrive at this conclusion, the survey company worked on a sample of 2,173 crossings, of one person or more on a pedestrian crossing, on 25 observation points located in five different cities: Lille, Nantes, Lyon, Montpellier and Paris. Pedestrian crossings were selected on the basis of their history of road accidents, involving at least one pedestrian.
Of the 35% of pedestrians who adopt dangerous reflexes, 29% use their phone when crossing, 14% have headphones or earphones, 30% cross outside protected crossings and 61% when the light is red for pedestrians. Paris and Lyon are at the top of risk crossings with 38% respectively, then we find Montpellier (34%), Nantes (33%) and Lille (22%).
These behaviors are more frequent at the end of the day: 50% are recorded between 4 p.m. and 6 p.m., 34% between 8 a.m. and 10 a.m. and 27% between noon and 2 p.m. The survey company found that the profile of these people corresponds more to men (58%) and people under 30 (55%).
At Parisian, Cécile Lechère, in charge of road risk prevention at MMA, recalls that the pedestrian is the first victim of the road in built-up areas: "In Paris, for example, of the 45 deaths in 2020, 15 were pedestrians. It is one of the modes of travel where we are most vulnerable, because no bodywork protects us.". According to her, "with the arrival of the tram, scooters, the bicycle boom, the urban space has sometimes turned into an urban jungle". And adds: "Being a pedestrian isn't as easy as it used to be.»