Police seize 20 rifles in the interior of SP – 06/08/2022 – Daily life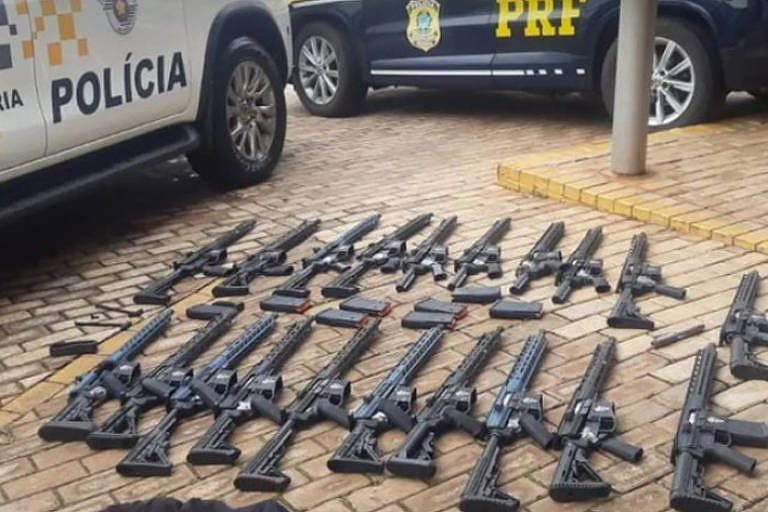 An operation by the Federal Highway Police and the Military Highway Police resulted in the seizure of 20 rifles that were hidden in two cars, around 5 am this Saturday (6), in Ourinhos (378 km from São Paulo).
The armament would be taken to the capital of São Paulo. Two men, aged 32 and 43, were arrested during the approach, according to the Public Security Department.
According to the PRF, the operation took place after an exchange of information.
In the action, two vehicles, a Kia Soul and a Peugeot 308, both with Mercosur plates, were stopped at the junction between the Transbrailiana and Raposos Tavares highways.
Inside the vehicles, in false bottoms next to the bodywork, 20 Colt brand rifles, caliber 7.62, and approximately 1,200 5.56 ammunition were found. Chargers were also found.
Police did not disclose the origin of the vehicles. One of the suspects, however, reported that he would receive the sum of R$1,000 to deliver the weapons to the city of São Paulo.
The two men were taken into custody. The case was registered at the Ourinhos Sectional Police Station.
This was at least the third major seizure of weapons this year in São Paulo. In early March, police officers from the 5th Police Station for Investigations into Bank Robbery and Robbery seized more than 20 firearms and more than 140 kilos of marijuana at a property in Taboão da Serra, in the metropolitan region of São Paulo.
During the search of the premises, the police located, packed, eight long weapons (seven 12-caliber carbines and one 5.56-caliber rifle), in addition to 15 pistols.
In April, police officers from DEIC (State Department of Criminal Investigations) seized weapons capable of breaking armor, such as .30, .50, .556 and 7.62 calibers, in addition to shotguns in the attic of a farm in Araçariguama (53 km from SP). 44 and 308 calibers.