"Politics is the school of humility," said Jordan Bardella against the scores of the RN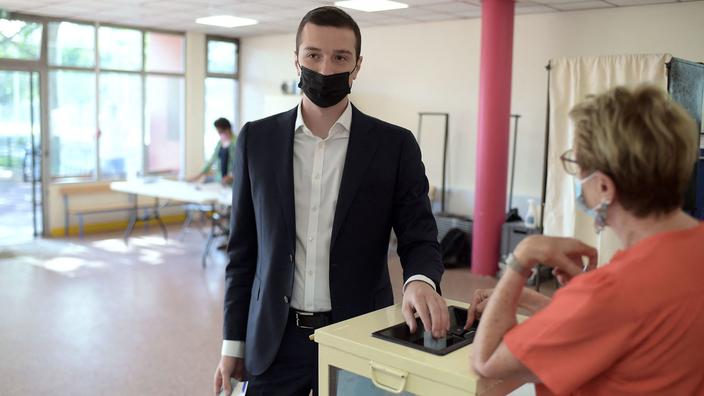 The vice-president of the flame party admitted to "questioning himself" in the face of the abstention figures and the scores of the RN, while calling for mobilization for the second round.
«Everyone is questioning themselves."While the first round of the regional elections, which took place this Sunday, June 20, was marked by a very high abstention rate and lower scores than expected for the National Rally, the vice-president of the party , Jordan Bardella, claimed to be in "a permanent questioning.»
Read also :Regional 2021: discover the political situation in all regions after the first round
«Politics is the school of humility, admitted the elected official. It's a democratic failure (abstention, Editor's note) which concerns all political forces.»Guest on BFMTV, the candidate for regional elections in Île-de-France – who came in second with 13.7% of the vote behind Valérie Pécresse – felt that "know how to be humble when you are in politics». «When we have two-thirds of the people – which more than two-thirds of the voters of the RN – who stay at home on the day of the vote, of course we question ourselves. Does it come from our doing? Is it the government's fault? Is it this climate of tension?He asked himself.
"The voters of the RN did not come"
Aware of the weak mobilization of the electorate of the RN, Jordan Bardella still lambasted "extremely violent attacksWhich his party, according to him, was the subject of during the campaign. "Is that the political image that we send back to our fellow citizens?", He insisted, while blaming the"leaders who have succeeded at the head of our country"And"who disgusted people of politics». «When we desecrate political office to such an extent, it should come as no surprise that people despise politics and do not want to move», Mocked the chosen one.
Read also :"The protest took more the path of abstention than of the RN vote"
While the RN hoped to take the lead in several regions, all hopes of the party on fire are now turning to candidate Thierry Mariani in Paca. «There is still a second round and people have the opportunity to vote again on Sunday at the polls», Assured the candidate. And to add: "The voters of the RN did not come. But I call them to go and vote.»
The RN candidate in Hauts-de-France, Sébastien Chenu, also felt that the party can still "take regions next sunday". While inviting to read the results "in the light of what political life is today.» «The party of the President of the Republic cannot even maintain itself in a region majority. The balances are changing and the results could also change next Sunday», He concluded.