protester dies after tear gas fire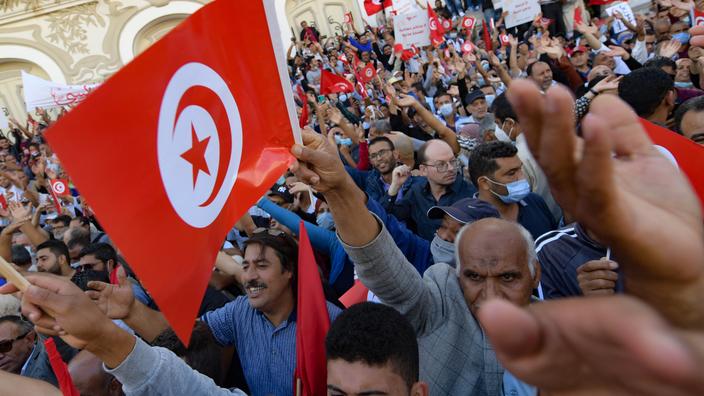 A Tunisian died after inhaling tear gas fired by the police to disperse a demonstration against the reopening of a landfill in the center-east of the country, AFP learned Tuesday (November 9) from a hospital source and from his family. The 35-year-old man died on the night of Monday to Tuesday in Aguereb, a town in the Sfax region which has been experiencing protests in recent weeks against the problem of waste invading the streets and sidewalks, and threatening the health of the inhabitants.
Read alsoTunisia: President Saïed summons his government
«Abderrazek Lacheheb transferred to Aguereb hospital for asphyxiation", An official of the establishment told AFP. "He arrived alive but after massive tear gas firing in front of the hospital (to disperse a group of demonstrators), he died (…). It was the police who killed him", For his part declared his cousin Houcine Lacheheb.
According to an AFP correspondent on the spot, the police fired tear gas to disperse demonstrators who threw stones in their direction. The prosecution opened a judicial investigation to determine the reasons for this death. Protests resumed on Tuesday and demonstrators torched a national guard post (gendarmerie), Interior Ministry spokesman Yasser Mesbah told AFP.
The Interior Ministry formally denies
The Tunisian Forum for Economic and Social Rights (FTDES) for its part indicated in a press release that the city of Aguereb "underwent a violent security intervention Monday evening to force the reopening of the Qena landfill». «Massive use of tear gas caused death of Abderrazek Lacheheb», Underlined this NGO which follows closely the social movements in Tunisia.
The Interior Ministry denied that the man was injured by tear gas canisters, saying he was hospitalized with a health problem unrelated to the incidents. "Man had health issue far from protests, hospitalization and death have nothing to do with what happened", Told AFP Mr. Mesbah, the spokesman of the ministry. Videos shared on social networks show residents fleeing tear gas in front of Aguereb hospital as relatives of Abderrazek Lacheheb express their anger after his death.
Under pressure from the population, the main landfill in the Sfax region, located in Aguereb, was closed at the end of September. Municipalities in the region subsequently refused to collect the waste, arguing that the state has not found concrete solutions to the problem posed by waste management. During a meeting Monday of President Kais Saied with Prime Minister Najla Bouden and Interior Minister Taoufik Charfeddine, he stressed the urgency of solving the waste problem in Sfax.