protests against President Kais Saied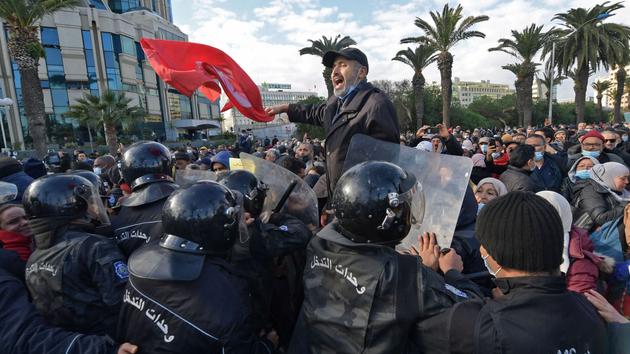 REPORT – The UN has also condemned the authoritarian power of the Tunisian president.
Tunis
«Clear! Clear! Clear!": they continued to shout in the small streets. This Friday, opponents of President Kais Saied, who took full power this summer, were planning to celebrate the anniversary of the revolution – autocrat Ben Ali fled the country on January 14, 2011 – and show their weight. This despite the ban, decided at the start of the week, on gathering due to the Covid epidemic. The showdown has taken place. Using truncheons, tear gas and water cannons, the police dispersed the crowd.
Read alsoWhere is Tunisia headed after the president's coup?
«He is a mad. A madman"Blows a sexagenarian who refuses to give her name, "too risky". She came to demonstrate on Bourguiba Avenue, in the heart of Tunis, despite the ban: "I did not take part in the demonstrations during the revolution. I blamed myself and I swore to act since. I have a big dream: that of democracy."Ghassen Marzouki, he, plague against the police:"They did everything to prevent us from getting together…