Qais Said bombs the Brotherhood and Turkey again: Tunisia will not be a corridor or a military base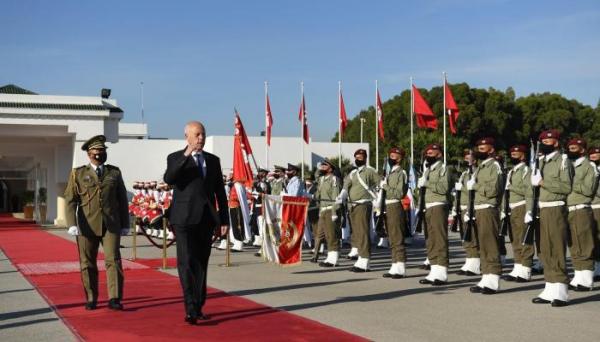 A double blow by Tunisian President Kais Saied to the Muslim Brotherhood and their ally the Turkish regime, in a position that internalizes messages of an organization looking for a "truce" that breaks the wall of protection in the Carthage Palace.
The Tunisian president affirmed that he is not a "war advocate", refusing to allow his country to be a corridor for any foreign forces or a base for the establishment of military bases.
This came in a speech he delivered on the occasion of the celebration of the 65th anniversary of the founding of the National Army, which he supervised in his capacity as the Supreme Commander of the Armed Forces, at the Carthage Palace, today, Thursday.
Saeed said that his country "has never been a proponent of war, but rather a proponent of security and peace, but our sovereignty over our land and waters never accepts bargaining, and it cannot even be presented with a mere discussion."
"There is no room for any foreign forces to make Tunisia a corridor, have bases, or have a stable," he added.
If President Kais Saied did not name a specific country, during the last period, Turkey had a desire to use Tunisian territory to intervene militarily in Libya, which the Tunisian presidency explicitly rejected.
The Tunisian position came from Rashida Al-Nifer, the former media advisor to the presidency, who said in previous statements, "We categorically reject any foreign intervention in Libya, including the Turkish intervention, and this position of Tunisia has not and will not change."
Informed sources had previously revealed to "Al-Ain News" that Qais Saeed rejected Turkey's demand in December 2019, due to the passage of a number of foreign mercenaries through Tunisia to support the Fayez Al-Sarraj government at that time.
This was confirmed by Al-Nifer later, in response to a question about allowing Turkey to use Tunisian territory to intervene militarily in Libya: "No, no, then no, and during Turkish President Recep Tayyip Erdogan's visit to Tunisia, President Qais Saeed's answer was clear and frank."
The anniversary of the founding of the Tunisian army was celebrated, in the presence of the Speaker of the Assembly of People's Representatives, the Prime Minister, the Minister of National Defense, members of the Supreme Council of Armies and military leaders.
In his speech, the Tunisian president praised the efforts made by his country's army in various fields in times of battles, confrontations, wars, as well as peace. He also praised its role in confronting treacherous terrorist operations.
However, he pointed out that the Tunisian army sometimes lacks some of the required equipment; revealing programs that are being prepared and strategies that are being developed to meet the needs of the armed forces, whether at home or with some countries; "Which we are used to dealing with in the field of exchanging experiences and renewing equipment to fight terrorism."
Fiery messages Observers believe that Qais Saeed wanted to strike again the Brotherhood's plans by making Tunisia a transit base towards Libya.
It also anticipates a likely meeting between Tunisian President Kais Saied and Brotherhood leader Rashid Ghannouchi, to confirm that the Brotherhood camp and its allies will not succeed in silencing the law professor or including him in their queue.