Rare footage.. the cold sweeps the Saudi desert and covers it in white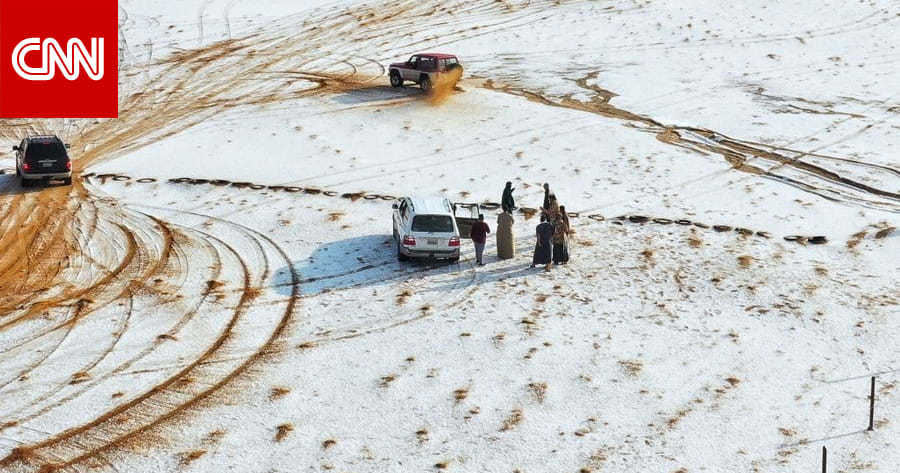 Dubai, United Arab Emirates (CNN) — A rare hail storm caused the desert dunes of Badr Governorate in Saudi Arabia to be covered with snow on Tuesday, creating a beautiful natural painting.
These unique aerial shots show the white robe that adorned the desert in Badr Governorate, southwest of Medina, where local residents gathered to enjoy the distinctive scenes.
The Saudi photographer, Osama Al-Harbi, was able to document charming scenes of the white layer that covered large areas of the desert with a drone camera, after heavy amounts of cold fell, according to what the aerial photographer said in an interview with CNN in Arabic.
Al-Harbi explained that hail of this intensity in a desert area near the Badr Governorate in the Al-Madinah Al-Munawwarah region is a rare phenomenon that has not occurred for years, describing it as a "historic papyrus."
The Saudi photographer documented these scenes on Tuesday, January 11.
Al-Harbi pointed out that the site was teeming with visitors, and that some of them came from far away to see this rare sight.
It is worth noting that the video clip that Al-Harbi shared on his social media platforms received positive reactions and was widely circulated among social media users, as well as several international news sites.
The National Center of Meteorology in the Kingdom of Saudi Arabia had forecast the weather for that day, moderate to heavy rain in the Madinah region, the effects of which include active surface winds, low visibility, hail and torrential rain, according to the Saudi Press Agency and SPA.