Renato Freitas: Councilor of Curitiba is impeached for the 2nd time – 05/08/2022 – Daily life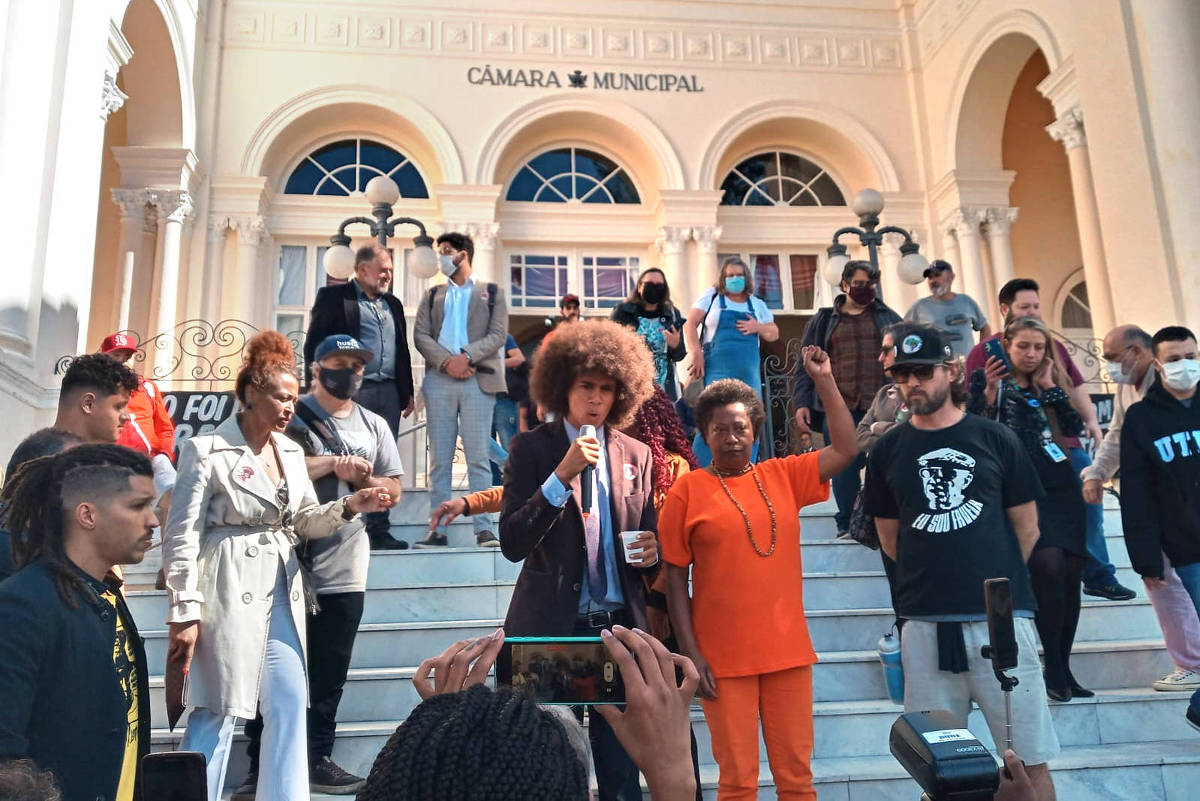 PT councilor Renato Freitas, from Curitiba, was impeached for the second time this Friday (5th) for breach of parliamentary decorum. This was the eighth session in which the agenda was discussed. Friday's vote confirmed, by 23 votes to 7, what the City Council had decided in June.
The defense says it will appeal the decision in court. The new vote took place because the Judiciary suspended the first cassation for understanding that there was a breach of the internal regulations. According to the defense, the new cassation also violates federal law by having its 90-day term extrapolated.
The councilor was punished for participating in a demonstration that invaded a Catholic church. The episode took place in February, in front of the Rosário Church, in protest against racism and the death of a black man in Rio de Janeiro. According to the Archdiocese of Curitiba, said at the time, the mass was shortened by the noise and the faithful complained, closing the main door.
However, the church later took a position against the cassation and stated that it did not consider that there was an invasion. The priest who prayed the mass went to the Chamber this Friday to confirm his position in favor of Freitas.
According to the councilor, it was proven in the records that there was neither interruption of the mass nor disrespect for the sacred. He reinforced that there was no invasion of the church, which was open. "The remaining accusation was that I practiced a political act within the church, which is inconceivable, subjective and pointless, but it's not the first time they've tried to impeach me."
Freitas says that the argument for cassation is just prejudice. "Because we are poor representatives, we bother those who have been in power for years, but humanity is a common point that unites us, even before Christ."
"Our state is secular, but the population is Christian and so am I. It was precisely for this reason that I entered the church, an appropriate place to cry out for black lives. It is also my home there, so I felt comfortable and welcomed", he says.
For councilor Carol Dartora (PT), there is political persecution in the Chamber motivated by racism. The theme was used by other councilors during the defense of Freitas, such as Professor Josete, also from the PT. "What we see is a criminalization of politics, which people are already criminalized before a lawsuit or a fact is proven. It's structural racism."
Freitas' lawyer, Guilherme Gonçalves, says that there was abuse of authority and power with the continuation of the process after the 90-day period established by law. "The measures will be taken."​