Russian lawmakers pass law banning LGBT+ "propaganda"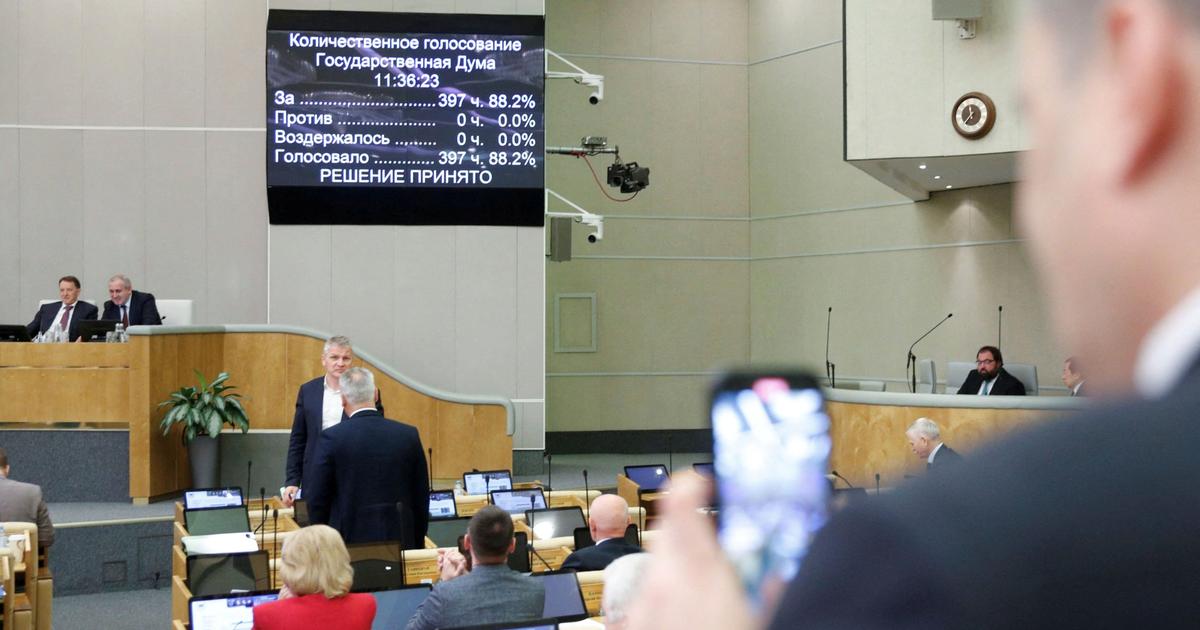 This new law now prohibits "promoting non-traditional sexual relations" to all audiences.
The Russian deputies adopted this Thursday, November 24 amendments which considerably widen the scope of a law prohibiting the "propagandaLGBT+, in the midst of the Kremlin's conservative turn accompanying its military offensive in Ukraine.
This new law, which is an expanded version of a much criticized 2013 text banning the "propaganda"LGBT + with minors, now prohibited from"promote non-traditional sex» with all audiences, in the media, on the Internet, in books and in films.
"Promoting non-traditional sexual relations is prohibited"
This broad scope, together with the broad interpretation permitted by the vague concept of "promotionraise fears of increased repression against LGBT+ communities in Russia, who already face strong discrimination.
«Promoting non-traditional sexual relations is prohibited (…) A ban on the promotion of pedophilia and gender change has also been introduced", said in a press release the head of the lower house of Parliament (Duma), Vyacheslav Volodin. "Fines amount to 10 million rubles(about 160,000 euros) for offenders, he added.
Read alsoIn Russia, human rights defenders fear being forgotten by Emmanuel Macron
For the text to become law, it must still be validated by the upper house of Parliament, the Council of the Federation, and signed by President Vladimir Putin, which constitutes formalities. The adoption of this new law comes after years of repression against LGBT+ communities, with the Kremlin presenting itself as the defender of values ​​"traditionalin the face of a West presented as decadent.
In the context of the conflict in Ukraine, this law is also portrayed as a means of "defend» Russia against an onslaught of Western countries on the level of values. This law "will protect our children and the future of this country from the darkness spread by the United States and European countries. We have our own traditions and values", said Thursday Mr. Volodin.
The world of cinema and literature "concerned"
In addition to LGBT+ people, this law is also of concern to film and literary actors, who fear a strengthening of already very strong censorship. The cult novelLolita», by Vladimir Nabokov, could for example be banned.
«The sale of goods containing prohibited informationwill now be banned andfilms that promote relationships (+ non-traditional +, editor's note) will not receive a distribution certificate", according to the website of the Duma.