Sale of plaques to tattoo detainees in Auschwitz blocked by Israeli justice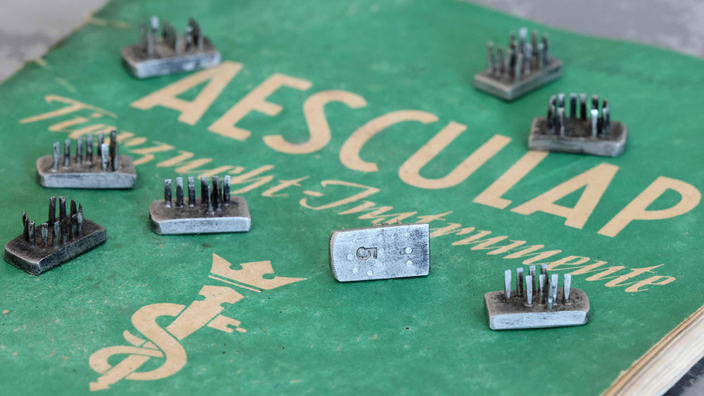 In Jerusalem, the Tzolman auction house had added to its catalog eight of these "tools", which it presents as "The most shocking objects of the Holocaust".
Israeli justice on Wednesday (November 3rd) blocked a planned auction in Jerusalem of metal needle plates used by the Nazis to tattoo detainees in the Auschwitz camp, after being seized by a group helping Holocaust survivors .
Read alsoPiS wants to rewrite the official history of the Holocaust in Poland
The Tzolman auction house in Jerusalem had added to its catalog eight of these plaques used to tattoo numbers on inmates of the Auschwitz-Birkenau concentration camp, in which a million European Jews, and tens of thousands of other prisoners, were exterminated during World War II, between 1940 and 1945.
Initially scheduled for November 9, the sale of these plaques «Originals», which the auction house presents as being "The most shocking objects of the Holocaust", sparked outrage in Israel.
A group of organizations helping Holocaust survivors appealed to the Tel Aviv district court to prevent the sale from taking place. On Wednesday, that same court ordered a "Temporary injunction" blocking the sale, and set November 16 to hold a "Urgent hearing" on the subject. "Such evil objects cannot have owners, said the lawyer of the group David Fohrer. Their sale is illegal and undermines public morals ".
Read alsoDieudonné fined 9,000 euros on appeal for his song on the Shoah
According to Colette Avital, president of the grouping, the place of these plaques must be in a museum. "These objects should not be bought and sold and certainly should not be private property."She told AFP. "They were used for particularly cruel crimes, to turn human beings into numbers ", she added.
Yad Vashem, the Israeli Holocaust memorial in Jerusalem, said the sale was "Morally unacceptable" and that the items must be returned to him. Contacted by AFP, Meir Tzolman, owner of the auction house, declined to comment on this affair.
SEE ALSO – The incredible story of Witold Pilecki, voluntary deportee to Auschwitz