Salmon employees fight against tax: – It's absolutely not a game, I don't believe anything in that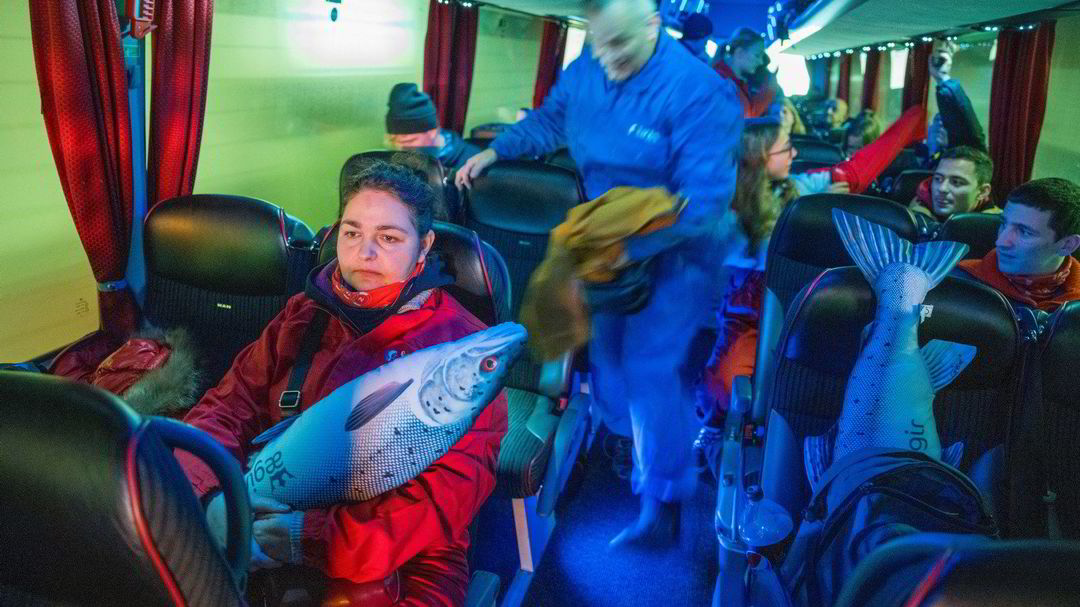 At two o'clock on the night of Thursday, around 150 employees in the aquaculture industry on Frøya met up at Nordhammervika Industripark and boarded three buses. The target was Oslo, more precisely Eidsvolls plass outside the Storting, where a demonstration was held against the government's proposed ground rent tax on salmon farming.
DN stayed with the one bus from Frøya for the last stretch towards Oslo and the Stortinget.
– We started around half past three, and have tried to sleep a little. I would say that the mood is good, and rising. We are excited to see how many people will come. From Frøya, we are four buses with 150-160 people, says Hans Stølan.
He is the main shop steward for the Norwegian Industrial and Recreational Workers' Union in Salmar and would like to see even more people join.
– There has been a bit of poor mobilization, especially from the sea side, those organized through the Joint Confederation. In addition, there has been some illness, as well as the fact that some have to stay behind to work, says Stølan.
One line in the bill was precisely that, according to Klassekampen, the Federation turns around and supports the proposed tax.
– It was not good news to wake up to, and it is probably no coincidence that it came today. It is also no coincidence that DN today writes that the salmon municipalities will receive an extra NOK 800 million. Confederation leader Jørn Eggum will hold an appeal today, so it will be interesting to hear what he says, believes Stølan.
Bulgarian piano teacher
Ralista Malakov is also on the bus. She was originally a piano teacher in her native Bulgaria, but now works with processing salmon at Salmar. So does her husband. Now they have both been notified of redundancy from 1 January.
– It is naturally not pleasant to receive such a notice. But I understand the company, without contracts there is no job for those of us involved in processing, she says on the way to the commemoration in Oslo.
– Do you think this helps, that you travel down to the Storting?
– We do everything we can to look after our workplaces. It is not about salmon barons, but about the ordinary working people it is about. I do what I can. I have now lived in Frøya for ten years, and am well established there.
– Do more people think that the layoff notices are a game?
– It's absolutely not a game, I don't believe anything in that. Salmar does not have contracts as a result of all the uncertainty, says Malakov.
– We need more help
The four buses from Frøya meet at a car park near the Havnelageret in Oslo. Caps are handed out and banners are screwed together. Small groups stand and talk together in different languages. There is smoking and snapping.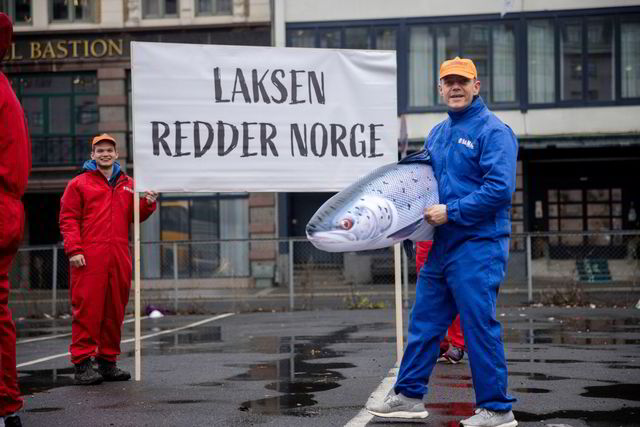 – We need more help over here, shouts initiator Stølan.
He is busy putting up the last banners with inscriptions such as "Salmon saves Norway" and "Salmon baron = Jobs along the entire coast".
Christian Bremvåg from Hitra has brought the large salmon "Trygve" to the celebration. He believes that the industry stands for good values ​​and good jobs.
– It would be a shame if the ground rent tax slows it down. And it's not just about us who work directly in the industry, but all the suppliers as well.
Bremvåg is among the many from Salmar who have been notified of layoffs from 1 January.
– It is clear that the warnings are real. We are worried about our workplaces, and that is probably also the reason why so many of us are here today. "Several of those who came on the buses from Frøya were at work last night, and almost got on the bus directly," he says.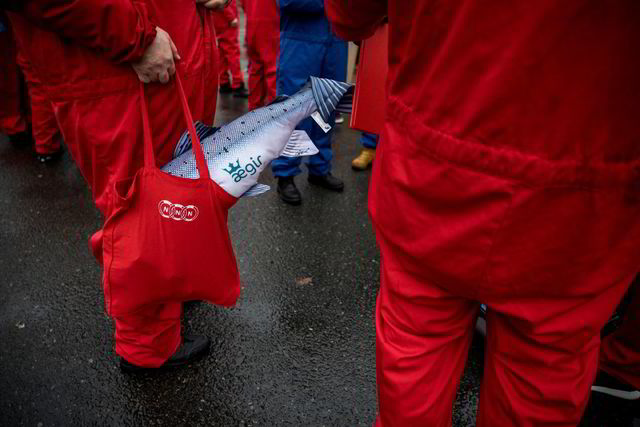 Notice of layoffs
According to salmon companies, the proposed tax has caused the contract market for salmon to come to a complete halt, which in turn has led to several notices of layoffs for employees who process salmon and may be out of work from 1 January. Salmar alone has notified 851 employees of possible redundancies. Some of them are admittedly linked to seasonal variations, but the vast majority are due to a lack of contracts.
The notified redundancies have led to a broad public debate about whether the notifications are real, and about why the salmon industry has particularly favorable rules for redundancies, which, among other things, mean that the redundancies go directly to unemployment benefits without the employer having to pay wages for the first 15 days.
It is mainly salmon employees who are organized through the Norwegian Labor Confederation (NNN) and Fellesforbundet who take part in the celebration. There are employees from several parts of Norway, but primarily from Trøndelag.
Several employees have been given a day off to participate, but they pay for the trip themselves – or via their club funds and trade unions, IntraFish wrote earlier this week.
Mayor: From billionaires to workers
Thursday's commemoration has been planned for a long time. Early in the morning on Tuesday 4 October, initiator Hans Stølan sent an email to Frøya mayor Kristin F. Strømskag (H).
– Time to activate action democracy, he wrote.
According to the email, Stølan, who himself has been mayor of Frøya, envisioned a "mass demonstration" outside the Storting.
– 1,500 – 2,000 people should in any case be a manageable number, where the bulk will be made up of production workers and smokers from the largest companies, wrote Stølan.
Salmar alone should be able to fill five buses, he wrote in the email that DN has seen.
– We must get the focus away from rich 'salmon barons' and make the decision-makers realize what the consequences will actually be, he wrote further.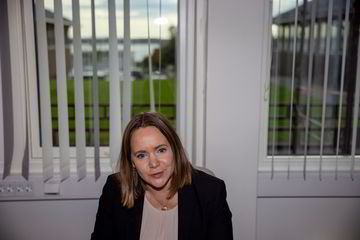 Mayor Strømskag wondered if there was a national action underway, and believed that it was best that this "could be initiated from the organisations, then we can also show up".
– It is important that the focus is now turned from rich municipalities and billionaires to workers, employment growth and safe workplaces. Then we will provide support, wrote the mayor.
LO confederation turned around
A few hours before the commemoration, it became known that the LO organization Fellesforbundet has turned the corner on the issue of ground rent tax, and now supports the proposal. It was Klassekampen that first mentioned the news. According to the newspaper, there is now a majority for the tax in the LO system.
According to IntraFish, the Federation has turned around because most of their members work in sectors other than aquaculture. Prohibition leader Jørn Eggum is among those who will hold an appeal during the commemoration outside the Storting.
Fellesforbundet organizes employees who work at the breeding facilities, while NNN organizes employees at slaughterhouses and factories.
– Part of democracy
The Labor Party's fisheries policy spokesperson Karianne B. Bråthen has "full understanding that the employees are nervous about their workplaces".
– I am also confident that the government will land this tax at a good meeting after the consultation round has been completed, she says.
– What do you think of the marking?
– This is part of our democracy, and it is certainly a good way to convey what you think.
*(Terms)Copyright Dagens Næringsliv AS and/or our suppliers. We would like you to share our cases using links, which lead directly to our pages. Copying or other forms of use of all or part of the content may only take place with written permission or as permitted by law. For further terms see here.