SNCF will launch pink Ouigo, cheap and at low speed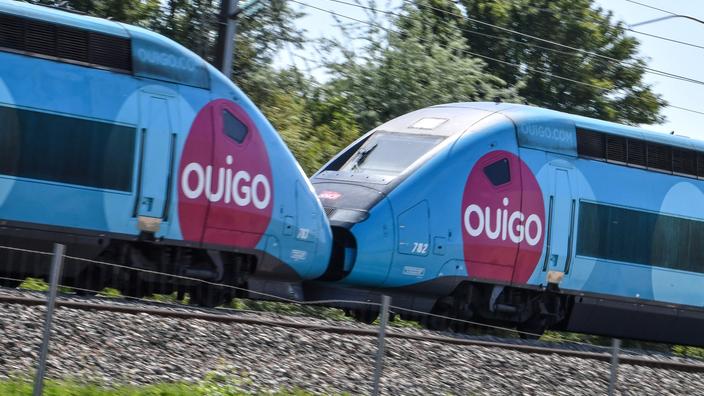 The new SNCF offer will offer very affordable journeys but slower than the TGV on major national axes.
SNCF wants to launch in spring 2022 classic, pink, low-cost mainline trains on Paris-Lyon and Paris-Nantes, which will be operated by a new subsidiary on the model of the low-cost TGV Ouigo, she announced. Thursday.
Read alsoSNCF: is the "Avantage" card really the end of expensive tickets?
"Ouigo Vitesse Classique" will offer two daily round trips between Paris-Bercy and Lyon-Perrache via Villeneuve-Saint-Georges, Melun, Dijon, Chalon-sur-Saône and Mâcon in 4:45 to 5:15 from end to end, and three round trips between Paris-Austerlitz and Nantes via Juvisy, Massy-Palaiseau, Versailles, Chartres, Le Mans and Angers or Juvisy, Les Aubrais, Blois, Saint-Pierre-des-Corps, Saumur and Angers, all in 3 hours 30 to 4 hours 15.
These single-class connections will be provided by Corail coaches refreshed and repainted in pink, "With very low and fixed prices, until the last moment", noted Alain Krakovitch, director of Voyages SNCF (the main lines).
Take market share on the road
As with Ouigo, tickets will only be sold on the internet: they will cost between 10 and 30 euros depending on the period – peak or off-peak – and the destination, and 5 euros for children, with options such as luggage. The ambition is to sell 65% of tickets for less than 20 euros, according to Alain Krakovitch.
"It's more train. (…) Our objective is really to take market share on the road " – FlixBus, BlaBlaCar and individual cars – explained Christophe Fanichet, CEO of SNCF Voyageurs (the subsidiary which runs the trains). The new service, successor to the "100% Eco Intercités" which circulated to various destinations between 2010 and 2020, must offer a "snacking" service for itinerant sales.
Read also40 years of the TGV: Macron "gives" 200 million to the SNCF to boost the TGV
Ouigo Vitesse Classique will be operated by a new wholly-owned subsidiary of SNCF Voyageurs, called Oslo and employing "Nearly 80 people" (volunteers), with a more intensive use of equipment and a reorganization of work making the agents more versatile. It's about a "experimentation", the new service being requested to be profitable in two years, noted Christophe Fanichet.
SEE ALSO – In Spain, SNCF is launching a top-of-the-range Ouigo with first class and bar