SP has a day with bad air and a drop in temperature – 05/08/2022 – Daily life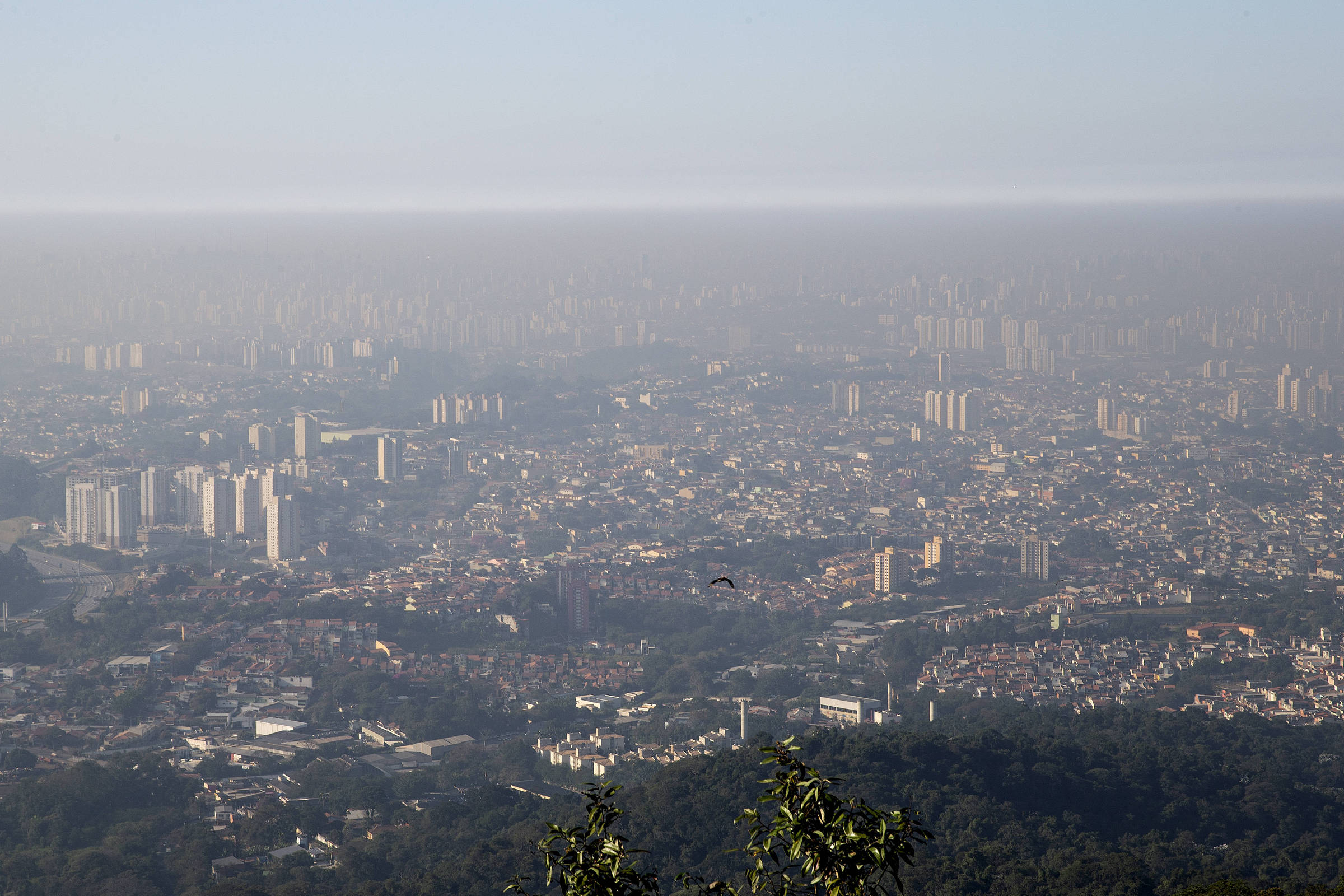 Before a week that is forecast to be cold and more intense rains, the city of São Paulo had a day with bad air quality, rain showers and a drop in temperature.
During much of this Friday (5), the measurement by Cetesb (Companhia Ambiental do Estado de São Paulo) showed that the air quality in the metropolitan region was bad.
The situation changed during the afternoon, when rain showers reached places such as Grajaú, in the extreme south of the capital, the location, today, with the highest concentration of pollutants in the entire metropolitan region.
Cetesb classifies air quality on a scale that goes from N1-good to N5-poor. Among them are N2-moderate, N3-bad and N4-very bad.
With the rains this afternoon, air quality, in most of the city, went to moderate. In addition, temperatures plummeted. In Parelheiros, also in the extreme south, thermometers, which marked 20°C at 1 pm, pointed to 14°C at 5 pm.
Workers passing through the Parelheiros Terminal complained of the cold and claimed to have been taken by surprise by the sudden change in weather.
Pedagogue Alessandra Freire, 21, said she didn't expect time to turn around. "Lucky I had a coat and scarf in my bag." The umbrella was forgotten at home. "The weather was so dry during the week. Who expected?" she says.
Lúcia Guardani, manager of the air quality division at Cetesb, says that even air classified in a moderate situation can already cause discomfort in people with respiratory diseases. "The most important thing is to pay attention and follow all appropriate recommendations to avoid further damage to health".
On its website, the company indicates that, in these situations, people with heart or lung conditions should reduce heavy exertion outdoors. In addition, it says that those with respiratory diseases may experience symptoms such as a dry cough and tiredness.
Air quality should improve next week, when the formation of a low pressure area near the coast of São Paulo should cause unstable weather in Greater São Paulo, with cold and rain showers.
According to Thomaz Garcia, meteorologist at the CGE (Climate Emergency Management Center) of the São Paulo City Hall, the forecast is for cloudy to overcast skies on Saturday (6), when there is no expectation of rain.
Thermometers oscillate between 13°C and 20°C. On Sunday (7), cloudy skies with some openings of sun between late morning and early afternoon. At night, there is a chance of drizzle. Minimum of 14°C and maximum of 22°C.
Between Monday (8) and Wednesday (10), there is forecast of rain with more intensity than this Friday, "which will improve air quality in São Paulo", says Garcia. The trend is for lower temperatures compared to the first week of August.
---
HOW TO PROTECT YOURSELF ON DRY DAYS?
The most important tip is to hydrate yourself a lot, whether with water, natural juice or tea. Also give preference to foods with less salt or spices, so that your body does not retain liquids.
To avoid dryness, use saline in the nose and eyes. According to the doctor consulted, in addition to moisturizing, it also helps to clean the nose.
If you are going to exercise, prioritize times at the beginning and end of the day. In other words, avoid the hours between 10 am and 5 pm, when the heat is usually strongest.
Apply sunscreen to protect your skin and also moisturize your body.
When bathing, avoid hot water, even if it is cold. Give preference to warm water, which is less harmful to the skin.
If you have an air humidifier, use it, but not for long periods. If you don't have a braces, go with the classic method, with a wet towel. As the water evaporates, the environment is humidified.
Since the weather is dry, how about washing cold clothes and blankets that are stored? Thus, you increase the humidity of the air and still take the opportunity to clean parts that may have gathered dust and mites.
Leave the house clean and airy, to avoid the accumulation of dust and mites. Likewise, avoid using a broom, as it spreads dust around the place – prefer a damp cloth or vacuum.
Finally, avoid closed places and crowds, not only because of the dry weather but also because of the transmission of coronavirus.