SpaceX launch LIVE stream: Inspiration4 latest updates as historic mission lifts off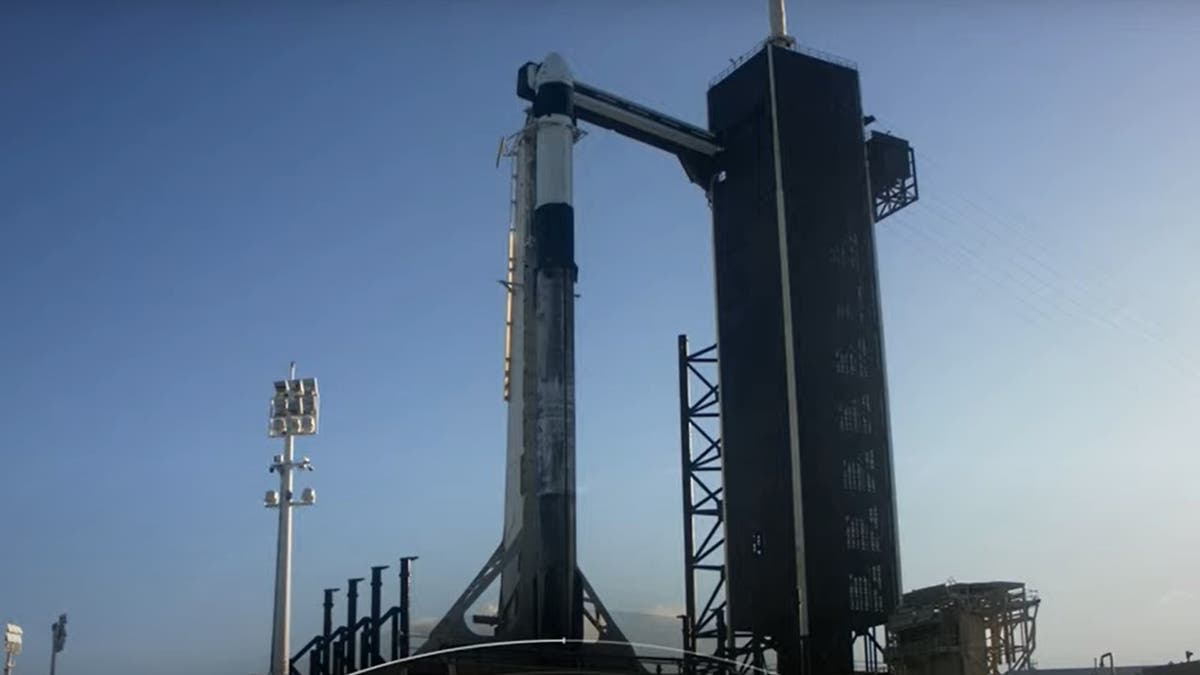 Watch live as SpaceX launches first all-civilian crew into orbit
Inspiration4, SpaceX's all-civilian mission into orbit, is less than an hour from launch.
The launch window opens at 1am on Thursday morning UK time, or 8pm local eastern time. It is open for five hours, meaning that it will be delayed if the team are not able to fit in that window.
SpaceX has provided a live stream of the launch, which can be found at the top of this page.
After launch, the team will fly higher in orbit than any human since the Space Shuttle, spending three days in space conducting experiments and experiencing Earth at a distance. They will then fall back down to Earth, landing in the ocean for a splashdown.
If the mission is a success, it will mark a major step forward for space tourism, and for Elon Musk and SpaceX's plans to make it accessible to anyone with the money to fund a rocket and spacecraft to carry them to orbit.
1631748620
SpaceX launch escape system armed
The launch escape system has been armed, as is procedure.
It's a reminder that there are still risks during the launch. By far the most dangerous parts of any space missions are the launch and landing.
Successes are far more common than failures these days, but they are not assured. We've put together a couple of graphics showing how the orbital launch rate is back on the ascendency following the post-Space Race dip.
And also how the orbital launch success rate has changed since the 1950s.
Anthony Cuthbertson16 September 2021 00:30
1631748093
Crew access arm pulls away
A major moment in the launch countdown, as the crew access arm is pulled away from the Crew Dragon capsule.
Next step is the propellent loading.
Anthony Cuthbertson16 September 2021 00:21
1631747103
T-Minus 1 hour!
Just 60 minutes to go until lift off. It's going to feel more like 60 hours for the Inspiration4 crew members.
Anthony Cuthbertson16 September 2021 00:05
1631746537
Inspiration4 crew members reveal their personal items
The Inspiration4 crew has revealed what personal items they are taking up with them to space.
All of them are pins and rings and other family heirlooms, apart from Hayley Arceneaux, who is taking up a photo of herself.
But it's not as narcissistic as it sounds, in fact quite the opposite. The photos is from when she was 10 years old, when she was completely bald while undergoing chemotherapy treatment for bone cancer.
She wants to take the picture up to space in order to hold it up while floating in zero gravity with all her hair. She says she hopes it will give hope to child cancer patients at the hospital she works at.
Anthony Cuthbertson15 September 2021 23:55
1631745798
SpaceX launch time set for 2 mins after window opens
SpaceX has officially set the launch time for 8.02pm EST – just 2 minutes after the five hour launch window opens.
That's just 80 minutes away.
Anthony Cuthbertson15 September 2021 23:43
1631745033
SpaceX Inspiration4 launch 'on time'
Everything still looks good for launch, which is now just over 90 minutes away.
"We are marching towards T-Zero on time," SpaceX says.
Here's a reminder of how high the Inspiration4 crew are actually going today.
No human has been higher, other than those who have been to the Moon.
Anthony Cuthbertson15 September 2021 23:30
1631744098
SpaceX Crew Dragon hatch closed
The hatch door of the Crew Dragon capsule has been closed.
We are now less than two hours away from the scheduled launch time.
Anthony Cuthbertson15 September 2021 23:14
1631744026
SpaceX fundraiser for St. Jude Children's Hospital
SpaceX's fundraiser for St. Jude Children's Hospital has raised more than $100,000 since the live stream began two hours ago.
More than $100 million of the $200 million target had already been raised before the stream began through donations from crew commander Jared Isaacman, as well as the raffle for Christopher Sembroski's seat.
You can find out more about the campaign and how to donate here:
Anthony Cuthbertson15 September 2021 23:13
1631742937
SpaceX launch comms checks complete
Comms checks are complete and so far everything is going according to plan.
"All looking good for on time launch," SpaceX says.
Anthony Cuthbertson15 September 2021 22:55
1631741701
SpaceX launch less than 2.5 hours away
The Inspiration4 crew are all safely strapped in to their seats onboard the Crew Dragon capsule.
Earlier we heard from SpaceX that weather conditions are nearly perfect, with "everything go for launch".
Unlike other Crew Dragon launches that are bound for the International Space Station (ISS), there is a much bigger launch window for today's launch.
In order to sync up with the space station, launches to the ISS have a window of just 1 second. Today's launch window is five hours.
Anthony Cuthbertson15 September 2021 22:35