Støre poses with poor Mette – and announces 35,000 new refugees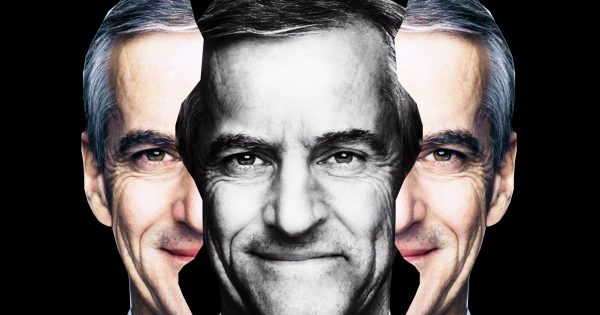 One has to wonder whether Prime Minister Jonas Gahr Støre has advisers who wish him ill. Pictured in VG as he hugs Mette (41) at the Salvation Army's slum station, the prime minister appears so empathetic that it arouses resentment in the comments section. Immediately after the hug and the words "it's very strong", he announces the expectation that the country's municipalities will have to accept 35,000 new refugees.
Yes, we understand that Støre is desperate for the latest polls, especially where the Labor Party was down in the 15s in support. But after the Labor Party failed to stand for "The Debate" on NRK when poverty was on the agenda, and the revelation in Dagbladet that the Prime Minister's Office (SMK) helped decide that the party should not stand, it should be obvious that it will not turn out lucky to let Støre pose with the poor. It doesn't just go into the "too little, too late" category, it goes into the "inedible" category.
Støre has had a busy few days after the crisis meeting in Ap's central board last week, where it was determined that the party must get out among the people in order to regain trust. But already the next day, the Debate was on air, where, among others, Renate (46) from Drammen gave the new poor in Norway a face – without Ap being present.
Støre was in such a hurry to meet the poor that he already sought out one of the other poor participants in NRK's ​​debate program on Friday last week. TV2 hung up when the prime minister was about to see a real poor person:
– Now the Labor Party is doing poorly in the polls. Does that make you a little more defensive in relation to standing up?
– The answer to that is no. We must be present everywhere and debate, and we have a lot to be aggressive about. It was a mistake that we did not stand in the Debate, and sometimes we do the human wrong. We must be everywhere where politics and real life are debated. Then we must learn to listen and take it in. We do that all over the country, and we will do even more of it, Støre told the channel.
Today, a week later, Støre has dragged VG with him to both see and touch yet another poor Norwegian woman. This time it's called Rørt Støre met Mette (41): − It's very strong. There is little reason to assume other than that a tired Støre is easily moved after a very tough period in politics, but the sight of him hugging the woman who has visited the slum station does the opposite of restoring trust in the Labor Party. Rather, it is obvious that the poor are used as props so that Støre can pose as an empathetic head of state.
As one writes on Facebook, the genre itself – politicians meet ordinary people with the press in tow – is now so easily transparent, tired and clichéd that one has to wonder what the Prime Minister's advisory staff are thinking.
-Here, take a 50 note!
While Støre persistently poses empathetically and gives statements such as this one to Dagbladet: "We have to explain politics better when we meet people, and therefore more days like this out among people are important", there is little doubt that it is not people's lack of understanding of politics which causes them to escape in large numbers from the Labor Party. The truth is that people are not as stupid as Støre assumes, on the contrary, they have understood what policy the government is pursuing, and it scares the crap out of them because they see that it has negative consequences for their own situation.
Labor must, if they want to slow down the ever-declining support, have to realize that ordinary people find their politics to be terribly unfair. Ordinary people experience that the community's rights and safety are replaced by ideological infantilism, the rights of special groups and "a green shift" that has occurred at the expense of maintaining real energy security, as we have pointed out in a number of cases recently.
That Støre, persistently hugging single mother Mette, has the audacity to mention that "the government gave an extra 20 million to organizations like the Salvation Army before Christmas" is directly provocative against a backdrop of real political decisions that have led people into poverty. If we only distributed the benefits to the poorest 100,000, each would get a 200 note, while the UN estimates that around 10 percent of the population in Norway lives below the relative poverty line, which is defined by whether you earn less than 60 percent of the median income. The 20 million in Christmas presents does not even amount to a 50 note in compensation for the politicians' decisions.
35,000 refugees
And while Renate in Drammen and Mette in Oslo have paid too little each month to be in the positive, but on the contrary are going in the negative, Støre Ocean is not the only one receiving Viking migrants. On Friday, the government announced that it expects Norwegian municipalities to find room for 35,000 new refugees next year. Refugees, who, like others, need the community's resources.
– Norwegian municipalities have managed to settle a record number of refugees in record time. I am proud and grateful to everyone who has made it possible. Norwegian municipalities, local communities, schools, kindergartens, volunteers and neighborhoods – there are so many who have welcomed the refugees who seek safety in our country. We will stand up in the future as well. Together we will be able to provide the refugees who arrive with a safe and comfortable stay in Norway, says Prime Minister Jonas Gahr Støre in a press conference on Friday.
Yes, there is a lot of pride and volunteerism in the Norwegian people. But now Støre is pulling the string so far that it is about to break. It is not the job of a head of state to show empathy, it is the job of a head of state to pursue a policy that ensures that people have enough means to live a dignified life. It is done in realpolitik by distributing the community's funds fairly in the state budget rather than using the poor as props in their own benevolence.