"Suspicions of terrorism in the file" of the arrest of the strongman of Ennahdha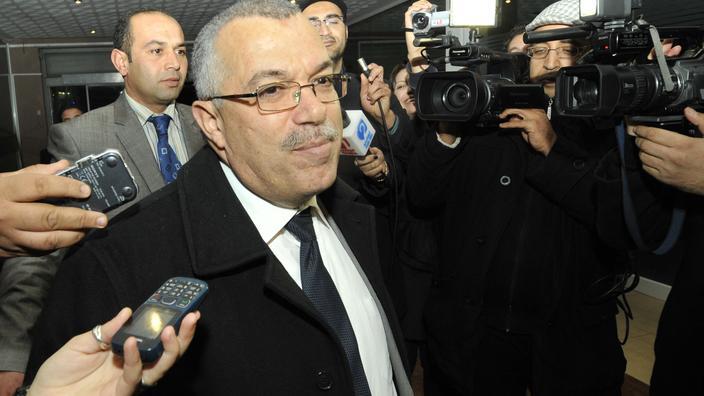 «Suspicions of terrorism in the file"Justified the arrest on Friday of the former minister and strongman of the Islamist-inspired Ennahdha party, Noureddine Bhiri, said Tunisian Minister of the Interior, Taoufik Charfeddine, on the evening of Monday January 3.
Read alsoTunisia: hospitalized, the strong man of Ennahdha refuses food and drugs
«There were fears of a terrorist act affecting the security of the country, it was necessary to react", Explained the minister, specifying having transmitted"minutes"To the Ministry of Justice and to the prosecution which"have delayedTo take action. The Minister said that he then decided to "apply quickly" the "put under judicial supervision"By Noureddine Bhiri, adding that the file characterized by"serious suspicion", Relates in particular to"manufacturing and handing»False identity papers and nationality certificates, among others for the benefit of a Syrian woman.
Hospitalized since Sunday
Taoufik Charfeddine said to have "personally ensured that (Noureddine Bhiri) was treated well". According to a delegation from the Body for the Prevention of Torture (INPT) and the UN High Commissioner for Human Rights who visited him, Noureddine Bhiri has been hospitalized since Sunday "under close surveillance in cardiology»In Bizerte (north), because he suffers from several chronic diseases (diabetes, hypertension, in particular).
He refuses "any diet and its medicationsAnd doctors fear his health will deteriorate. It was "lucid" and "not in critical condition", When five delegates from the INPT and the High Commission spoke to him, a member of the delegation who took part in the visit told AFP. The Ennahdha party and his wife had said shortly before that Noureddine Bhiri was in "critical state", in "intensive care"And that there was"threats to his life».
As of Saturday, the INPT and the defense committee of Noureddine Bhiri had denounced his placement in detention in a secret place and the absence of clear reasons for his arrest. The ministry had only announced two house arrest on Friday, without giving any names, indicating a "preventive measure dictated by the need to preserve national security».
Read alsoTunisia: 4 years in prison for ex-president Marzouki, critic of Saied
An informed source from the INPT told AFP on Monday that "no news»Of the other arrested, Fethi Baldi, also a member of Ennahdha. On Monday, Samir Dilou, lawyer and deputy for Ennahdha, told the press that the arrest of Noureddine Bhiri was "a political affair and an instrumentalisation of justice", Announcing wanting to file a complaint for"kidnappingAgainst President Kais Saied and the Minister of the Interior.