take a look back at a ceremony loaded with symbols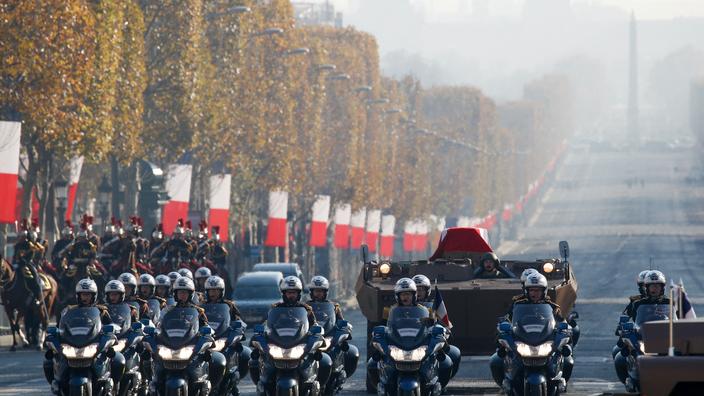 The commemorations of the armistice of November 11, 1918, from the Arc de Triomphe to Mont Valérien, were marked by the farewell to the last companion of the Liberation, Hubert Germain.
Two ceremonies took place today to pay tribute to Hubert Germain, who died on October 12 at the age of 101. The coffin of the last companion of the Liberation was first hoisted on an AMX-10 tank to go up the Champs-Élysées, escorted by the Republican Guard. After a break for meditation in front of the statue of General de Gaulle, the ceremony was chaired from 11 a.m. by Emmanuel Macron, accompanied by American Vice-President Kamala Harris, at the foot of the Arc de Triomphe.
Read alsoNovember 11: Macron continues writing his national novel
The national homage to the last Companion of the Liberation.
The convoy then headed for Mont Valérien, the main place of execution for resistance fighters during World War II. The body of the eminent resistance fighter was buried in the crypt of the French combatant memorial. The ceremony took place "in the greatest sobriety and in silence"With the exception of one Marseillaise and you Partisan song.