Tanks are the only way the soldiers survive in Ukraine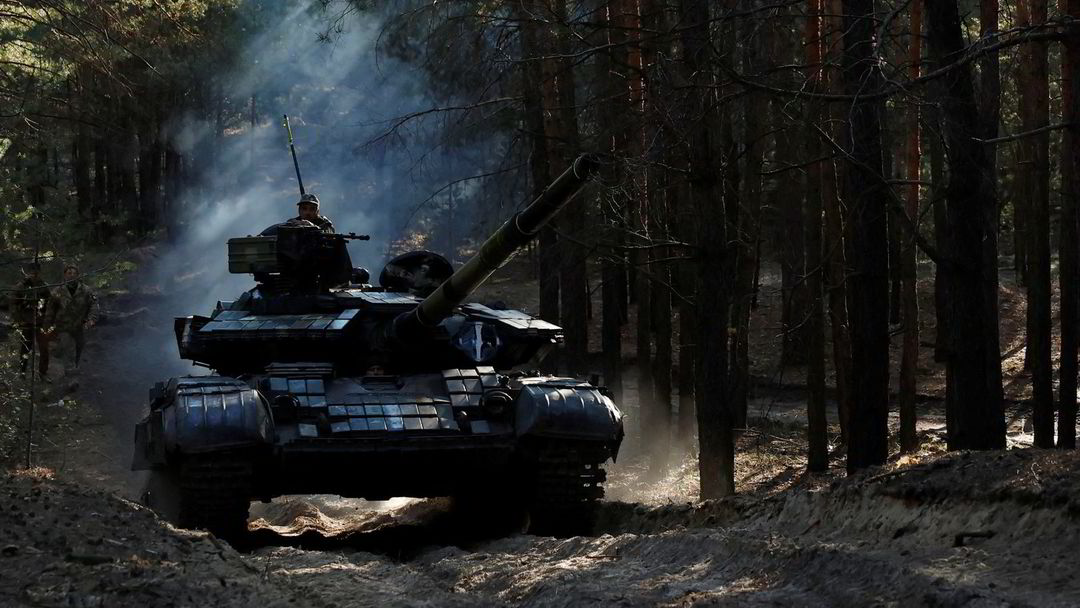 In a comment on the Norwegian Armed Forces' future structure, Sverre Strandhagen makes a number of claims that need to be nuanced (DN 25 November).
We are in the most serious security policy crisis since the Second World War. In the middle of this setting, there are forces that want to initiate a fundamental change in the structure of the Norwegian Army.
It is a fact that in the defense of Norway we are dependent on help from our allies in NATO. Norway must therefore appear as a credible ally. In line with this, it therefore appears strange that the leadership of the Norwegian Armed Forces wants to scrap a significant investment in tanks and radically change course towards a defense concept that several thorough studies and investigations over the past ten years have rejected.
Strandhagen writes that what the Americans are asking for are light forces that can provide situational awareness. It is a truth with modifications. NATO has set clear expectations that Norway, on the army side, is able to provide a fully equipped mechanized brigade – with tanks as a core capacity. In fact, our more than forty-year-old tanks have in recent years been a much-requested capacity both among allies who train in Norway and not least among the allies with whom we work closely in the Baltics.
It is unwise to jeopardize our credibility as an alliance partner.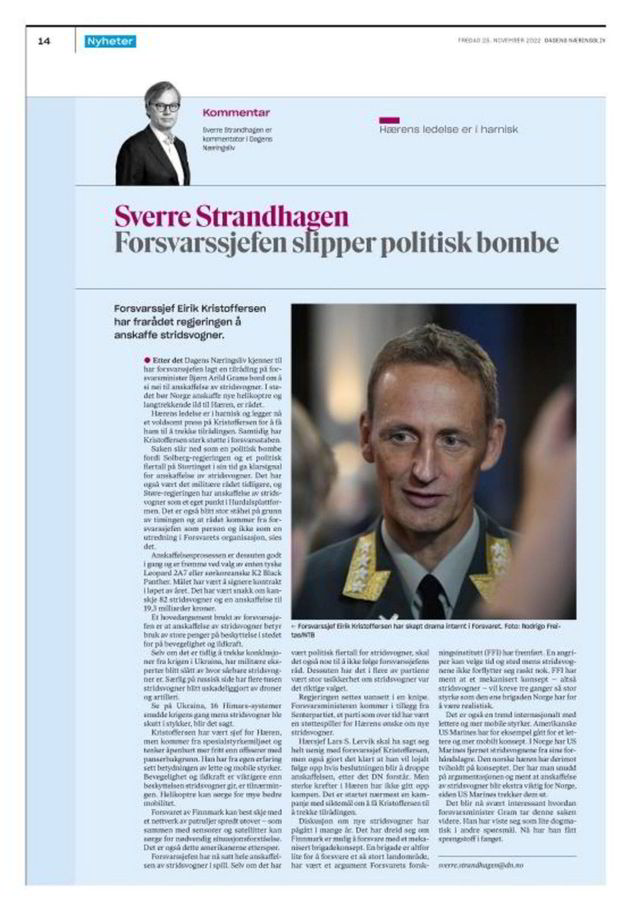 It is easy to jump to the wrong conclusions based on what unfolded in Ukraine this spring. Yes, we saw countless pictures of abandoned Russian tanks and loads of other equipment left behind by fleeing soldiers. We have also learned more and more about the misjudgments that seem to pervade the Russian war in Ukraine. In addition, we have seen the consequences of widespread corruption in Russia's military, which means that even the most state-of-the-art equipment lacks essential parts, such as armour.
Is it any wonder then that the Russian soldiers found it prudent to abandon their equipment and escape from their incompetent leaders?
On the Ukrainian side, we see a completely different reality. The army is very competently led at all levels. At the same time, it suffers from extensive shortages of material. There has been a lot of spotlight on the lack of air defences, artillery and long-range missiles. But the most critical deficiencies have been armored vehicles in general and tanks in particular. To remedy this, there has been extensive effort among several NATO countries to make such material available.
The Ukrainian soldiers have learned that it is precisely the armored vehicles, and especially the tanks, which, through their mobility and protection, give them chances of survival on the brutal battlefield.
The Russian army is referred to by experts as an artillery army. The lack of skilled leadership and motivated soldiers is compensated by a reckless use of large amounts of artillery. Is it really the case that key actors in the Norwegian Armed Forces believe that Norwegian soldiers are best served by facing such an adversary without the protection that modern armored vehicles can provide?
We have created the illusion that war can be waged with advanced long-range precision weapons and light units. This is how we can minimize the danger to our own soldiers. The war in Ukraine has shown us a completely different reality.
I am absolutely a supporter of Norway having a high-tech defence. As part of this, we also need long-range precision weapons, such as we see the Ukrainians using with great effect. At the same time, we must recognize that these are very expensive weapons. This is a very unfortunate time for Norway to make radical changes in the organization of the Armed Forces. Rather, we must strengthen what we already have.
(Terms)Copyright Dagens Næringsliv AS and/or our suppliers. We would like you to share our cases using links, which lead directly to our pages. Copying or other forms of use of all or part of the content may only take place with written permission or as permitted by law. For further terms see here.