Tensions around the "mega-basins" of Niortaise water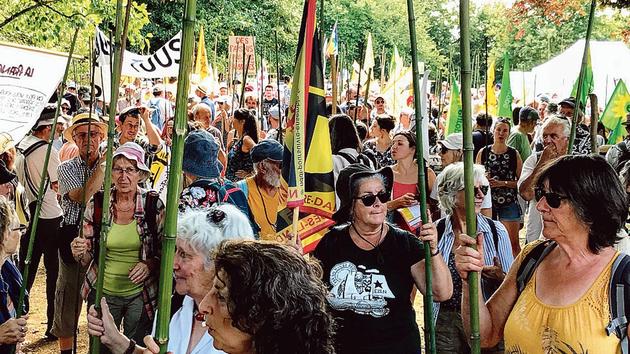 Nearly 600 opponents marched in the city of Deux-Sèvres to denounce these reserves intended for the irrigation of crops.
Will Deux-Sèvres become the epicenter of a dreaded "water war"? Gateway to the Marais poitevin, Niort welcomes until this evening the 75e congress of the FNSEA, the main agricultural union. Between 1000 and 1200 members have been debating their future there since Tuesday and awaiting the arrival of the Minister of Agriculture, Julien Denormandie, this Thursday evening. Yesterday, the future of the territories also served as a common thread for a second demonstration in Niort, this time with demands diametrically opposed to those of the FNSEA. Led by environmental movements and the Peasant Confederation, nearly 600 opponents intended to denounce the "mega-basins", the substitute reserves intended for the storage of water and the irrigation of crops.
Read also"French farmers are on the verge of an overdose of standards"
These artificial reservoirs exacerbate tensions in the former Poitou-Charentes where several hundred projects are under study. Here as elsewhere in France, the FNSEA fiercely defends these works for "Preserve the agricultural tool"
This article is for subscribers only. You have 73% left to discover.
To cultivate one's freedom is to cultivate one's curiosity.
Subscription without obligation
Already subscribed? Log in