The blogger explained the trip with a leopard in the center of Moscow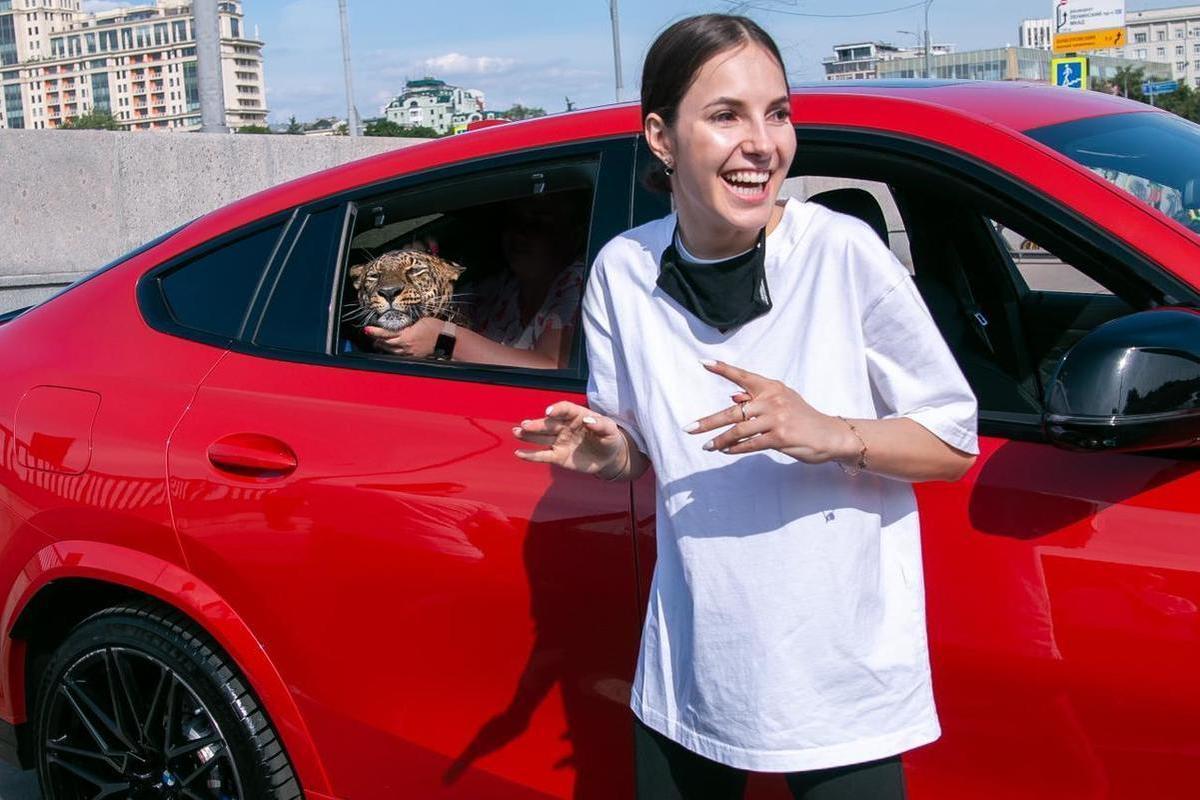 The lady claims that he is not dangerous, but residents of the capital do not think so
Moscow residents discuss videos of a leopard sitting in the back seat of a car with an open window in the very center of the capital, scattered across the Internet. A large adult predator – what if he jumped out the window and pounced on pedestrians? We found the owner of the tailed passenger intimidating the townspeople in social networks and found out how dangerous he is. And most importantly – why does she need him at all?
On July 20, in a traffic jam in front of the Crimean Bridge, a spotted leopard was driving in the passenger seat of a bright scarlet foreign car. With curiosity, he looked out of the open window and even tried to get out into it. The shocked neighbors in the traffic jam began filming the predatory traffic participant on their phones and posting them on social networks. It can be seen from the videos that a girl was driving the car, and next to her tailed passenger was another lady.
We wanted to know the truth, and we received an explanation for the strange sight. The owner of the predatory passenger was 28-year-old Muscovite Yana Sims. However, when asked if she is afraid that a predator can be dangerous not only for others, but also for herself (in a traffic jam, a wild animal can get scared and behave inappropriately), the girl immediately makes a reservation that she is a temporary mistress. The leopard was left to her by friends who had gone on vacation.
– On the Web they write that you were taking a leopard for vaccination! It's true?
– True, but not from covid, but for routine vaccination for all types of felines. And about the fact that the leopard does not trust the vaccine and is nervous, I myself joked, but someone took the joke at face value and spread it across the Internet.
– Are you a professional tamer or veterinarian?
– What are you, I'm a peaceful producer of bloggers, so Jerry was left to me with a nanny. Jerry is the name of the leopard, he is a boy, 12 years old. And the nanny is his trainer, she is always with him, both in the car and at home. I also love animals very much, I help in shelters, but I don't work with them all the time, so I don't stay alone with the leopard. In the country house of friends who owns Jerry, a special enclosure is arranged for him.
– Are your friends fearless circus performers entering the cages of tigers?
– This is a married couple who are very fond of animals. They have a license to maintain Jerry, as expected. And I was asked to follow Jerry and his nanny while his owners rest.
– Aren't you afraid that something will suddenly make a wild animal angry and he will attack you?
– What are you, Jerry is very friendly and well-mannered, has acted in films and TV shows more than once and is not afraid of a large crowd of people. And at home he is often released from the enclosure, and he lies on the couch in front of the TV, like an ordinary domestic cat. When you scratch Jerry's ear, he purrs. He also loves to play with small objects and in a good mood fawns on the owners.
– And in bad?
– In the bad, he just sleeps. A well-fed predator will attack only if it seems to him that something threatens his own safety. But then it will be a defense, not an attack.
– The key word here is it will seem! But you never know what the animal will think ?!
– In public places Jerry is always on a leash and his nanny is next to him. Jerry has been a professional actor for many years, and his health, including mental, is carefully monitored.
– Is it safe to keep predators in private houses, even in an aviary? And carry in a car, even if on a leash? – ask a professional.
"You cannot do this without special training," says Viktor Zuikov, head of cynology at the Mosfilm film studio. – The animal must be under the supervision of a professional trainer. It happens that wild animals are kept in their homes by hereditary trainers of the circus or cinema. The trainer must communicate with the animal every day, work with him and not let him relax: trained animals are accustomed to a clear order. Before transporting the animal, the trainer checks it: is it sick, is it splinters in its paws, is it an irritated mood? Each animal has its own age limit, after which aggression can manifest itself. In wolves and bears – after 7 months, in chimpanzees – after 4 years, and in leopards, the character is clear from childhood. If his ancestors are also raised in captivity, the risk to humans is minimal.
Newspaper headline:
Leopards, and they are grafted!